Nothing gets us more excited for summer than the planning of an epic road trip to the mountains: wind whipping through the windows, freeways flanked by gorgeous landscapes and the eagerness to explore the hilly slopes. Luckily, this is an easy reality from Delhi to Manali.
Home to arguably the prettiest routes of North India, you'll find plenty of picturesque, popular, and off-the-wall hill stations nestled along the way that make for beautiful holiday destinations. Thanks to the abundance of ridge-villages, orchards, and magnificent mountain and valley scenery along the route, Delhi to Manali distance by road is a fascinating one to cover. Not only does Manali happen to be one of the most beautiful hill stations near Delhi, it is also among the most popularly visited ones all-year-round. 
Here's a quick look at some of the most frequently asked questions for the journey between Delhi and Manali, and its neighbouring towns.
How to reach Manali from Delhi?
Delhi to Manali by flight
The fastest way to get to Manali from Delhi is by taking a flight from Indira Gandhi International Airport in Delhi to the nearest airport in Manali, which is Kullu-Manali Airport in Bhuntar. Then take a cab to Manali (duration of approx. 4 hours), however, this isn't the most recommended way due to the low frequency of flights.
Delhi to Manali by bus
The most economical way to reach Manali from Delhi is by bus. There are 30+ direct buses between this route, covering an average duration of 12 hours.
Delhi to Manli by train
Despite being a popular holiday destination near Delhi, there are no direct trains to Manali from Delhi or neighbouring cities. The nearest railway station to Manali is reaching Kalka station or Chandigarh railway station from Delhi, and taking a cab or bus to Manali, covering an average duration of 8.5 hours.
Delhi to Manli by car/cab
The Delhi to Manali distance of 536 kms can be peacefully covered within a duration of approximately 12 hours. For those who enjoy the thrill of driving in hilly regions would thoroughly enjoy this road expedition, however, for the ones renting cabs would equally enjoy the picturesque journey from Delhi to Manali by road.
One of the most frequently taken routes via NH-44 and NH-154 is –
Delhi – Panipat – Kurukshetra – Ambala – Chandigarh – Bilaspur – Mandi – Kullu – Manali
What is the best time to visit Manali?
Although Manali is a year-round treat, it happens to be at its very best between October and February. Manali between October to December offers the perks of North India's low temperatures, plunging gorges and snowy mountaintops, best known to this region.
Recommended stopovers and best places to stay between Delhi and Manali?
A road trip to Manali may seem like a daunting journey up the hills, but nothing short of a picturesque dream come true. No matter where you place your camera, it is a picture worth capturing. What the journey snags in travel time, it makes up for it in the form of its charming stopovers along the route.
The most convenient stopovers/halts between the Delhi to Manali route are also independently worth exploring:
It should take you about 2-3 hours to reach Kurukshetra from Delhi city. This heritage town is popularly referred to as the setting of the Mahabharata and the land of the Bhagvad Gita.
If you choose to stay in Kurukshetra, check out The Hideout, our most charming villa here.
Once you've gorged on the mouthwatering parathas in Chandigarh, it is recommended to stop here for an overnight layover.
Explore few of our best luxury villas in Chandigarh.
If you're feeling adventurous, take a short detour and spend a day or two at Shimla and its gorgeous neighbouring towns – Mashobra, Kufri and Theog for a well deserved respite.
Explore few of our best villas and homestays in Shimla.
As the closest stop before reaching your final destination in Manali, this valley town is located on the banks of Beas River and overlooks the most gorgeous views. Kullu and Manali's temperature is enviable at its best thanks to its elevation, making it the perfect pitstop for your road journey to Manali.
Check out the cosiest cottages and homestays in Manali and Kullu.
What is Manali's temperature in October and following months?
Manali in October and onward is truly a dream. The drop in temperature hereon makes Manali and its neighbouring towns irresistible to visit. It provides a much-needed respite from the blistering heat, making it the most sought after escape during summer vacation months with family and kids.
The weather is refreshingly cool as the average temperature in Manali usually ranges between 25°C to 28°C, dropping to 8°C to 10°C most evenings. Manali's weather in June is relatively the same as May, before the onset of the monsoon showers.
What are the top things to do in Manali during winters?
The alluring charisma of Manali in December cannot be understated. Here's a quick eat-see-do guide to Manali sightseeing, tourist attractions, things to do and where to eat:
Manali restaurants and popular places to eat:
Keylinga Inn – Lip-smacking pizzas with a homemade base and in-house cheese
Drifters' Cafe – A sun deck to enjoy irresistible burgers and pies
Johnson's Cafe – Reservations recommended for their trout fish, lasagna and fresh plum juice.
Chopsticks – A rooftop that serves the best thukpa, tibetan hot pot, gyakok and momos along with incredible views.
The Lazy Dog – Best place in Manali to relish trout in butter garlic sauce and French fries amidst panoramic mountain views.
Check out these must-visit places to see in Manali:
Jana Waterfalls
Naggar Castle
Jogini Waterfalls
Gadhan Thekchhokling Gompa Monastery
Manu Temple
Mountain adventures>beaches? This list is for you.
River Rafting – The mighty Beas has enough rapids to conquer! Regardless of whether you are an expert or a beginner, the Beas River boasts short stretches for all. June and July are the most recommended months to experience the thrill of rafting in Manali.
Paragliding – What better way to experience snowy paradise of Manali while savouring the ethereal Dhauladhar range. Solang Valley happens to be among the most popular spots for paragliding in Manali. The months from May through September are ideal for this gorgeous flight.
Skiing – Experience the best of skiing at Rohtang, throughout the year. Manali houses steep snowy slopes, and mountains covered in a beautiful blanket of snow make for the perfect skiing terrains. You can also hire an instructor who can guide you through the whole journey.
Zorbing – Not the first choice of adventure for most people, but zorbing definitely worth a try to experience Manali's beauty through new eyes.
Cable Car Ride – The Dev Bhoomi Ropeway is the most popular cable car ride in Manali offering the most irresistible view of the town. It covers a distance of about 1.3 kms to reach Solang Valley, and it is truly unmissable.
How to get from Shimla to Manali? And why!
A common mistake most travellers make is opting for either Shimla or Manali to visit during one trip, especially if travelling from Delhi. What gets lost during this time is the opportunity to cover one of the most stunning stretches of the winding Himalayan terrain, best known for deep valley views on one side and majestic mountain landscapes on the other.
The best way to get to Manali from Shimla is by bus or car, covering a distance of about 250 kms in 7-8 hours. It is positively beautiful and treasuring!
Recommendations for the best places to stay in Manali
Pick from fully serviced holiday villas, cottages and homestays in Manali for group getaways. For those on their honeymoon in Manali, couple trips or small family getaways must opt for room bookings in homestays. The best way to enjoy a destination is by living and eating like the locals. Take the opportunity to live in holiday villas in Manali that borrow the character and spirit of this mountain town, as opposed to cookie cutter hotel stays.
Here are some of the best stay options in Manali by StayVista: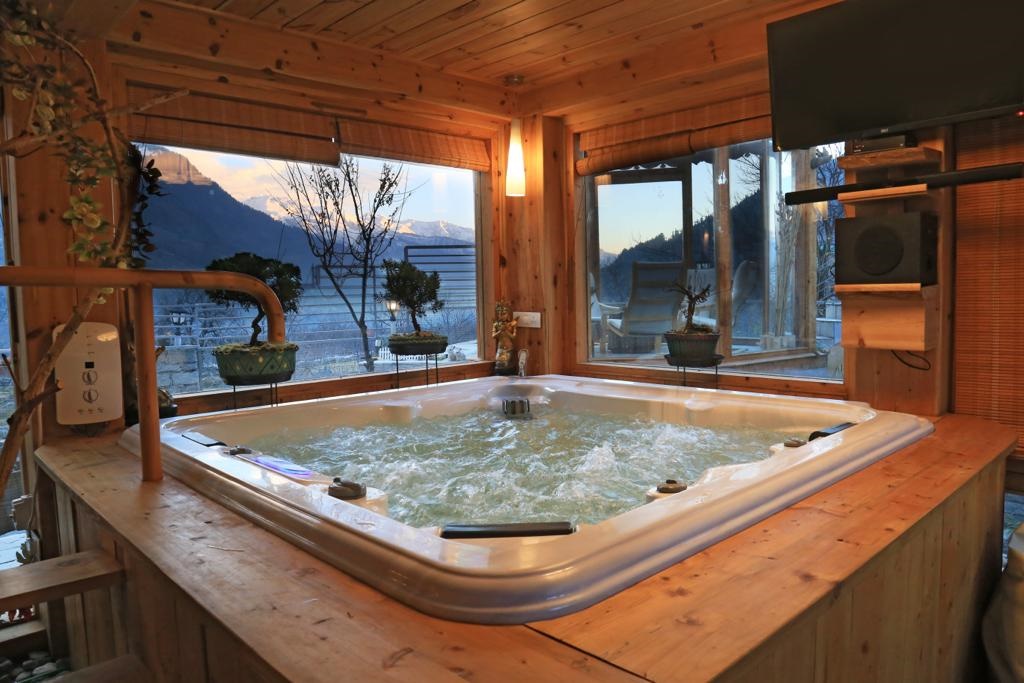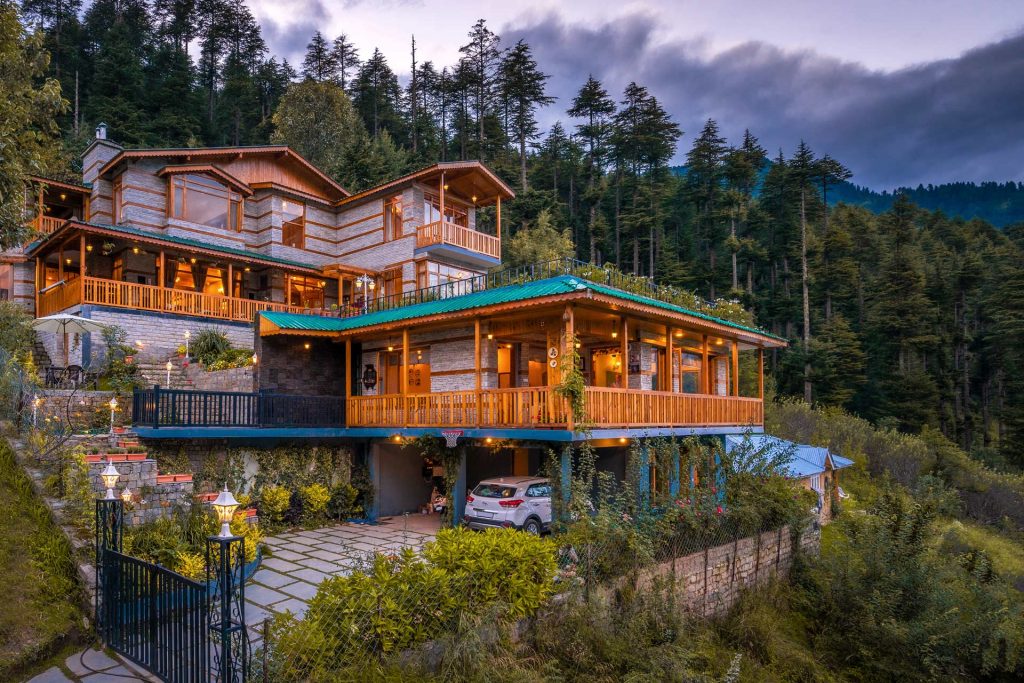 In hundreds of mountain villages across North India, life still goes on in a traditional way. If you have the option to experience that pace of life away from the city's chaos amid a gorgeous landscape, then it is an opportunity that should not be missed!