Really, you can't hold Bollywood accountable for having such high aspirations for the ideal wedding and pre-wedding photoshoot session. Everyone wants to have the wedding of their dreams, whether it's the iconic KJo weddings in Bollywood films or the lavish ones in the most current web series. But before the wedding comes the most essential part; yes, the pre-wedding photography!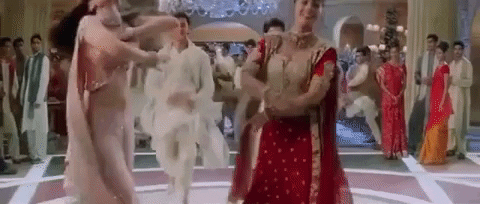 A picture is said to be worth a thousand words. And don't we all want our Instagram feeds and "Save The Date" cards to seem flawless? So, when it comes to capturing the right moment, making that perfect reel and the perfect shot, it translates into carefully crafter comfy interiors, coffee tables, enviable wall art, and most importantly a tranquil backdrop. Say no more, as StayVista has you covered! With a portfolio of over 500 uber-luxurious homes spread across the country with unmatched opulence and picturesque settings; you'd definitely want to host your pre-wedding photoshoot at one of our properties.
Things to think about before picking a location for a pre-wedding photoshoot
The ease of access to a major metropolis
Parking lot which is large enough for the group
Great service
Assistance from special arrangements personnel
Large rooms to house the crew and types of equipment
Clean bathrooms and overall safety
Private locations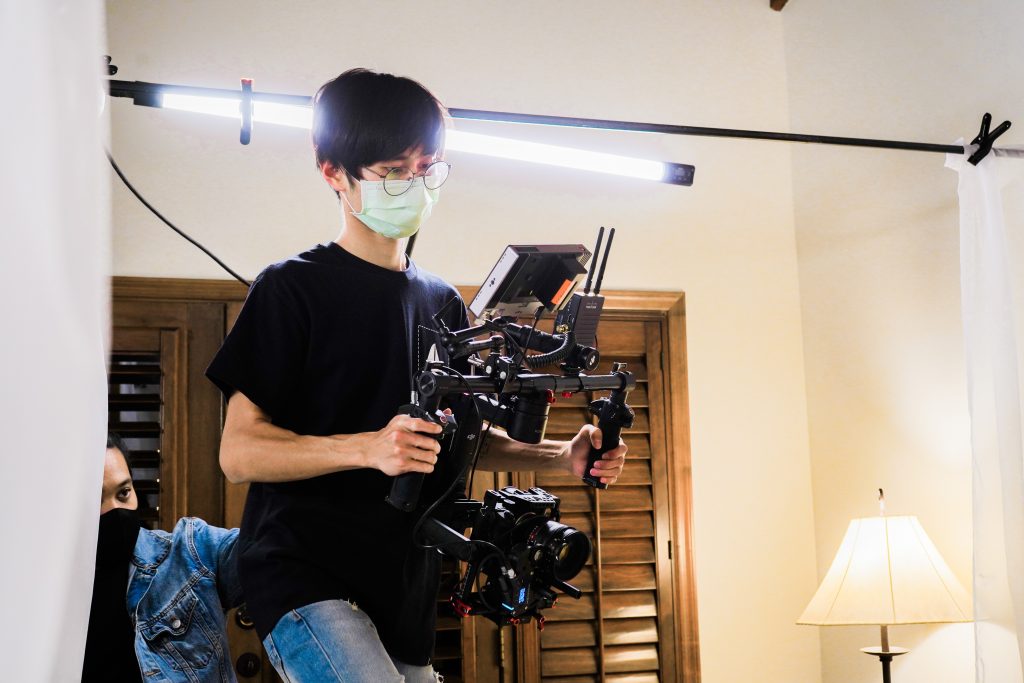 And now, we give you our Top 10 Villas for a Pre-Wedding Photoshoot to frame your memories the right way.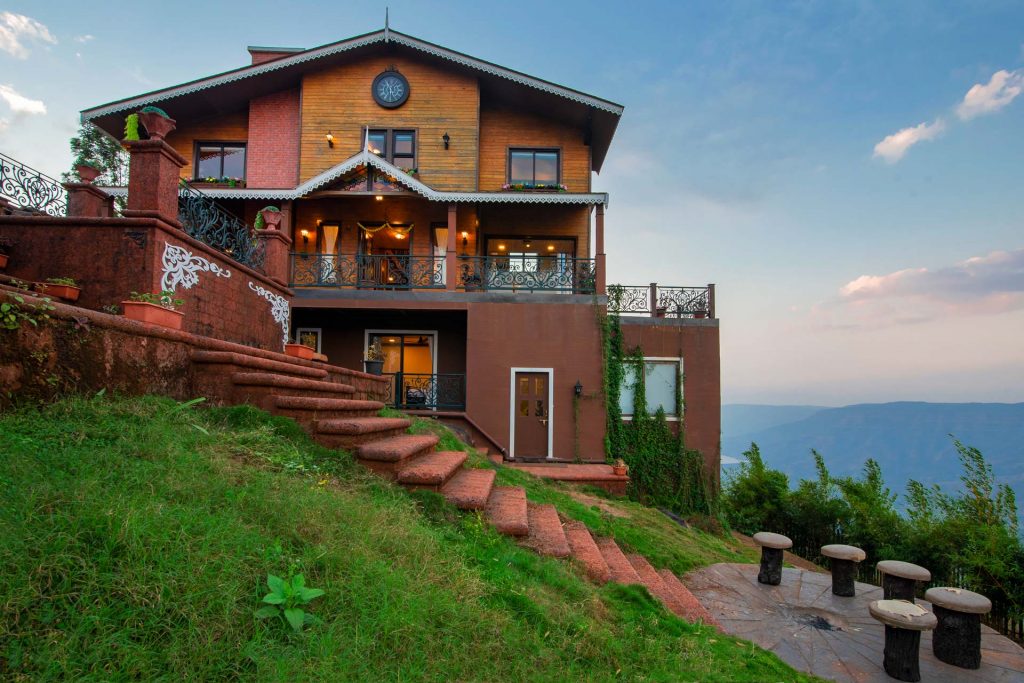 True to its name, Cowboy Castle is a modest home that will whisk you away to an exotic locale. Enjoy the gentle wind and gorgeous mountain vistas while you're here. Guests are likely to have a great time here because of the openness and hardwood decor. What else? Make the most of the gazebo attached to the lawn which offers the perfect location for pre-wedding shoot.
A symbol of the confluence of cultures and historical richness that ties to the lineage of Marwar and Mewar, this immaculate castle which is not an everyday run-of-the-mill, rises tall emitting majesty and splendour like never before! Castle Oodeypore is ornamented with a blend of modern, yet classic, décor with a hint of opulence, employing the same Dulmera stone and red sandstone as that of the Lalgarh Palace in Bikaner. Located at the foothills of the Aravallis and encircled by the verdant hues of the farmlands, this regal property falls nothing short of carefully designed amenities to get your royal pre-wedding photos.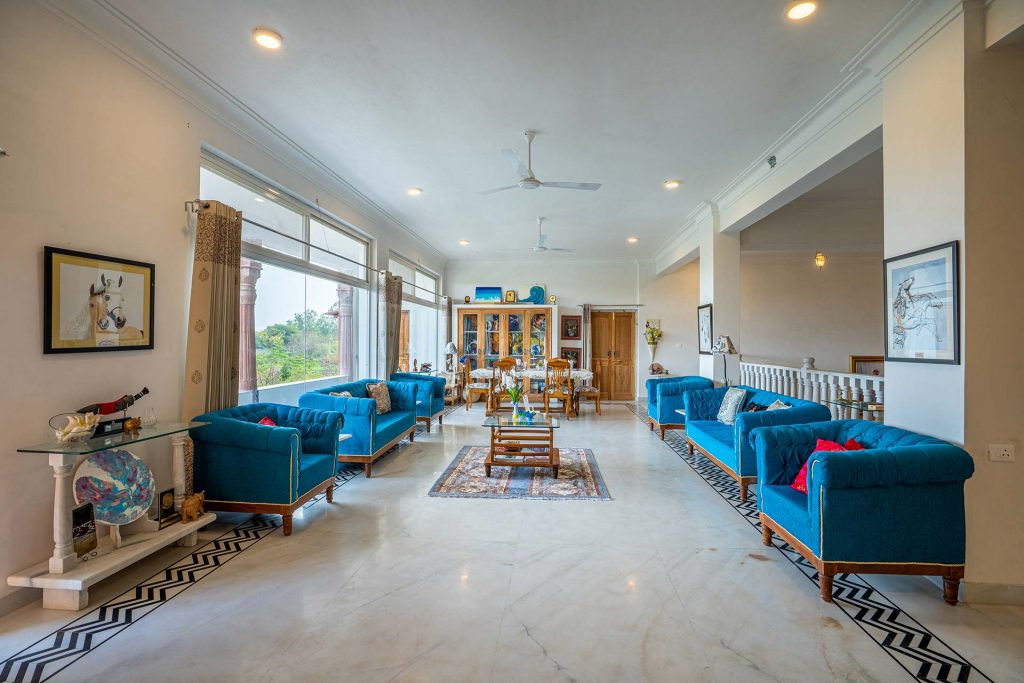 Indeed a tranquil haven amidst the hustle and buzz of Udaipur, this regal voyage that takes you back in time; Castle Oodeypoore is well worth the visit for your pre-wedding photoshoot.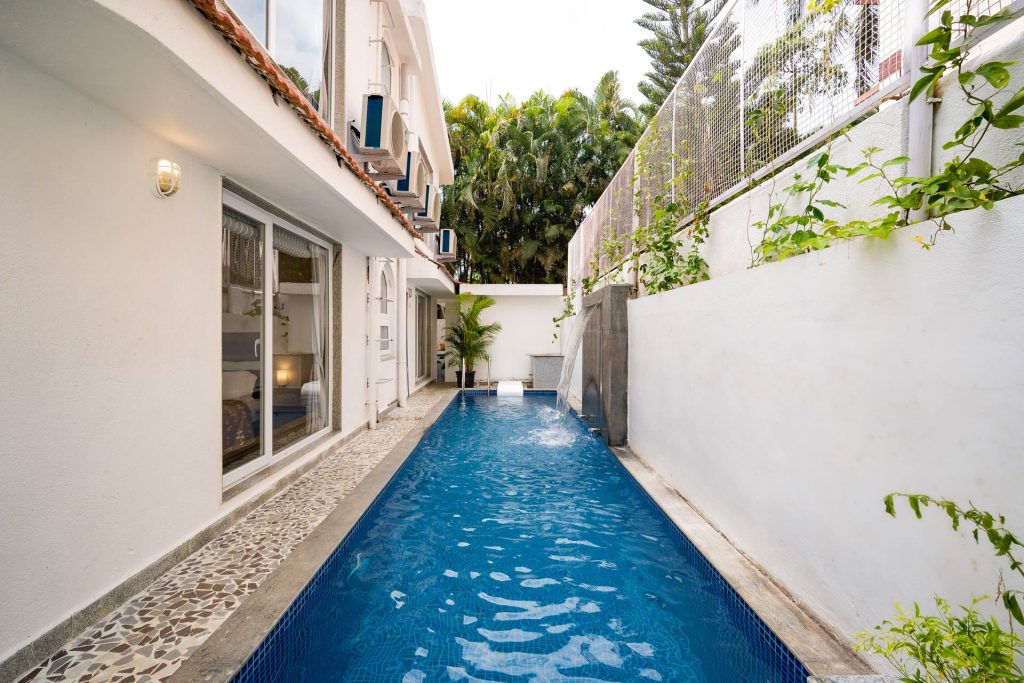 Bay View, a charming villa coupled with panoramic views of the sea, is the ultimate hideaway for people seeking the perfect location for a pre-wedding photoshoot in Goa. Experience all the therapeutic vibes and get transported to a world filled with soulful bliss, as you wake up to the sounds of sea waves and the gentle cool breeze at this property. Get the feeling of residing in an affluent home away from home while also enjoying the comforts and solitude it has to offer with a multitude of lavish amenities such as an outdoor pool, a spacious terrace, and 24-hour staff assistance.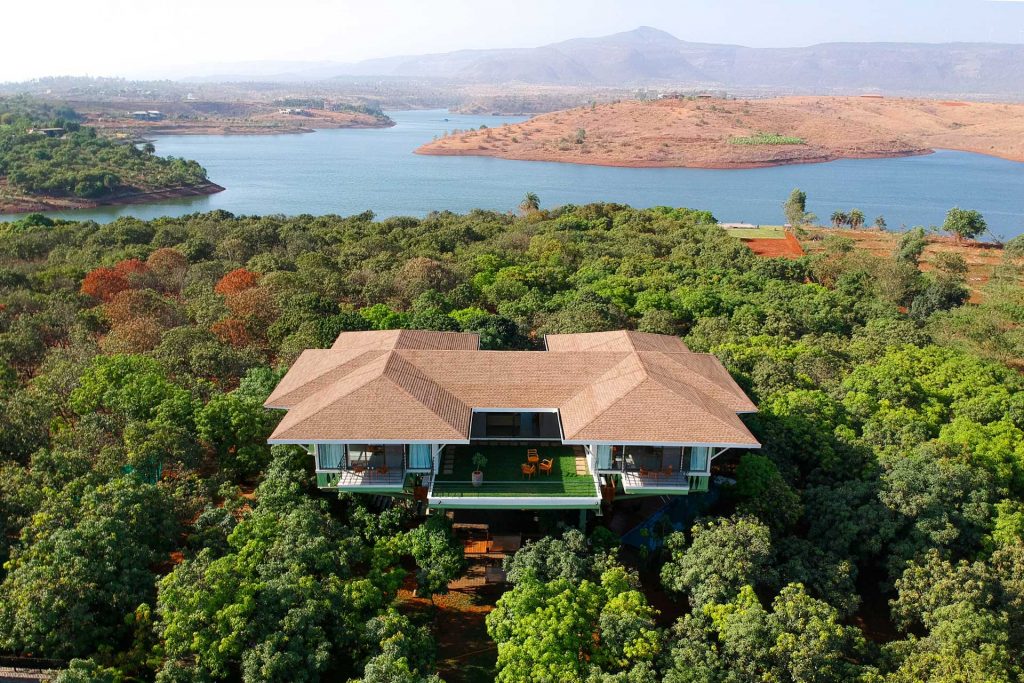 Offering breathtaking 270-degree views of the lake, Nihira Farms Kamshet is a sprawling property featuring a plethora of amenities. Nestled amidst the mango orchards and the forest, this holiday home is a nature lover's galore. In addition to being in harmony with nature, these expansive grounds provide a wealth of ideal locations for a pre-wedding shoot. The entrancing outdoor deck by the river, the elegant gazebo, and the tiered gardens are just a few examples. You may take whatever pre-wedding photographs you can think of at this villa in Lonavala.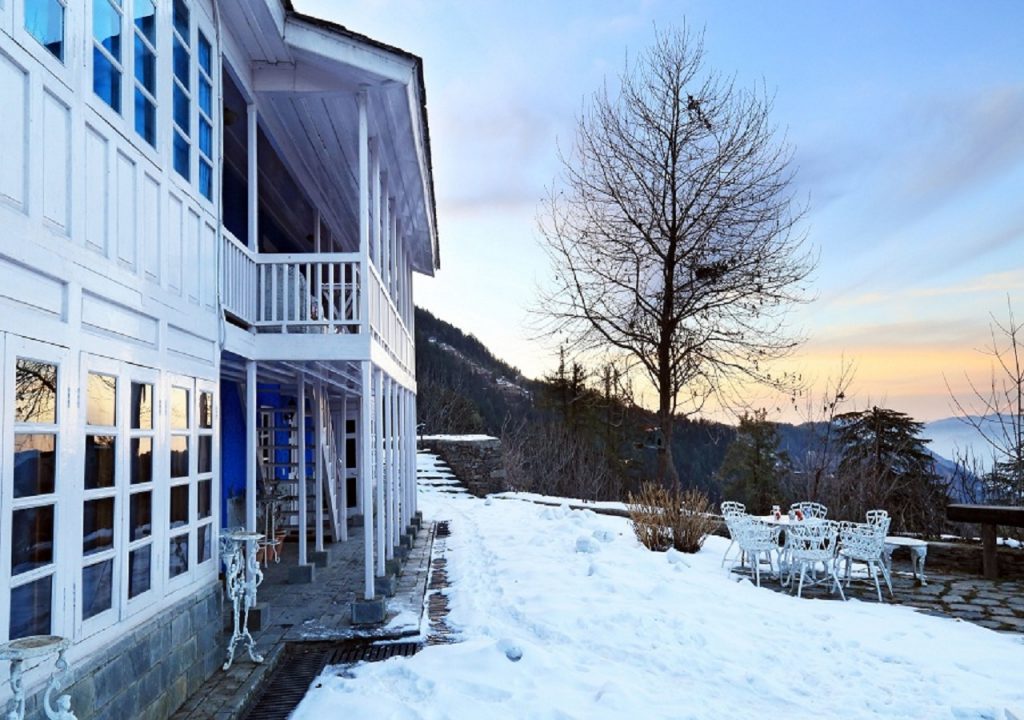 This villa is the dream location for anyone that has a taste for luxury and exclusivity. When you choose to stay here, it is not just a villa, but the entire hill that would be your own. Classy interiors, stunning views, and countless amenities make this a perfect getaway and a pre-wedding location. The staff at the property can guide you through a beautiful trek around the area, and other activities such as golfing, rafting, and cycling are also possible. It wouldn't be surprising, though, if you choose to spend all your time at the villa itself – enjoying your morning tea outdoors, hanging out in the spacious living room with the group, or lounging in the bohemian-style TV room. this villa comes highly recommended for a peaceful stay with all modern comforts taken care of.
As idyllic as it gets, this oasis of quietude just on the edge of a lush Deodhar and Pine forest reserve is for those who seek respite away from the din and chaos of their everyday lives. Emanating a calming aura, this charming chalet paints a picture right out of fable with its lush green lawns drawing the twittering birds, buzzing bees, and a plethora of beautiful species of butterflies. With every nook offering a magnificent view of the shades of nature; this cosy home sets a mellow yet amorous mood to reconnect with oneself as well as your soon-to-be.
Watch out for these spots where you can have your pre-wedding photoshoot while on your stay here.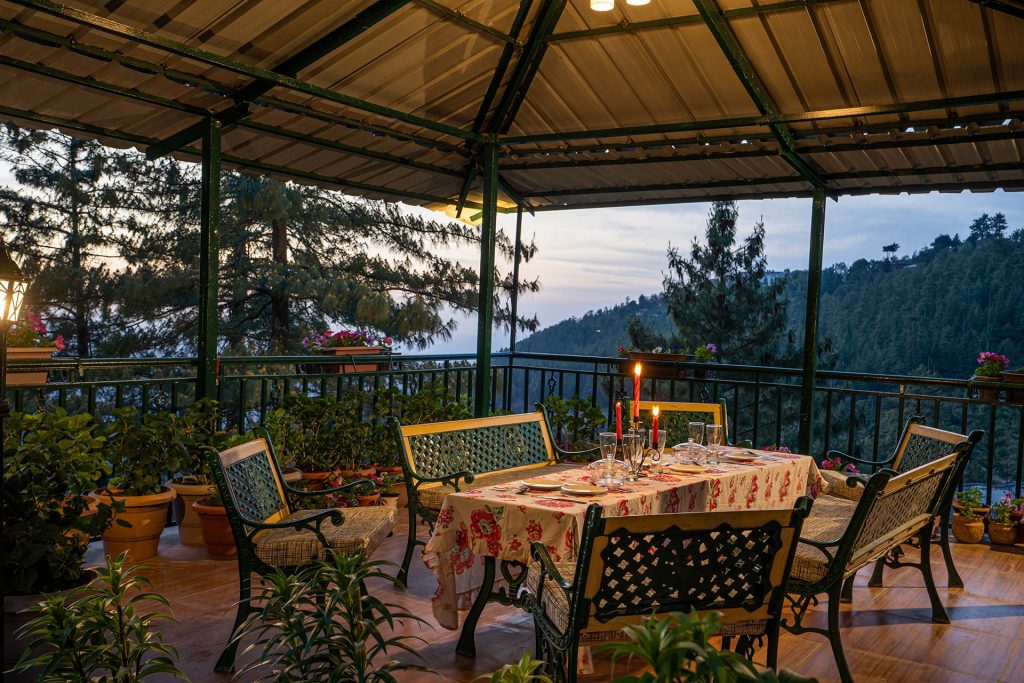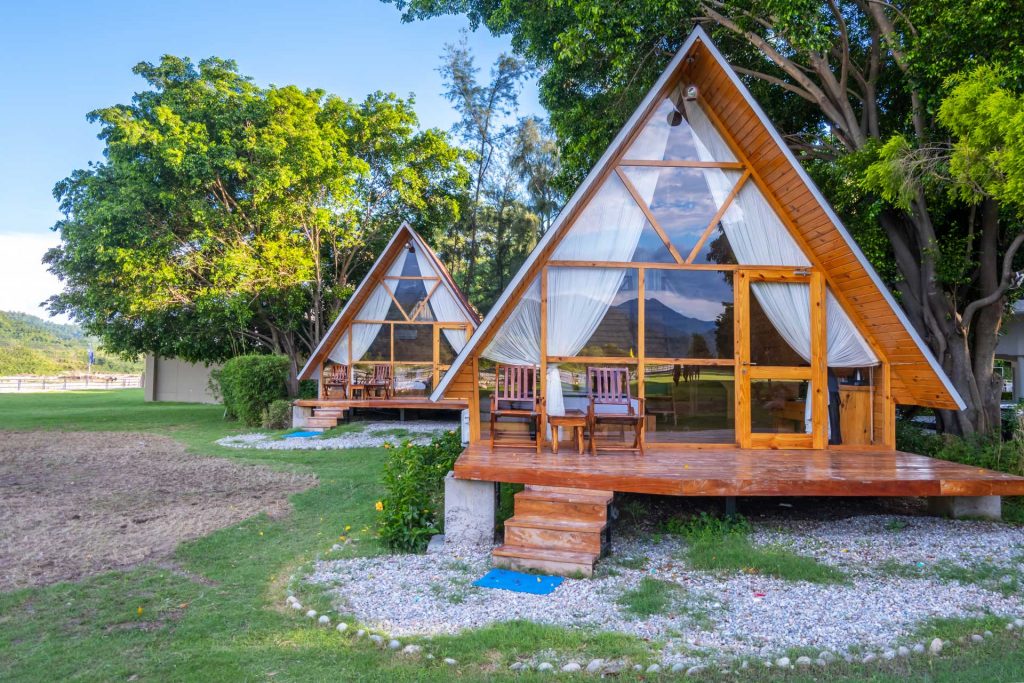 Tucked away from the tumult of everyday life, this idyllic space is set within an exclusive jungle retreat in Corbett that offers you a chance to relax and recharge. With a unique structure that resonates with the letter 'A', these are a set of three cottages in the woods of Corbett. While you could spend all day tucked inside the aesthetic premises of your abode, go out and explore your surroundings. A day at this cosy wooden cottage lets you explore all sorts of immersive experiences. But apart from that, the snug wooden interiors of the cottage exude an equally warm aura that offers the perfect backdrop for your pre-wedding photography.
Set amidst mesmerizing landscapes and infinite vegetation, Coffee Trails is a sprawling holiday home spread across a whopping 55 acres, housed in a wildlife reserve. A replica of the traditional, colonial Dak bungalows, this 86-year-old home boasts a glimmering white facade and spacious indoor spaces. Embark on river walks, spot wildlife, engage in some wedding photography by the misty green scapes, and end the day under a thousand stars. Embrace the quietude, while you enjoy this unique, curated experience.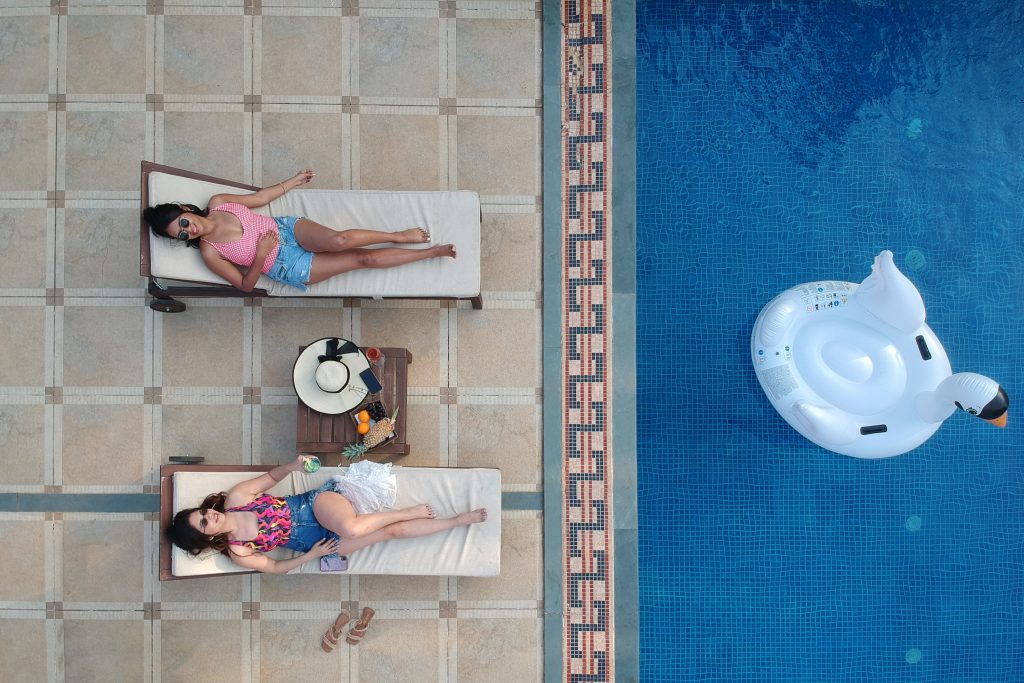 Geometrica is Le Sutra Great Escape's first offering of an art-themed villa. All the artworks and installations in Geometrica resonate with the theme of Indian and sacred geometry. The mesmerizing art pieces are designed to elevate the energy of the home and provide our guests with an extraordinary stay! One look at the space tells you how creatively it has been put together, and every detail is very unique from scratch and has been created by our in-house designers, and artists. You'd never want to leave the poolside with a view of the hills, but if at all you do, you capture your moments in the gazebo set up on the lawn and bask in the geometric vibe of it all.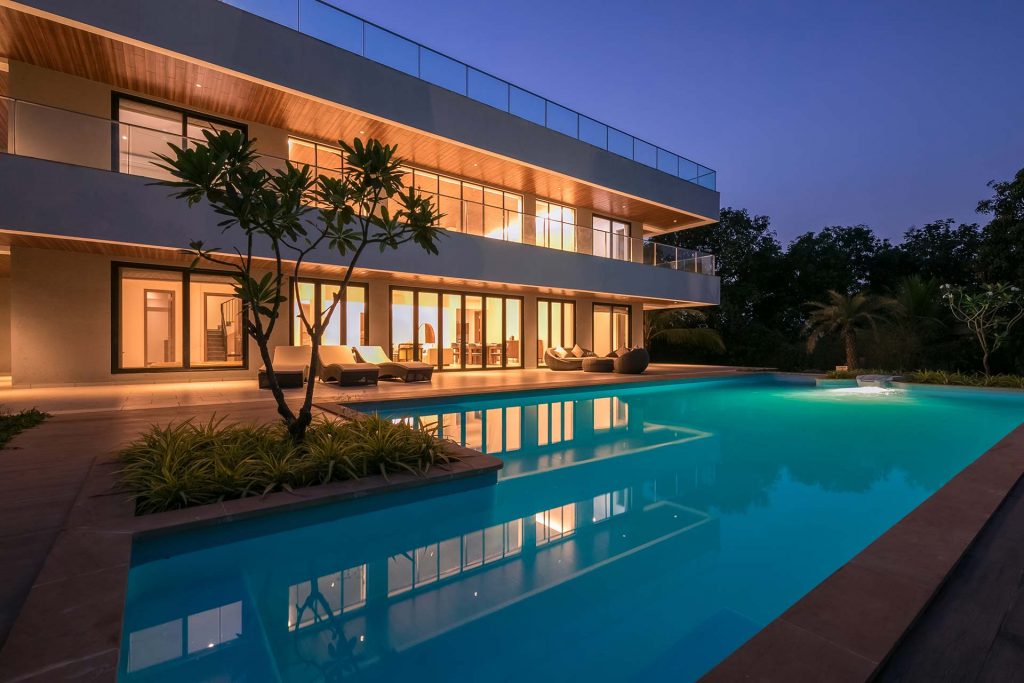 A sprawling holiday home positioned amidst glorious views, vast expanses of lush greenery, and expansive outdoor spaces, The Reflection House makes for a serene getaway. The immaculate, minimal interiors complement the spacious white facade. Clearly, it poses as the perfect holiday home for a relaxing getaway and the best ever pre-wedding photoshoot!
In other words, use your pre-wedding photoshoot to tell your story, breathe new life into that location, and frame your memories in time. Don't you already have plans for your next pre-wedding photoshoot villa? What are you waiting for?