A popular tourist destination known for its serene surroundings, lush greenery, and stunning views of the lake – if you are planning a trip to Bhimtal and looking for a comfortable stay that offers an authentic experience of the local culture, then our holiday homes in Bhimtal are the best option for you. Private villas in and near Bhimtal that offer a range of amenities and activities – whether you are a solo traveller, a couple, or a family. 
From traditional Kumaoni cuisine to hiking trails and birdwatching, these homestays have something for everyone. So without further ado, let's dive into this list of the best homestays and villas near Bhimtal lake that offer the perfect blend of comfort, hospitality, and local experiences.
1. Lakeview Manor
This 5-bedroom villa near Bhimtal provides accommodation for up to 15 guests. A sprawling property packed with spacious interiors, rustic decor, and rooms adorned with art and artefacts is the norm here. 
Justifying its name, Lakeview Manor is a serene holiday home offering a surreal view of the lake. Enveloped in landscapes of mountains and the lake, the expansive outdoor deck makes for an ideal spot for a candlelight dinner under the stars. While the beautifully manicured gardens in front of the house overlooking gorgeous views are a testament to this home's beauty.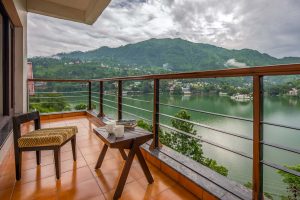 Distance from Bhimtal Lake – 1 minute (450 m.)
2. Cottage On The Lake
This 4-bedroom cottage in Bhimtal is set right by Bhimtal Lake. Tastefully curated with cosy furnishings, Cottage On The Lake offers an exhilarating view of the dense valleys and Bhimtal lake. Strategically placed at an exceptional intersection, tourist locations. Be it Nainital, Mutkeshwar and Kathgodam – all just around an hour away; perfect for a quick one-day picnic. Wake up to chirps of birds, subtle lake water ripples and a warm cup of espresso on the breezy balcony. 
With activities like paragliding, kayaking and an abundance of recreational activities available in close proximity to the cottage, this abode is perfect if you're looking for a villa for around 10 people in Bhimtal.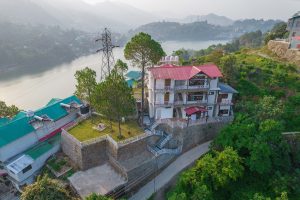 Distance from Bhimtal Lake – 6 minutes (1 km.)
3. Lake Trails
Set in the quiet hills and around the calm lake of Bhimtal, Vista Lake Trails is located in a beautiful spot. Offering a great view of the lake from the balconies, this property also has a garden for all nature lovers to relax in. The structure is a perfect blend of antique and modern features, including a fireplace for you to huddle around with your loved ones. 
This 2 bedroom homestay in Bhimtal is perfect for a cosy holiday and can accommodate up to 8 people. Additionally, barbecues and bonfires are also offered to make sure you are cosy and well-fed at all times!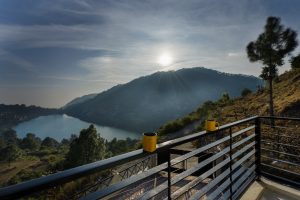 Distance from Bhimtal Lake – 5 minutes (1 km.)
4. Chirping Woods
This sprawling British-style dreamy wooden cottage built with love is for everyone looking to take a healthy break from the city and also to get a good dose of oxygen. Chirping Woods is surrounded by the beautiful lakes of Bhimtal and a canal that runs in front of the property. The sound of the clear, pristine water flowing through this canal is purely therapeutic. The home is equipped with a small library, a TV lounge with access to an unending collection of OTT content, a home theatre, and a JBL Party Box for all the Karaoke lovers out there!
This serene holiday home is located in the quaint forest yet is just a stone's throw away from the main city. This 4-bedroom wooden cottage in Bhimtal also offers delicious food. Enjoy the stay of your dreams with the best Kumaoni thali in Bhimtal, at Chirping Woods.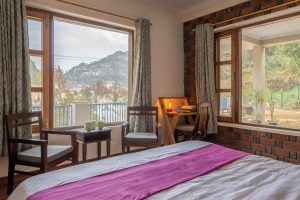 Distance from Bhimtal Lake – 9 minutes (3.5 km.)
5. The Verandah
A 5 bedroom hillside homestay in Bhimtal's heart that is so lovely, it's worth making a trip to Uttarakhand just to stay here. The interiors are tasteful, perfectly cosy, and guest comfort is of utmost priority here. Every room has a verandah that offers stunning panoramic mountain views, and the feeling of waking up to these sites is indescribable. 
Explore the best trekking and paragliding spots in Bhimtal that are available at short distances, however, we're certain you won't want to be away from the villa for too long!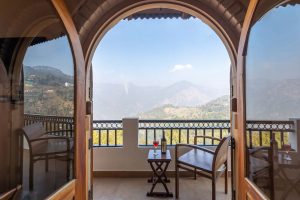 Distance from Bhimtal Lake – 25 minutes (9 km.)
6. The Octagon Affair
Inspired by the mid-19th century era that witnessed a two-decade obsession with octagonal houses, this postcard-perfect home can only be described as charismatic. Greenery surrounds this home. That, and the breezy balconies to snooze away, it'll be hard to feel anything but relaxed here. As evening falls, guests can dig into the best Kumaoni food in Bhimtal, as the sun sets into the hills.
Curl up with a glass of wine or catch up on your favourite cinematic hits on the outdoor projector! With lovely temperate weather throughout the year, you stay in the lap of nature. Surrounded by beautiful mountains with views of chirping birds, besides the ever-pleasing flora and fauna all around you.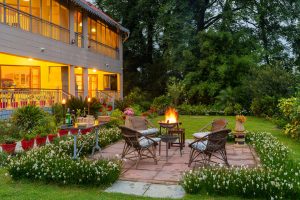 Distance from Bhimtal Lake – 13 minutes (4.5 km.)
7. Oberoi's Chalet
If you're looking for a quaint 3-bedroom villa in Bhimtal, swing through the doors of Oberoi's Chalet, and enter a whimsical world of immaculate interiors and otherworldly landscapes. Overseeing the dropping valleys and the towering hills, this chalet is almost always engulfed in wintry fog. The carefully done-up interiors feature neat aesthetics with personally sourced furnishings. Though, what sets this home apart is its vaulted ceilings and its beautifully verdant deck complete with sun loungers, ideal for sunbathing and devouring the resplendent views.
This private home near Bhimtal lake is perfect for 9 people. The epitome of a relaxing getaway, this home echoes an effortless blend of luxury and homely aesthetics.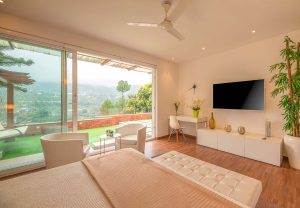 Distance from Bhimtal Lake – 10 minutes (4 km.)
8. Vintage Retreat
Nestled amidst a backdrop of the verdurous Himalayan valleys, this sprawling colonial chalet creates space for large families. This luxury homestay near Bhimtal lake offers opulence in every room you peek in, right from the spacious patio to the snug bedrooms and the jade-green lawns that bathe in natural sunlight.
This house, thoughtfully reimagined as a light-filled haven for everybody, is a refreshing reprieve from your everyday routine. Adventure enthusiasts are in luck as Vintage Retreat is a villa near trekking trails and other adventure activity spots in Bhimtal. 
Repose in the midst of chirping birds and the cool northern winds at this private villa near Bhimtal lake, perfect for larger groups.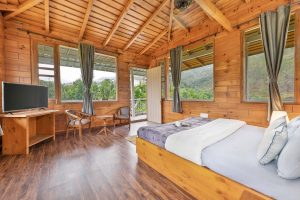 Distance from Bhimtal Lake – 12 minutes (4.5 km.)
9. Harmony Villa
Adorned in vintage hues, Harmony Villa is one of the best homestays near Bhimtal lake for anyone looking for a quick northern getaway. This cosy abode promises a one-of-a-kind experience of a home away from home with its contemporary chic-styled décor. Every nook of this duplex residence, which is ensconced in the middle of Bhimtal's green tones, offers solace and repose. To top it off, a night of stargazing and some adventurous excursions are unquestionably on the cards!
In short, this 2 bedroom private homestay in Bhimtal is indeed an escape from the daily grind, a serene hideaway that awaits your arrival.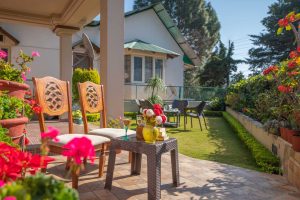 Distance from Bhimtal Lake – 16 minutes (6.5 km.)
10. Heaven On Hills
Welcome a world of silence, bliss and tranquillity as you make your way to this beautiful holiday home. The large windows and snug outdoor sit-outs are dotted with enamouring landscapes of the snow-capped Himalayas. The facade of the home features gable roofs, spacious balconies and views that leave you in a trance. With a separate billiards room, an ensuite jacuzzi and a myriad of indoor games, guests are in for a treat. 
Drawing in all nature enthusiasts and wanderers, this private villa cottage in Bhimtal lies next to scenic hikes and trails to explore. The evenings can be spent munching on a delectable barbecue meal, as the fireflies keep you company.  
Let go of all your worries, as you cherish a holiday amidst the soaring mountains and misty breeze at this 3-bedroom private homestay in Bhimtal.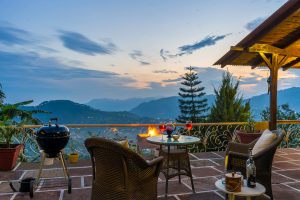 Distance from Bhimtal Lake – 17 minutes (6.5 km.)
At StayVista, we are committed to providing travellers with the best and most authentic travel experiences. Immerse yourself in the local culture and experience the warmth and hospitality of the locals. Bhimtal is a hidden gem in the hills of Uttarakhand. These private homes in Bhimtal offer the perfect opportunity to explore the natural beauty and serenity of this lake town.
From cosy rooms with stunning lake views to homemade Kumaoni cuisine and warm hospitality, these homestays have it all. So why settle for a boring hotel room when you can stay in a private villa with Bhimtal's pristine lake as your backdrop and make memories that will last a lifetime? So if you're planning a trip to Bhimtal, be sure to check out our collection of homes and homestays in Bhimtal here.