Apart from being hopeless romantics, if we as a generation have picked up anything from KJo movies are obviously the weddings. From watching Shahrukh Khan stealing our teenage hearts, bejewelled in his sparkly maroon sherwani in Kal Ho Naa Ho to Kalki Koechlin's magnificent wedding in Yeh Jawaani Hai Deewani; Bollywood weddings are a whole production. 
Imagine your guests dancing to the tunes of Maahi Ve wearing the most beautiful wedding dresses set by the most exotic looking backsplash by the beach, or a Royal Haveli. Or how about a wedding in the prettiest backyard you could find? We present a list of outstanding villas that are sure to leave an impression, and you can have the most memorable Bollywood style wedding you want!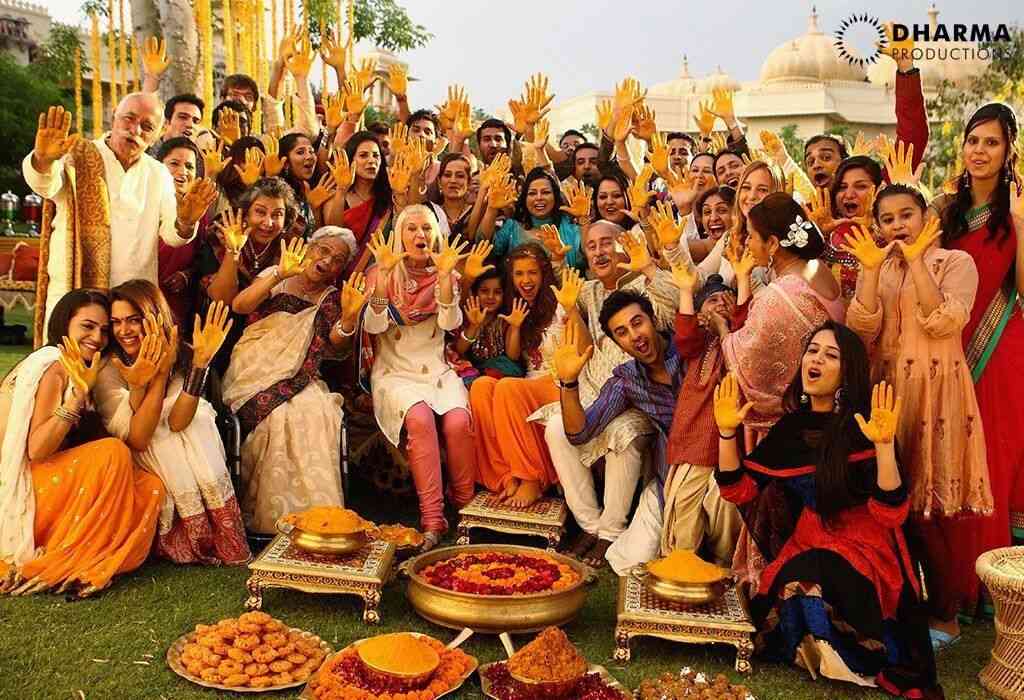 Yeh Jawaani Hai Deewani
Nobody who has watched this movie can possibly forget the beautiful wedding that took place at the end of the film. From beautiful traditional Rajasthani decor to the eye-catching pops of colour spread all across the palace, this movie left us in awe.
The Eyrie at Udaipur, is the perfect destination where you can experience that very vibe. With distant murmurs of the past, this Rajasthani heritage property boasts a bouquet of soothing hues of blues and whites. The comfortable furnishings paired with the sprawling exteriors, featuring a private pool and a manicured garden will certainly make for a charismatic wedding location.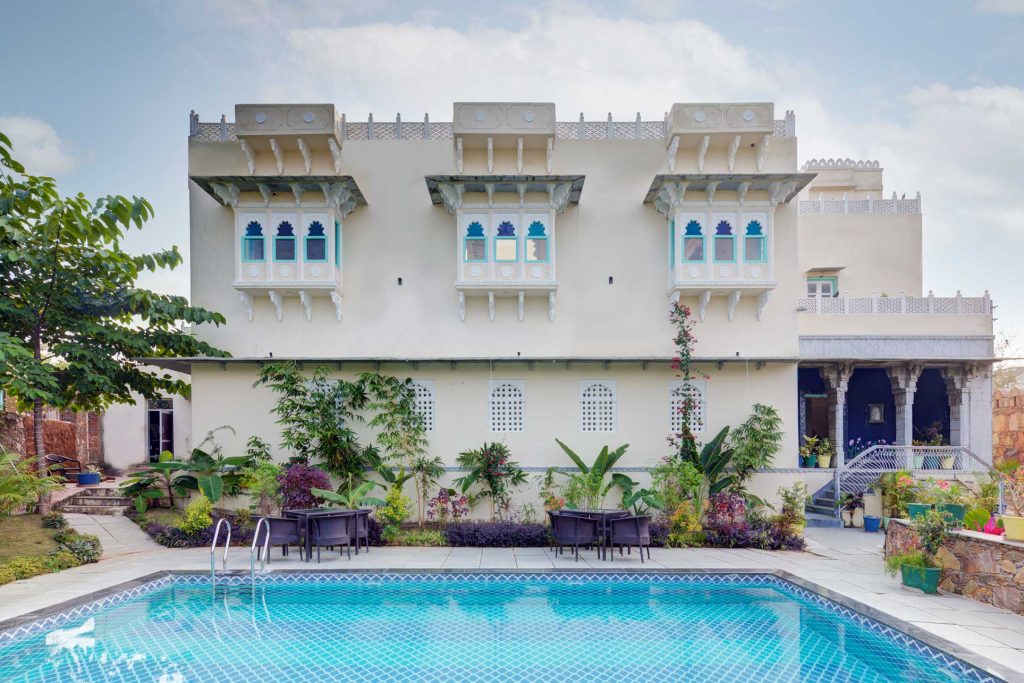 We love The Eyrie because of its:
– Peaceful location engulfed in green verdancy
– Magnificent Rajasthani heritage
– Beautiful interiors in the soothing hues of blues
– Private swimming pool with a large outdoor deck
– Overlooks gorgeous mountains
– Sprawling lawn with ample seating arrangements
3 Idiots
Even though every bit of this movie was iconic, something that will forever be the highlight of this blockbuster was the wedding scene! Even though the highlight of the wedding was more about Kareena Kapoor getting fled off from her mandap, it would be totally unfair to overlook the beautiful Manor that the wedding was set in. It was a classic British-colonial Mansion with flowers and greenery all around it, making the wedding look like something straight out of a storybook!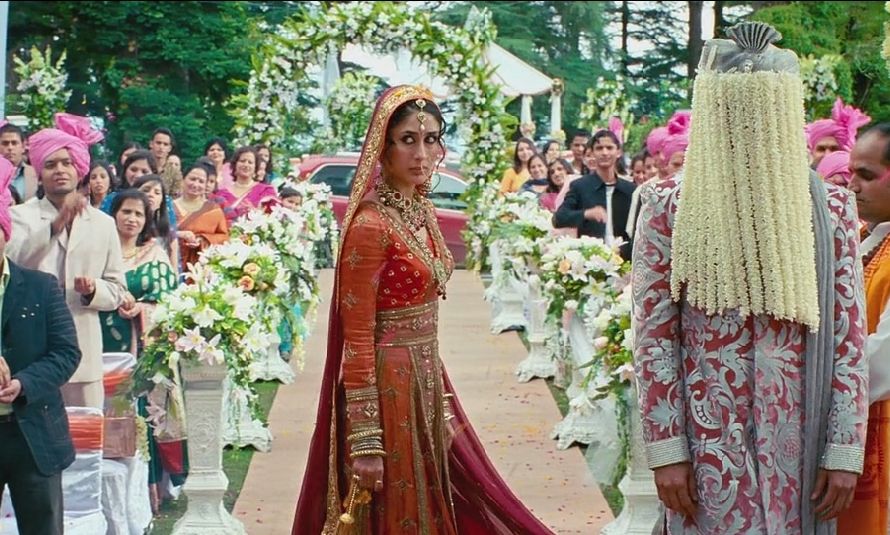 If that's the aesthetic you want to be the backdrop of your wedding, we might have the perfect fit for you! A sprawling property spread across 5 acres, The Mansion is a magnificent villa exuding grandeur and elegance. Surrounded by forests, hills and overlooking breathtaking sunsets, it's colonial interiors and exteriors ooze an alluring charm, very similar to the original manor that appeared in the movie. And don't worry, we won't smother green chutney on your groom's sherwani! [*wink wink*]
The Mansion is special because of its:
– Convenient location
– Spacious and beautifully manicured lawns
– British Colonial interiors with a sun room & library
– Aesthetic farmlands with livestock
Made In Heaven – The Price Of Love (EP 4)
This series is just iconic in terms of each one of their weddings. With every episode, it just kept getting bigger & better. And even though all the weddings had amazing venues, the 'Price Of Love' episode starring Aditi Tripathi definitely stood out. There was something so extraordinary about the backdrop of that wedding; it could only be described as magical.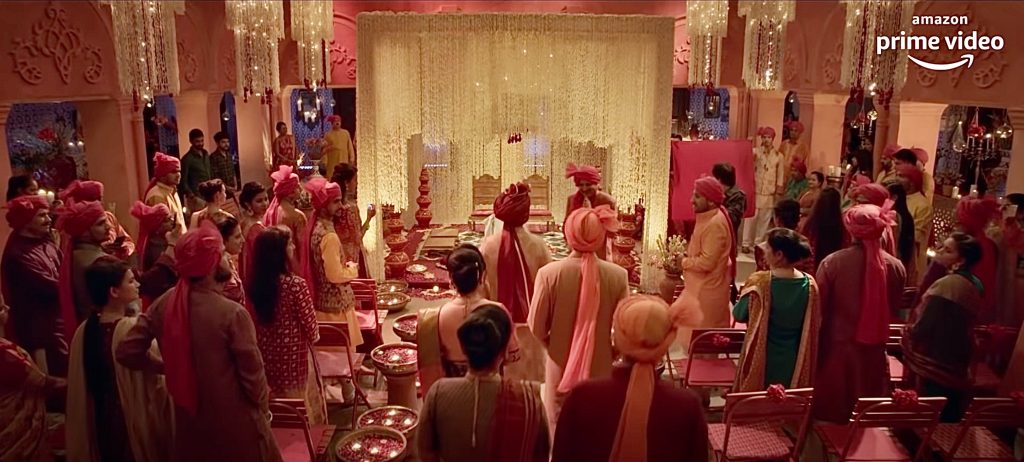 The feel and interiors of Secret Garden by StayVista are very similar. It is much like having a fortress all to yourself! A beautifully designed space with a splendid view, this is one venue that you and your loved ones are bound to cherish for years to come.
Secret Garden is special because of its:
– Location amidst nature with ornate gardens
– Large rooftop terraces
– Modern decor & spacious interiors
– Overall aesthetic feel
With the beautiful terraces, intricately designed interiors and the savouring scenery around, Secret Garden is certifiably the best that Pushkar offers!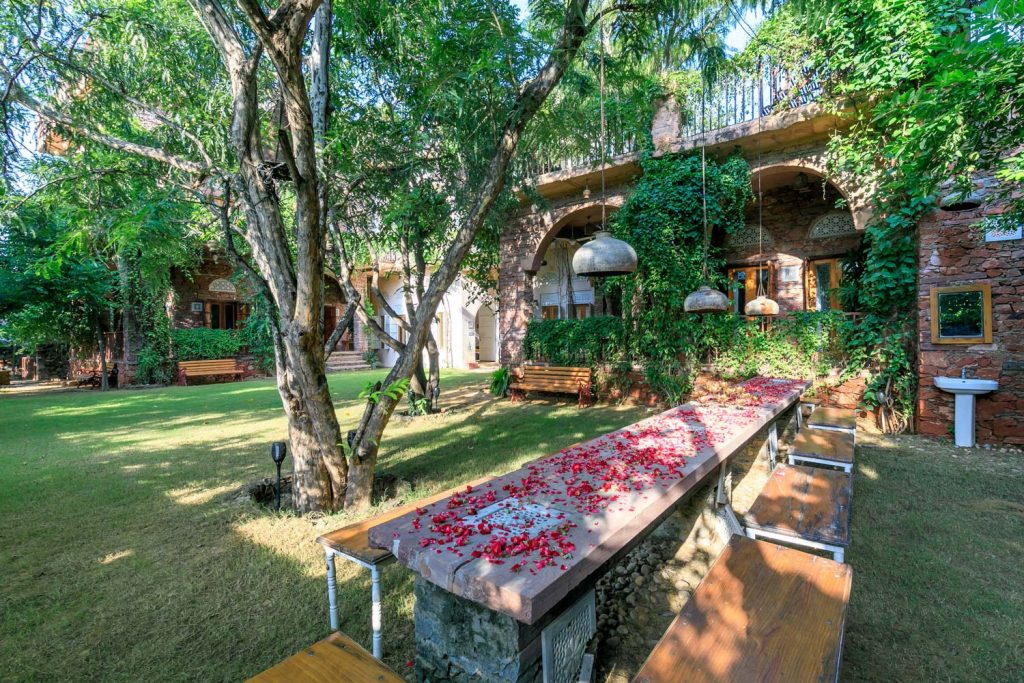 English Vinglish
The wedding that took place in English Vinglish was relatively simple, but still left us in awe; and maybe some tears– don't lie, we know you cried. The concept of backyard weddings is not really given a lot of limelight in India but done the right way, Backyard Weddings can be extremely pretty, just like in this cinematic gem. So, if a small intimate wedding is something that you're looking for, Eva Villa is your best bet. 
Surrounded by verdant greenery, the exteriors of the home boast sprawling lawns, ideal for a beautiful wedding, a huge private swimming pool overlooking scenic landscapes, and bewitching sights straight out of a painting. Whilst, the interiors in a soothing mix of subdued tones feature a plethora of leisure amenities.
Also, did you know that we at StayVista are now open to organising events at our properties in Maharashtra. Right from the live music and decorations to catering food for weddings with a mile-long guest list, we do it all! While we might not be sure if we can make our laddoos as delicious as Shashi Mausi, we will definitely make sure to create an unforgettable experience for you to cherish, forever!