Just a short drive away from Mumbai, Alibaug has become a sought-after destination for city dwellers looking to escape the monotony of everyday life. This coastal town boasts serene beaches, lush greenery, and historic forts, making it the perfect getaway for a relaxing weekend. If you're looking for a luxurious vacation experience, Alibaug has plenty to offer, including stunning pool villas with private beaches and sprawling estates surrounded by nature.
In this blog, we've rounded up 15 of the best pool villas in Alibaug that offer the perfect blend of opulence and relaxation. From luxurious amenities to breathtaking views, these villas are sure to leave you mesmerised. So, sit back, relax, and let's explore the best pool villas in Alibaug!
1. Palm Trove
Palm Trove is a luxurious 5-bedroom villa in Alibaug near the beach. Surrounded by towering trees and lush greenery, this holiday home provides guests with breathtaking views and the boho-themed living room adds to its charm. Bungalows and villas in Alibaug with a pool don't get better than Palm Trove. The L-shaped swimming pool with the sunken bar is the show's star. When at Palm Trove, a pool and barbecue night with your favourite music playing in the background is a must.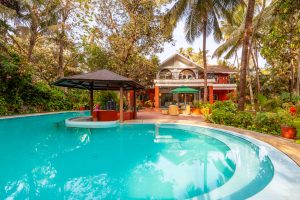 Palm Trove has been featured in The Financial Express and has received positive reviews from previous guests, who have praised the villa's luxurious amenities, comfort, and spacious swimming pool.
2. Prism & Palette
Looking for a luxurious villa with a pool near Mumbai? Look no further than Prism and Palette in Alibaug! This sprawling estate boasts thoughtfully furnished interiors, an indoor courtyard, and a towering skylight, making for a perfect blend of minimal and lavish living. With its private swimming pool, manicured gardens, and specially designed water fountain, this holiday home perfectly balances luxury and nature. The vivid, hand-painted walls make for ideal photo backgrounds.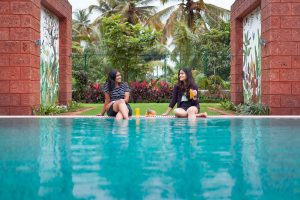 Prism and Palette is one of the best pool villas in Alibaug, offering ample outdoor spaces to unwind and relax.
3. Balmy Bliss
Located near the pristine beaches of Alibaug, Sun-kissed Sands is the perfect getaway for those seeking a tranquil escape from the bustle of the city. Balmy Bliss boasts luxurious interiors with modern amenities, while the lush green gardens offer a peaceful retreat. Take a refreshing dip in the private pool or simply lounge in the sun while sipping on a refreshing drink. With comfortable accommodations and easy access to the beach, Sun-kissed Sands is the perfect destination for a relaxing vacation.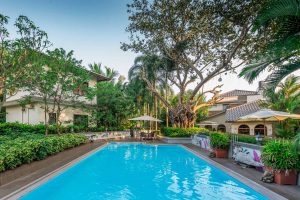 Book your stay today and enjoy your holiday at one of the best pool villas near Mumbai.
4. Coral Arch
Escape to Alibaug and experience luxury living at its finest at our spacious villa on the beach. This gigantic bungalow in Alibaug near the beach is the perfect base for your beach getaway. And if you are looking for beach wedding villas near Mumbai? Our stunning villa is the ideal venue for your dream beach wedding. With elegant interiors, landscaped lawns, a private outdoor pool, and direct access to the pristine beach, our villa is one of the most sought-after villas in Alibaug on the beach.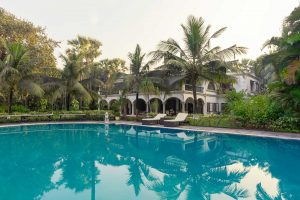 Coral Arch has been featured in Curly Tales, has been the backdrop for Bollywood trailer launches and has received marvellous reviews from previous guests for its luxurious amenities, comfortable living spaces, and expansive swimming pool.
5. Wander Beyond
Escape to Wander Beyond, a tropical villa with a pool in Alibaug, amidst the verdant hills and meadows and away from the chaos of city life. This charming abode, built around the traditional Indian concept of an aangan, invites you to slow down and appreciate the innate beauty of the world. Wake up to the melodic bird calls and monarch butterflies fluttering in the courtyards surrounding the bedrooms. Enjoy a refreshing swim and sip on chai in the sun with loved ones.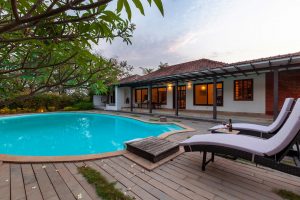 This pool villa near Mandwa Jetty is the perfect place to birdwatch, butterfly count, stargaze, and reconnect with nature, accompanied by furry friends Peter Pan and Gunda who stay at the home.
6. El Parque
Escape the chaos of daily life at El Parque, a unique holiday home surrounded by 15 acres of mango trees, mountainscapes, and forests. Enjoy vibrant furnishings, striking artwork, and a swanky poolside bar in the indoor spaces. Outdoors, relax by the L-shaped pool or explore the meticulously landscaped gardens featuring a children's play area and a chic lounge.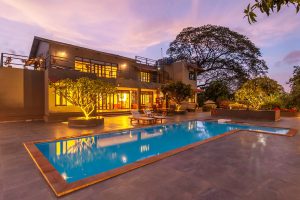 El Parque is the perfect blend of nature and modern luxury.
7. Ripples & Sage
As the name suggests, this holiday home is all about the magical pool and the greenery that surrounds it. Ripples & Sage is a tranquil holiday home in Alibaug, a perfect pool villa for families, near Mumbai. The glasshouse with a pool table and projector overlook the private pool. The interiors seamlessly blend with nature, creating a tranquil ambience. The gazebo is perfect for outdoor dining, with delicious Maharashtrian meals and BBQ arrangements available.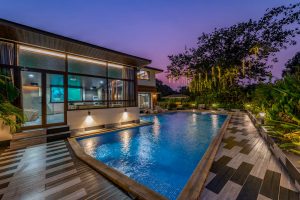 It's the ideal spot to escape from city life and relax with loved ones.
8. Our Beloved Summer
Our Beloved Summer is a breezy holiday home surrounded by lush greenery and towering palms, offering a serene escape not far from the city. The modern and pastel interiors blend seamlessly with the immaculate gardens and sprawling lawns. This isn't your usual bungalow with a pool in Alibaug, it's an experience and much more.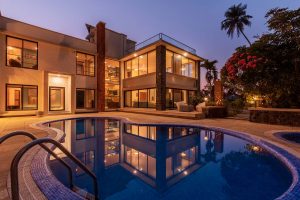 With the private swimming pool to immerse yourself in, a designated badminton court, a huge lawn and cosy sit-outs spread across the home, everything here promises a truly rejuvenating getaway.
9. Kay Villa
Kay Villa is a nature-inspired retreat, featuring a unique pear-shaped pool with a tree providing natural shade. The pool is the centrepiece of the villa's outdoor space, perfect for lounging and soaking up the sun. This bungalow in Alibaug is near the beach, surrounded by a lush lawn, and is just a 3-hour drive from Mumbai. So, let's push the accelerator to solace.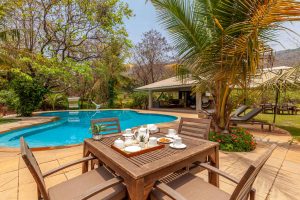 Come home to Kay Villa, relax in the quaint gazebo, take in the stunning views from our big balconies and bask in the warmth of the sun at our outdoor sit-out, a haven for those seeking a dose of vitamin D. Let your worries melt away in the lap of opulence at this pool villa near Mandwa Jetty.
10. Casa Bella, Kashid
Experience the best of the luxurious coastal living, at Casa Bella – a stunning hilltop townhouse that offers unparalleled views, an aura that rejuvenates and experiences so immersive – it'll feel like a dream. This beach villa in Alibaug is the epitome of luxury. Apart from the infinity pool that blends in with the ocean, you'll find a plethora of indoor games, including pool table, poker, table tennis, air hockey, carrom, electronic dart board, and roulette, to keep you entertained for hours on end.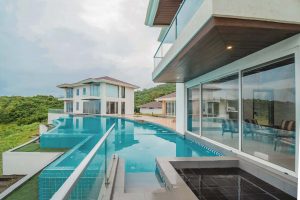 As you lounge on the deck, the soothing sound of ocean waves serves as the perfect background music, adding to the ambience of your stay. Come experience elegance and style at one of the very few pool villas in Kashid, Casa Bella – your private sanctuary in paradise.
Your search ends here. But our list of pool villas in Alibaug doesn't.
Look no further than our range of bungalows with pools, conveniently located near Mumbai. Our properties pan-India, including Alibaug's beach bungalows, boast world-class amenities, allowing you to unwind in style and comfort. Whether you're looking to soak up the sun poolside or explore the local attractions and beaches, our pool villas in Alibaug provide the ultimate luxury living.
So book your pool vacation today. Discover the perfect balance of relaxation and adventure at our bungalows with a pool in Alibaug. View the entire collection here.