Breathtaking scenery, gorgeous landscapes and alluring sights are a norm. And it's no surprise that one of the best road trips in India is from Delhi to Shimla. 
One of the most favourite hill stations of India, Shimla, Himachal Pradesh lies at a staggering altitude of 7500 sq. ft. Shimla's charisma is not only stored in the mountainscapes but also in the cobbled streets, snug cottages and delectable cuisine. 
If you are planning a road trip from Delhi to Shimla, here's everything you need to know.
Distance from Delhi to Shimla
The drive to Shimla from Delhi is a bewitching sight in itself. The distance between Delhi to Shimla is approximately 342 km. and can be covered in approximately 8 – 10 hours, depending on the number of pit stops and halts. The road is a beautiful winding path, that offers mesmerizing views of the rising mountains and plunging valleys. 
If in case you choose not to take your own car, there are frequent buses from Delhi to Shimla, the cost for which begins at Rs. 600 per person. You can also opt for a private taxi, the charges for the same would vary. 
Bikes are also a popular choice, given the scenic route and the refreshing breeze. And the distance can also be easily covered in 7 hours! 
Best Time to Visit Shimla
The best months to visit Shimla are from March through June, especially when embarking on a road trip. Shimla in summers is an absolute delight, wherein the temperatures remain at a pleasant 20 degrees celsius through those months. July should be avoided as navigating roads during the summers is rather easy, but during the monsoon season and the winters, it may be cumbersome, and hence travellers are always advised to remain cautious. However, if you are a fan of the snow and more adventurous, you can always choose to journey to Shimla in the months of December and January.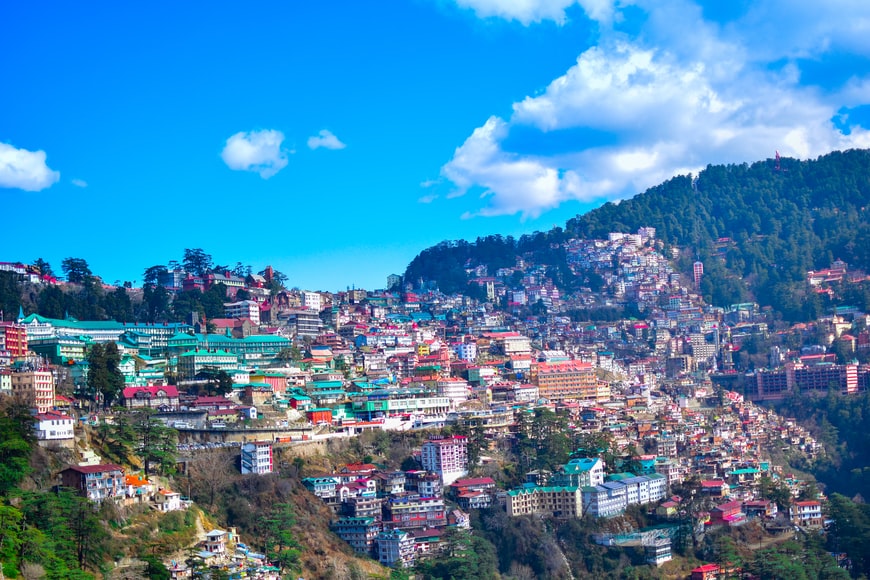 The Route 
There are primarily 3 routes from Delhi to Shimla, each varying in duration. Each route promises enchanting scenery and landscapes, distinct experiences and different kinds of pit stops. Take a look. 
Delhi – Chandigarh – Shimla via Karnal Highway 
This is by far the easiest and shortest route to Shimla and takes around 7-8 hours. The road conditions are smooth, and most often light traffic is expected with an exception of roadwork or road closures. The route passes through Panipat, Karnal, Kurukshetra, Ambala, Chandigarh, Solan and ends in Shimla, via NH 44, 152 and 5.
Delhi – Shimla via Yamuna Highway 
A longer route when compared to the previous one, this journey approximately takes 11 hours to complete. Passing through NH 44 and 5, this road is much more scenic with wildlife sanctuaries along the way! The route passes through Panipat, Karnal, Yamunanagar, Solan and Chail. 
Delhi – Shimla via Dehradun Highway
One of the longest routes, it will approximately take 12 hours to reach Shimla via this route. Although, long, this route promises scenic sights and stunning landscapes throughout! This road takes you through Ghaziabad, Meerut, Muzaffarnagar, Dehradun, Kolar, Barog and finally Shimla, via NH 334 and 7.
Pitstops and Places to Visit Near Shimla
The roads leading to Shimla pass through beautiful cities, notable monuments and memorable experiences! Explore the top things to see near Shimla.
Rock Garden, Chandigarh
One of the best of Chandigarh's tourism, the famed Rock Garden in Chandigarh is an ideal pit-stop for a unique experience. This open exhibition site was single-handedly built by Nek Chand in 1957, a former road inspector in Chandigarh. The exhibit boasts over 5000 sculptures and installations that are primarily made with industrial waste and urban waste. The garden itself is divided into three phases, each featuring a distinct character. The eye-pleasing decor throughout the sprawling 40-acres makes this a must on the itinerary.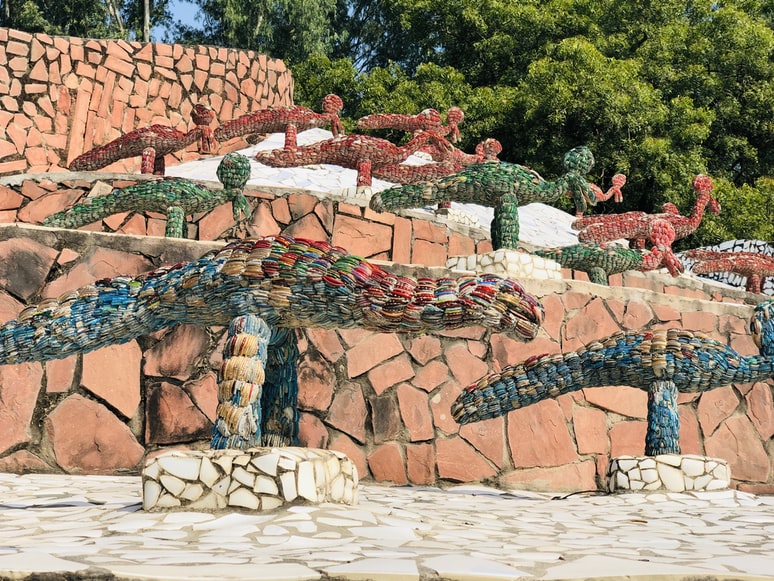 Chail Sanctuary, Chail 
When heading to Shimla through Chail, you might want to make the most of the opportunity and extend your stay at the Chail Sanctuary before heading to the final destination. This beautiful wildlife sanctuary is engulfed in lush foliage and a variety of flora. The 1000-acres is home to rare species of birds and fauna. One can spot the wild boar, goral, sambar, spotted deer, Himalayan black bear, and common langur to name a few.
Karna Lake, Karnal
A popular halt when travelling from Delhi to Shimla, the Karna Lake is the tourists' favourite and lies in the Karnal District. The scenic lake is soothing, calming and blissful. Travellers often spread their picnic mats on the lawns adjacent to this man-made water body. You can also opt for a short boat-ride, while you are here. 
Robber's Cave, Dehradun 
Adventure enthusiasts, this is your time to shine! Located 8 km. away from Dehradun City, the caves are known for their rather unusual cold springs. Traverse through the caves, with your legs dipped in the cold waters and navigate through the caves. The caves also house beautifully cascading waterfalls.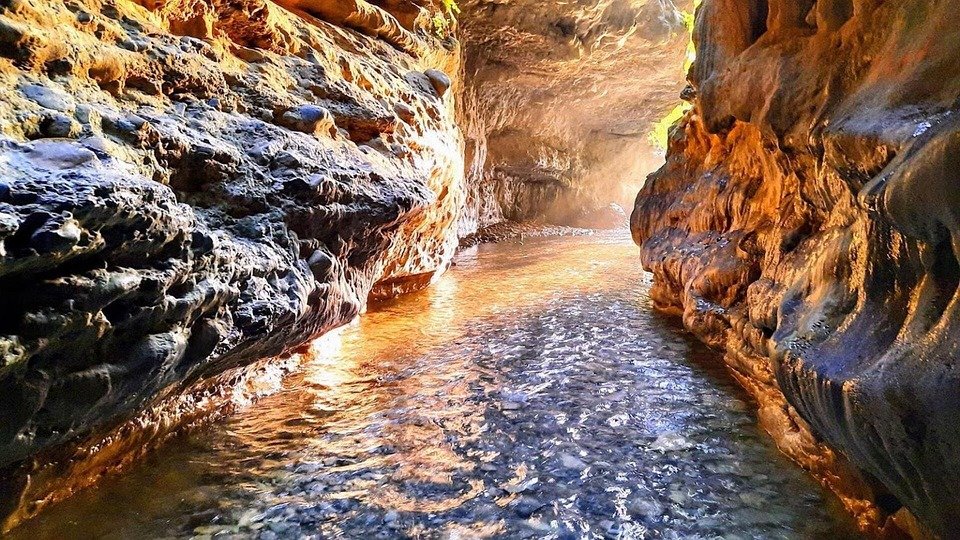 Luxury Holiday Homes & Cottages in Shimla
Shimla prides itself on the curated collection of unique homestays and cottages. From cosy and snug holiday homes by the Mall Road to sprawling cottages in the heart of Shimla, it promises the ideal stay for everyone. Take a look at Vista's collection of luxury villas in Shimla, that are guaranteed to leave you speechless. 
Northwood Cottage, Shimla 
No. of bedrooms – 3
Ideal for – 12 guests 
Key features of this holiday home in Shimla 
Swathed in dense Deodar trees 
Was built in 1916
Glazed verandah with comfortable furnishings 
Stocked bookshelves 
What do we love about this home? 
The property is an embodiment of vintage luxury. An effortless melange of traditional artefacts and modern decor, this cottage in Shimla will take you back in time. 
Whispering Pines, Shimla
No. of Bedrooms – 6
Ideal for – 17 guests 
Key Features of this cottage in Shimla 
Beautiful interiors in subtle and soothing hues 
Spacious well-furnished bedrooms 
Amenities such as barbecue and bonfire can be availed 
Incredible views of the forested hills 
Private balconies
What do we love about this home?
The exteriors! The beautifully manicured gardens are ideal for a calming yoga and meditation session amidst nature, that overlooks the mesmerizing open valleys.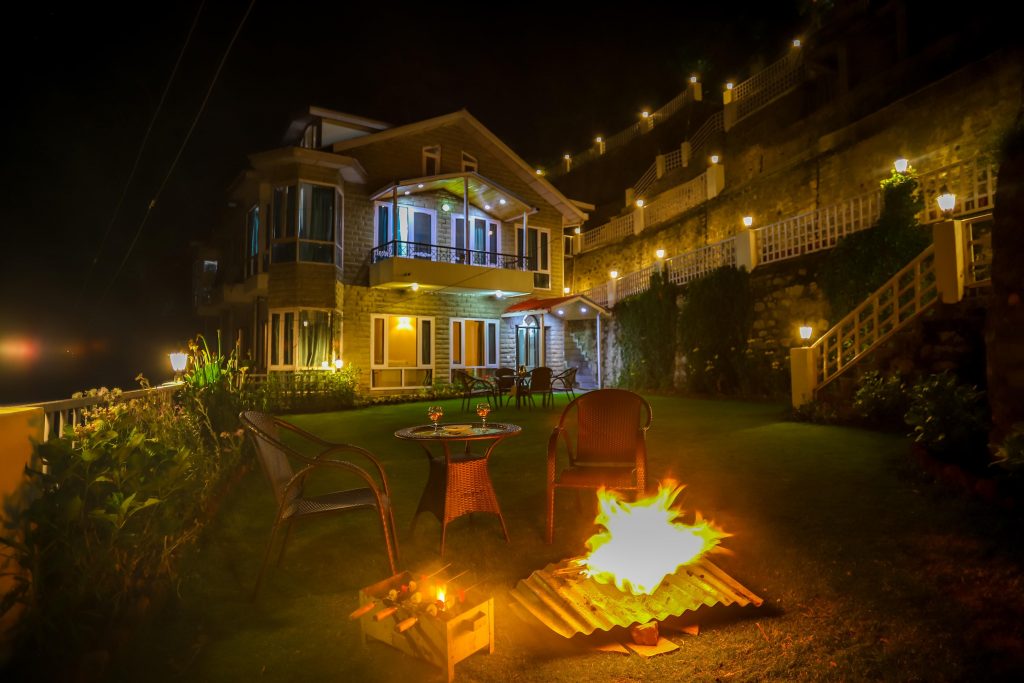 Deori Cottage, Theog
No. of bedrooms – 2 
Ideal for – 6 guests 
Key Features of this cottage in Shimla 
Unique stone and wooden structure 
Stunning location in Theog 
Sprawling common areas 
Cosy outdoors 
Amenities such as bonfire can be availed 
What do we love about this home? 
The absolutely magical views that surround this holiday home on all sides. The breathtaking mountainscapes are bound to leave you in awe.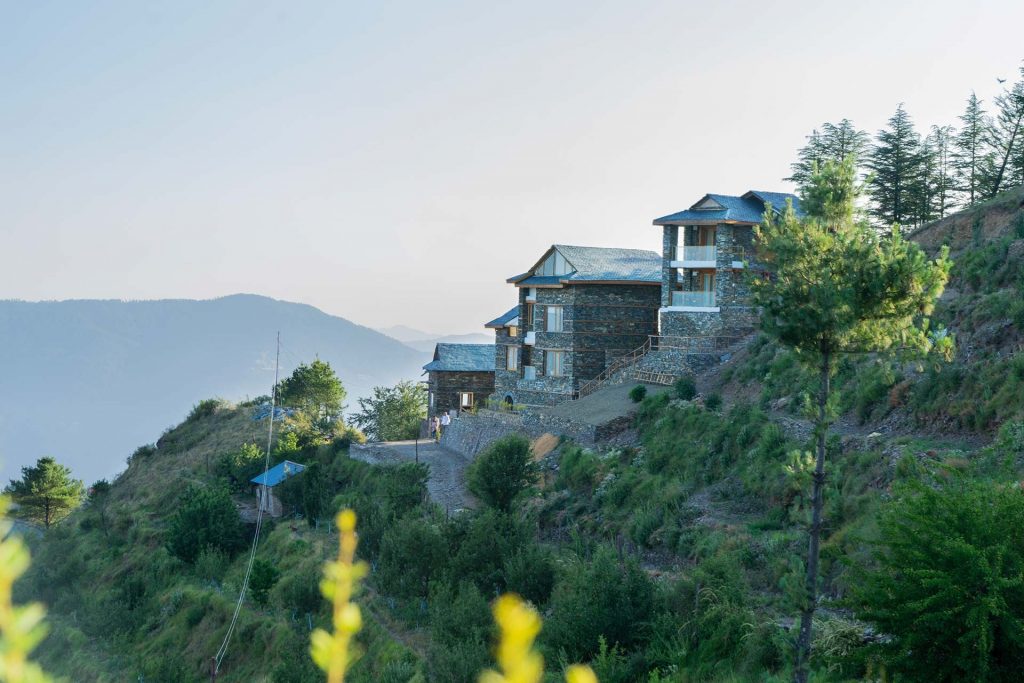 Jagheri Bagh, Shimla
No. of bedrooms – 4 
Ideal for – 10 guests 
Key features of this cottage in Shimla 
Spread across a whopping 8 acres 
Was formerly an apple orchard 
Regal interiors with modern comforts 
Sprawling lawns with swings 
Absolutely incomparable landscapes 
What do we love about this home? 
This luxurious holiday home is straight out of a book, complete with breathtaking views, a library and swings, and will transport you to a story of your own!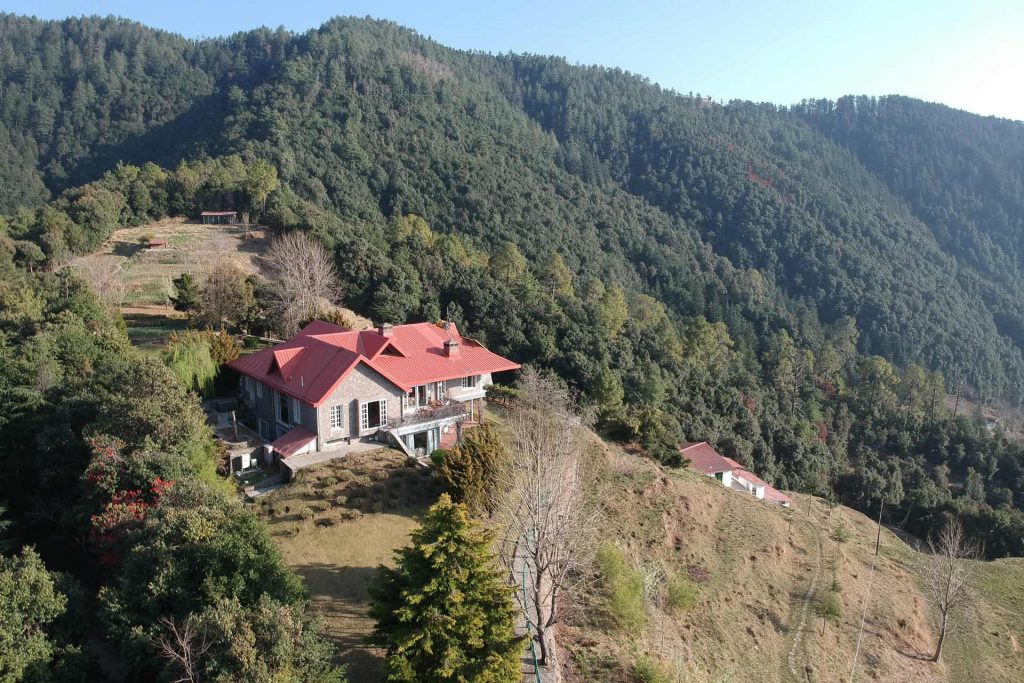 The Corner House, Shimla
No. of bedrooms – 3 
Ideal for – 9 guests 
Key features of this home in Shimla
Proximity to nearby treks and trails 
Modern and comfortable interiors
Positioned amidst the dense pine forest 
Well-equipped common areas 
What do we love about this home? 
The windows, that not only provide a glimpse of the gorgeous landscapes but also ensure that the mountains never leave you even when you are indoors!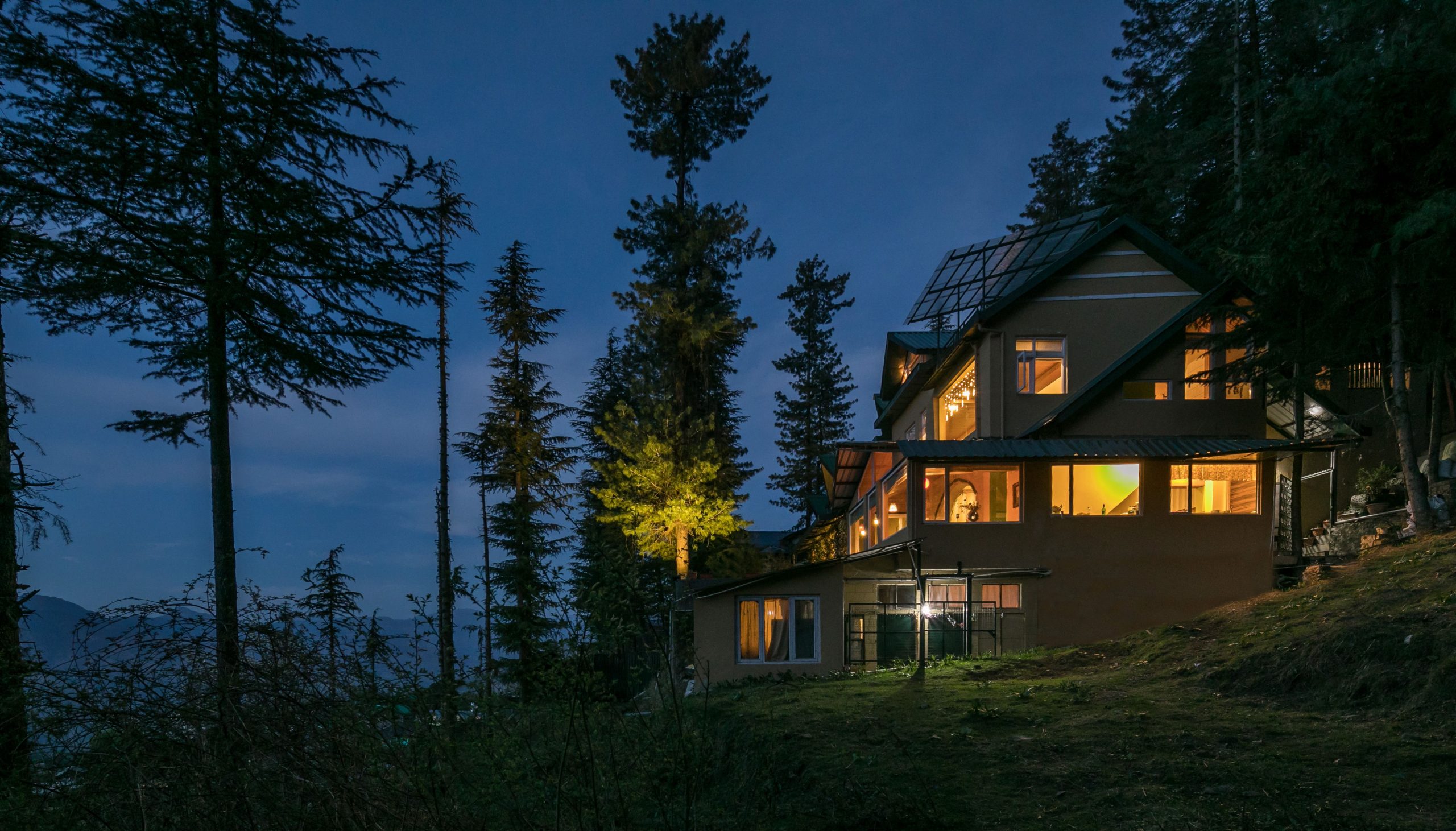 Shimla is one of the most visited destinations in India, and justifiably so. The road trip to Shimla is all things scenic and refreshing, and we cannot recommend it enough!