As the "mango season" commences, we're sure you can't wait to get your hands on these juicy heavenly delights. Every year, from late March to July, India is awash in mangoes. Mangoes are grown in over 1,000 different forms across the nation, with the states of Uttar Pradesh, Bihar, Andhra Pradesh, Gujarat, Maharashtra, Goa, Karnataka, Tamil Nadu, Odisha, and West Bengal producing the most. Imagine a weekend getaway in the distant towns of Maharashtra, far from the hustle and bustle of the city and the stress of timelines and appointments, with nothing but the soft fluttering of aromatic mango leaves to distract you. Mango farms in Maharashtra provide a peaceful respite which is also a fun and educational experience for the entire family. Maharashtra is also one of the greatest spots in India, known for both its delectable Alphonso mangoes and its beautiful countryside. During the summer, the lush foliage of the alphonso mango trees and the vivid yellow colours of the delectable mangoes adorn this region.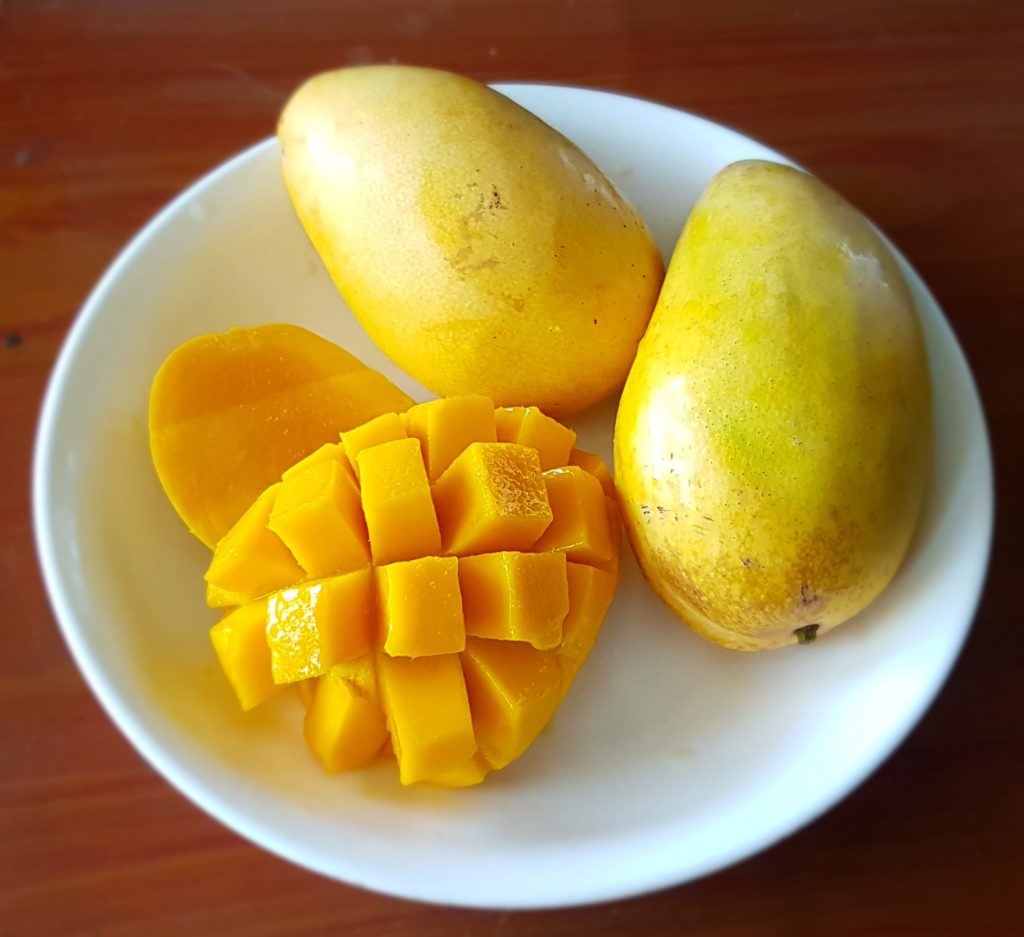 And what's better than planning a trip down some of the accommodations that play host to a series of mango orchards in Maharashtra. There are few things that can compare to a mango orchard's rustic charm, earthy and sweet scent, and natural beauty. And experiencing the luxury of it is absolutely something you should add to your must-do list.
10 Must-Visit Mango Orchard Properties by StayVista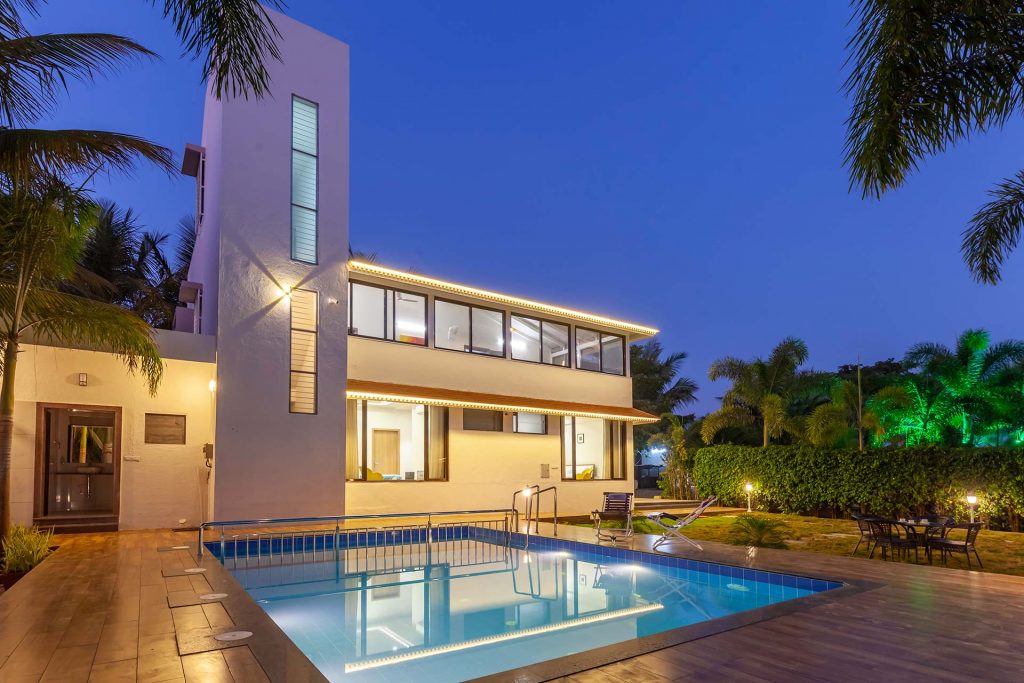 This aptly named property, literally surrounded by vineyards and mango orchards, is a much-needed peaceful refuge away from the chaos and bustle of everyday urban life. Within the premises of the property, guests can enjoy a de-stressing soak in the pool or simply unwind by the deck sipping on their favourite drink. All bird-watching aficionados can explore the diversity of the birds that flock around the area. You can also enjoy a guided tour of the mango farms.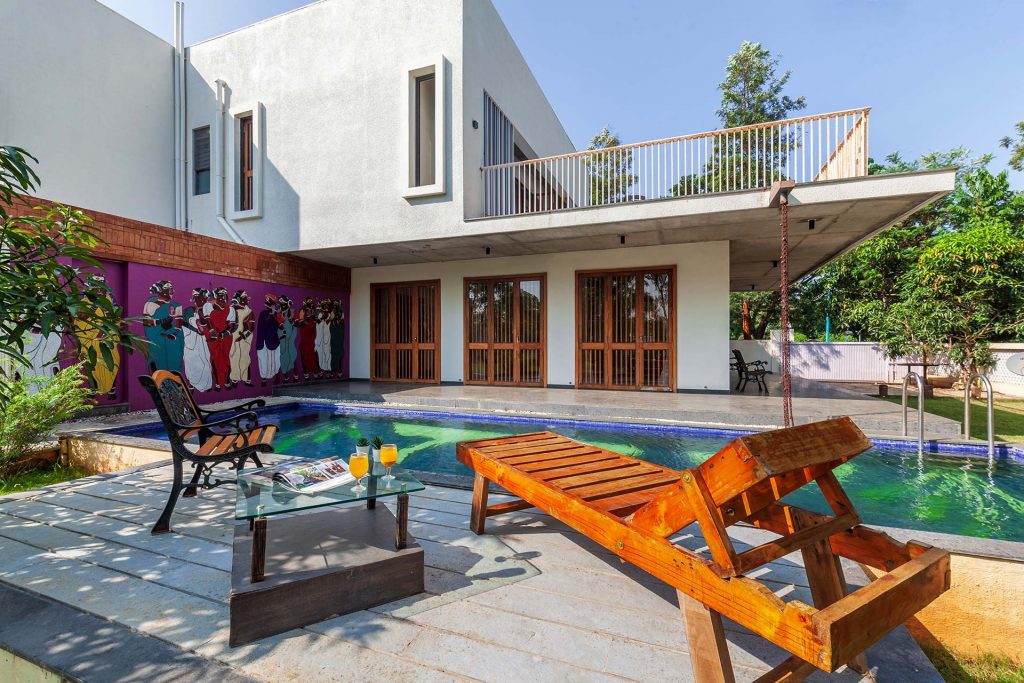 At Kesar Baug, be immersed in the earthy aroma of the flora and experience peace and calm as you've never felt before. In the midst of mango and coconut plantations, this property set across a vast land features everything you need for an ideal family getaway away from the bustling city life. With a plethora of activities to indulge in around the vast expanse of this gated community, guests might find it hard to soak in the hues and vibes this place has to offer in just one day! Take a tour of the Kesar mango plantations, coconut plantations, or the botanical and herb gardens. Kids have a designated play area, a sandpit, and a rain dance area to play to their heart's content. To top it off, within the villa, guests can unwind in the outdoor pool or spend some quality time playing indoor board games.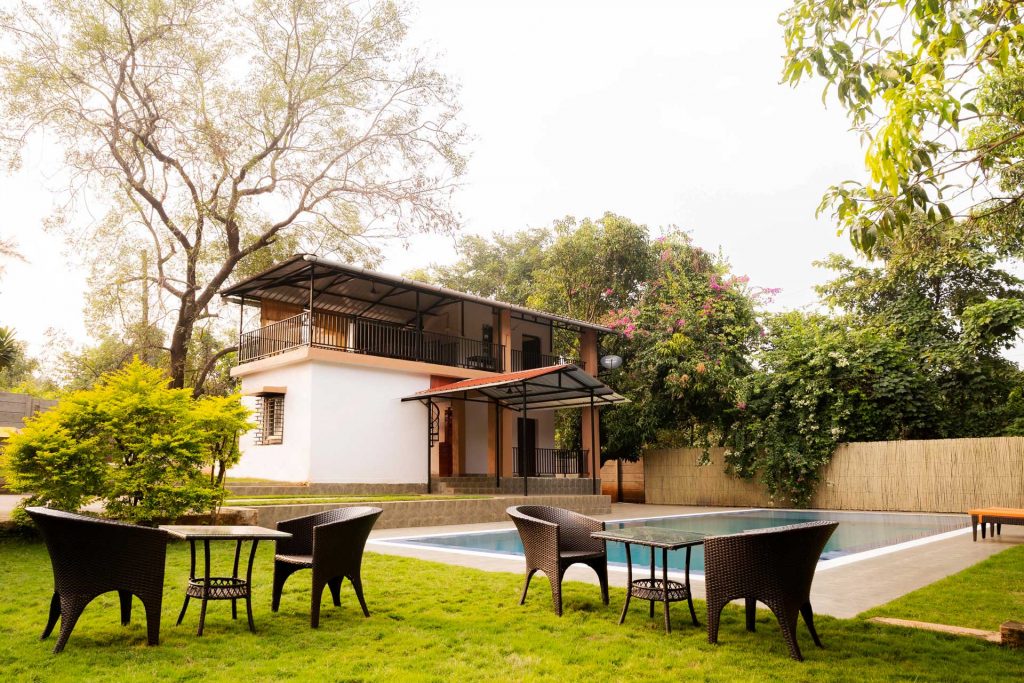 Spread across a 7-acre evergreen patch of mango plantations lies this charming villa nestled in the lesser-known town of Murbad. Offering a breath of fresh air to everyone that visits this destination, the entire villa brimming with natural beauty, and serene vibes is definitely the place to be if you desire to unplug from the cacophony of your everyday monotonous lives. Within the premises, guests can stroll along the 300m. walking track laden with mango trees on either side whilst enjoying the fresh breeze and chirping birds. The private outdoor pool that blends in with the flora around is quite ideal for a quick de-stressing dip. Unwind and relax by the loungers or engage in a fun session of games and carrom at night. There are provisions for planting a tree at this property that guests can request.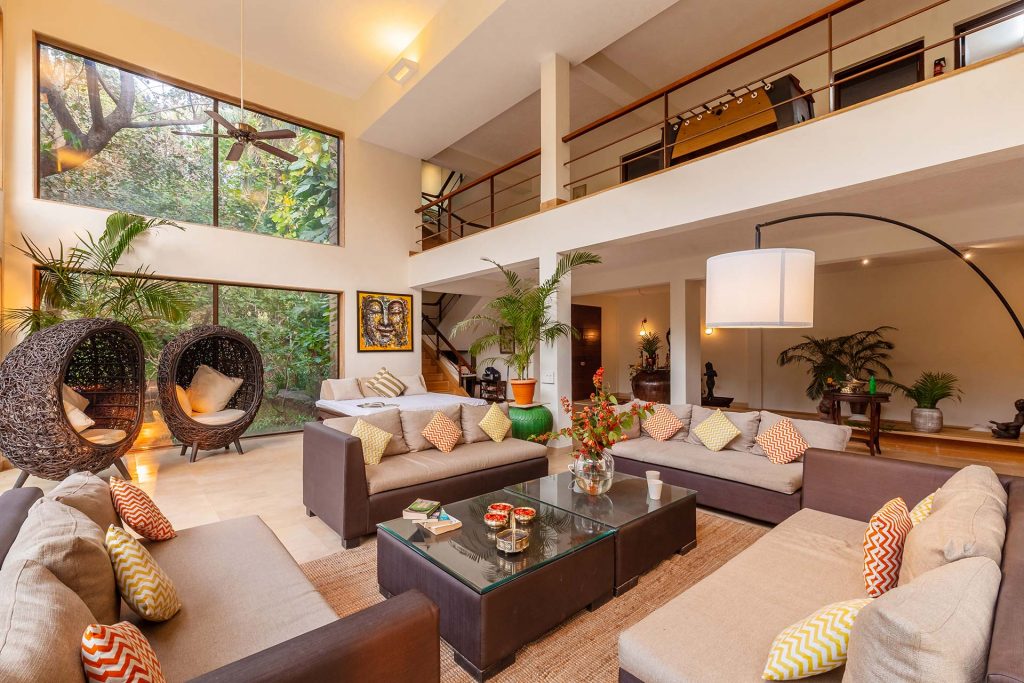 Nirvaan Estate, a tranquil paradise cocooned away in Alibaug, delivers utter solitude to everyone who visits. Nestled amidst expansive hills that create the perfect backdrop and an enormous variety of trees both native and acquired Nirvaan Estate brings you right into the lap of nature. This opulent home is encircled by coconut groves, mango, supari, and spice trees, all of which have a rejuvenating influence on you and will definitely leave you in a state of euphoria throughout your mini-holiday.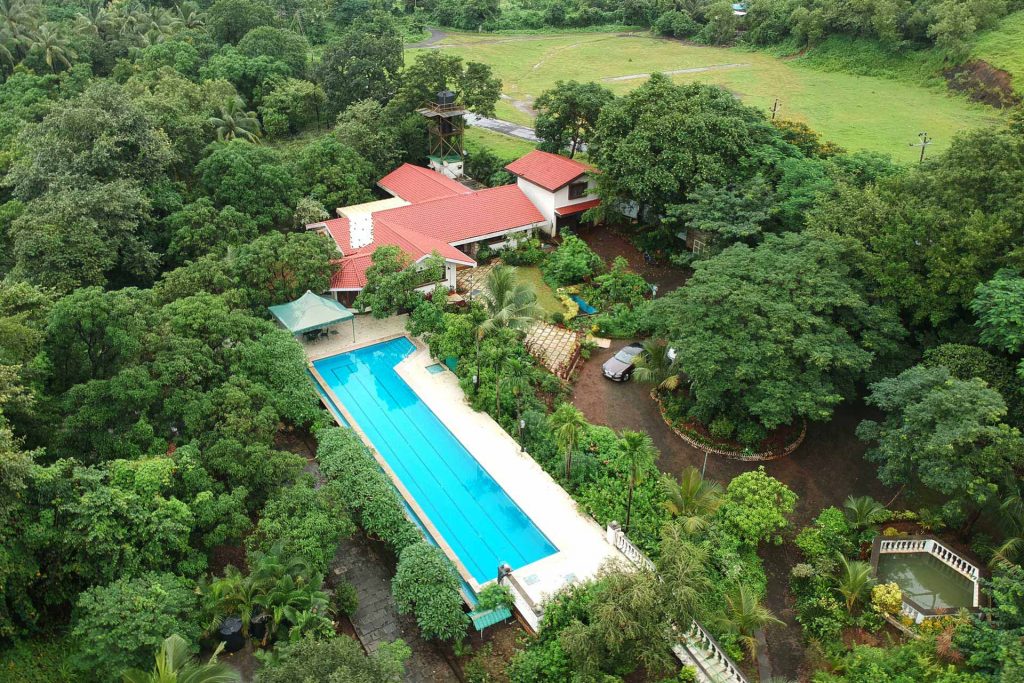 Laid with Jaisalmer stone, Casa Palmera is flushed with a unique organic warmth. Take a moment to appreciate the massive living space that opens out to a large, covered verandah overlooking the mango orchards. Here, you can indulge in having a gala time by the pool or take a peaceful stroll near the lake and embrace its beauty. The sweet aroma lingering from the mango orchards is incentive enough to take a tour through these plantations.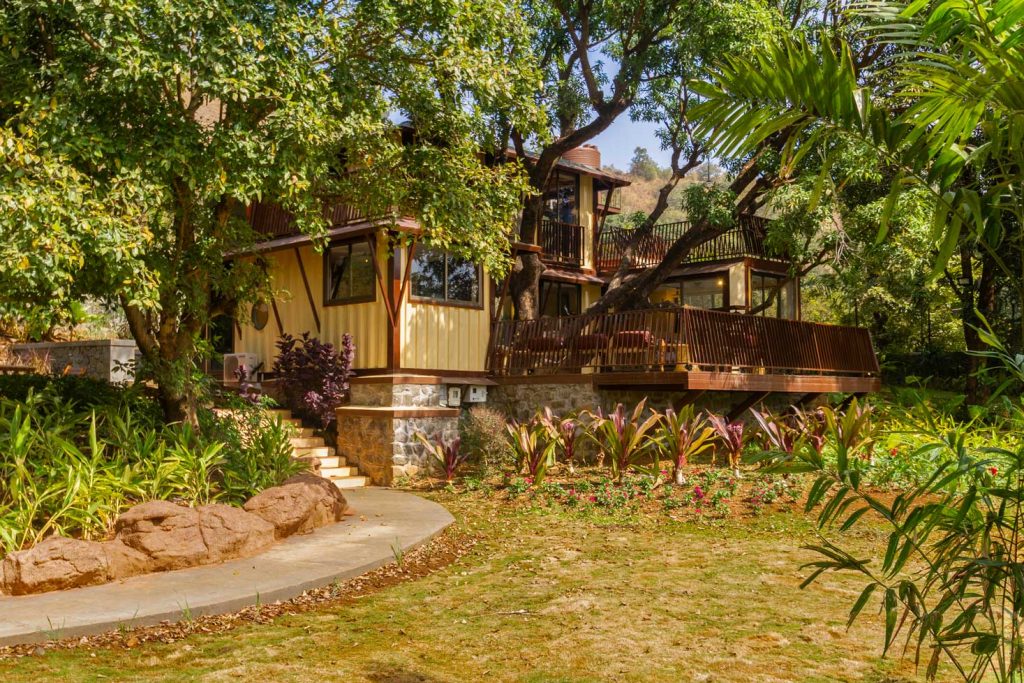 Built around a large mango tree with shipping containers, Antheia is a peaceful retreat for all nature lovers seeking solace away from the buzz and bustle of the city.  Situated along the banks of Pawana Lake, this architectural and design marvel is perfect for those who love the outdoors and enjoy the beauty of nature, whether it be marveling at the sunrises and sunsets, enjoying the calm environs and misty lake mornings or simply having an adventurous time exploring the carefully designed amenities. You can avail of the guided treks around the mango orchards, try a hand at boating or cycling or watch the place fill with beautiful fireflies during the summer.
Dense with trees, a few of which are fruit-bearing like Lychee, Mango, and Chickoo. Retreat on Cloud 9 is an ideal family holiday destination, with multiple open spaces, such as the verandah, courtyard, and garden area to relax during your holiday. Also, you can find that the garden is beautifully landscaped with 4 levels to take advantage of the natural slope of the plot.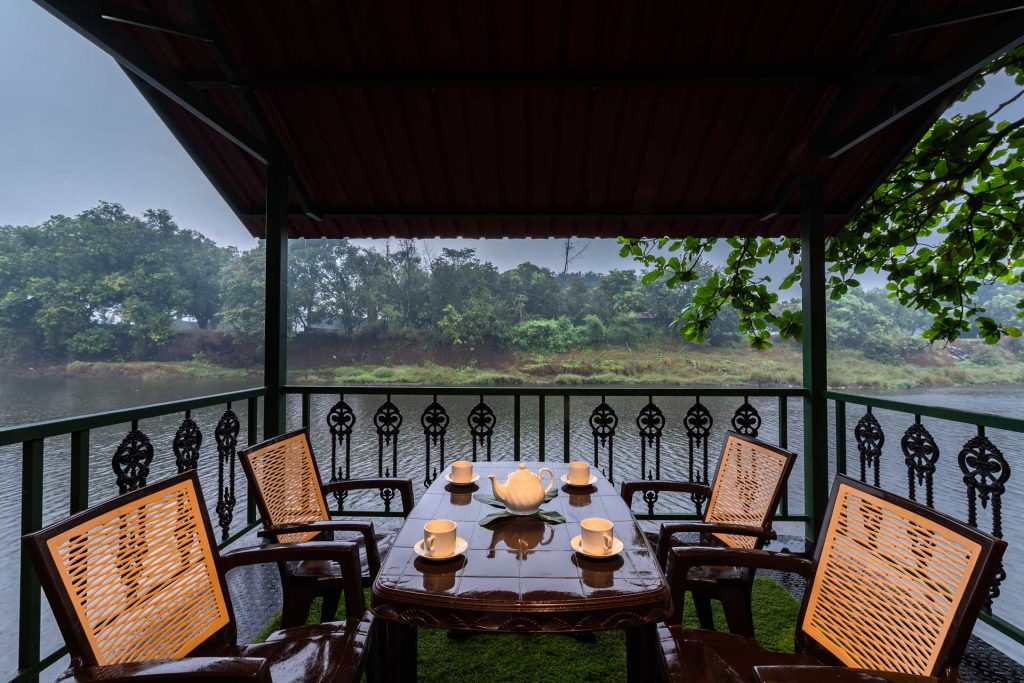 Surrounded by lush greenery and overlooking the lake, Vintage Estate is a stunning property located in Karjat. True to its name, this villa features rustic interiors in the hues of browns and reds and several artifacts. This charming abode is equipped with a gorgeous landscaped lawn with mango and chikoo trees and an attached gazebo, a bonfire pit with seating, a temple, and various artifacts like swords that can be traced back to the 1800s.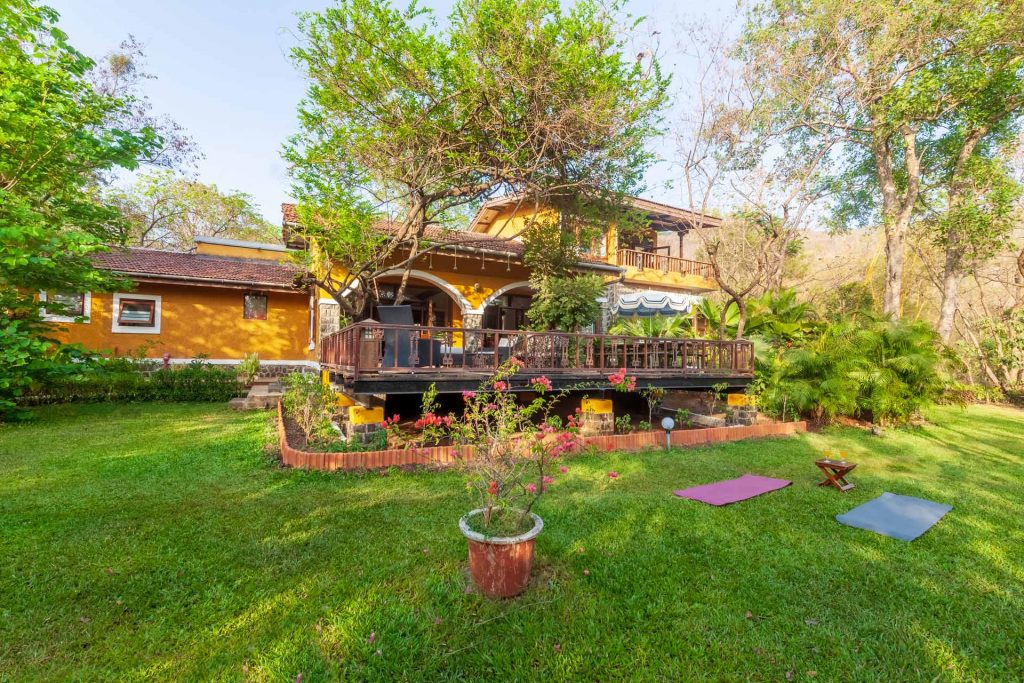 Spread across a whopping 2.25 acres, Villa Amarillo is a charming home located in the midst of three hundred lush trees.  Every corner of the home has been thoughtfully curated, from the locally sourced mirrors to outdoor deck dining, to the uniquely figure-8 shaped forest path.  As for the area itself, the home is a tribute to the Japanese practice of Shinrin Yoku, meaning forest bathing or a form of nature therapy. It promotes the idea of being one with nature, which is primarily why one must choose to visit this unique escape.  The villa exterior is brimming with lush teak and Khair trees, sharing space with mangoes, chikoos, custard apples, pineapples, and moringa. Indeed, a retreat in every sense, this one-of-a-kind experience is unmatchable, and ideal for a much-deserved break from the rigorous everyday hustle.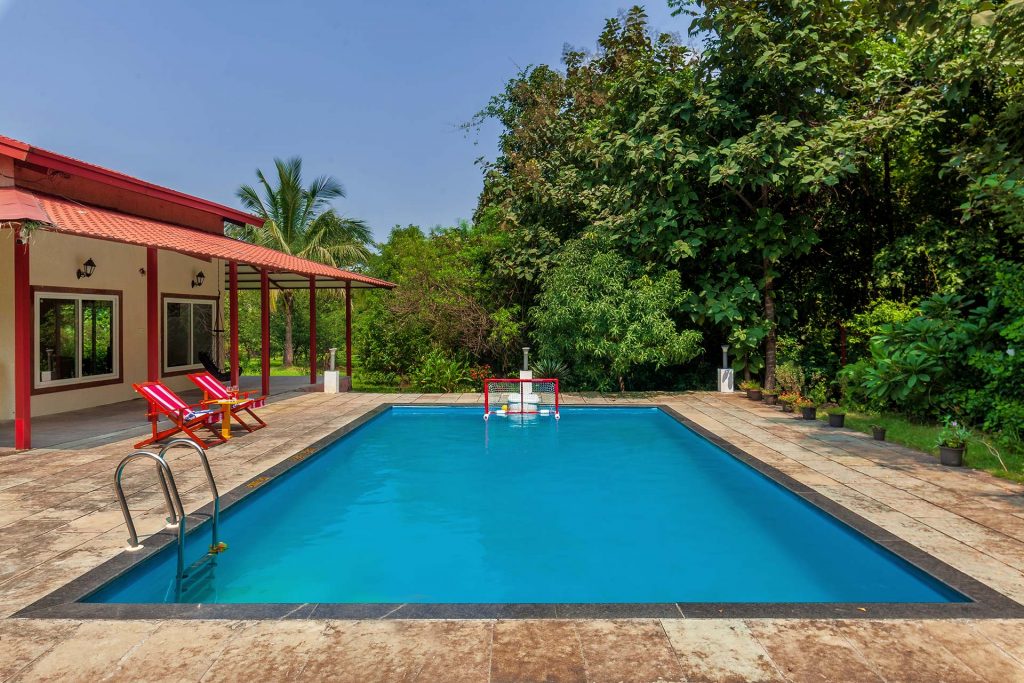 Offering an unconventional natural hideaway in the quaint town of Karjat, Corfu and Crete are twin villas where you can have a quick staycation with your entire tribe. This pet-friendly home offers beautiful sights of the lush green Sahyadris and is a classic respite amidst the meandering forests. These twin properties also feature a 3.75 acres sprawling lawn boasting tall trees and mango orchards.