Weddings are a time of joy, celebration and great revelry. From dhols, to flower-bathed mandaps, to vibrant vibe and grandeur, weddings sing of fervour and festivities. In India, weddings are a statement, a day that is planned down to every excruciating detail. The guest list, the decor, the curated menu, all of it is of significance on this big day. Whilst, the country is known for its big, lavish and elaborate weddings, with the onset of the pandemic, smaller, intimate weddings have also marked their place at the table. Brides and grooms are choosing to go big, but with limited guests and smaller spaces. Intimate weddings are now becoming increasingly popular. And justifiably so. The stress associated with weddings goes down manifold, so do the costs, and the families get to celebrate the big day all with their closest friends and loved ones! 
If you are on the lookout for your intimate outdoor wedding venue, our holiday homes are at your disposal! Spanning across the country, with landscaped outdoor spaces and thoughtfully designed indoor spaces. What's more? We can also help you plan your D-day, depending on the location. Have a look at our curated collection of villas that are perfect to host you and your guests. 
The Secret Garden, Pushkar
No. of bedrooms – 6 bedrooms and 7 baths
Ideal for – 20 guests
Make way for a destination wedding unlike any other! The Secret Garden is a beautiful holiday home straight out of a fairytale making for a perfect outdoor wedding venue. Set in the quaint town of Pushkar, this luxury villa features a grand total of 6 spacious bedrooms to accommodate you and your guests. Bathed in euphoric landscapes, abundant greenery and breathtaking mountainscapes, the pictures captured here are guaranteed to leave a mark. Boasting ample terraces, verdant outdoor spaces, and manicured gardens with alfresco dining, the estate is absolutely perfect for events. Oozing an indescribable ambience, the terraces are embellished with traditional charpais, the lawns feature scattered benches, and the balconies overlook the serene mountains and hills. 
What do we love about this home?
Aesthetically pleasing modern decor 
Sprawling rooftop terraces ornamented with furnishings 
Grand, expansive lawns with alfresco dining space 
An in-house yoga-shala 
Striking red-brick facade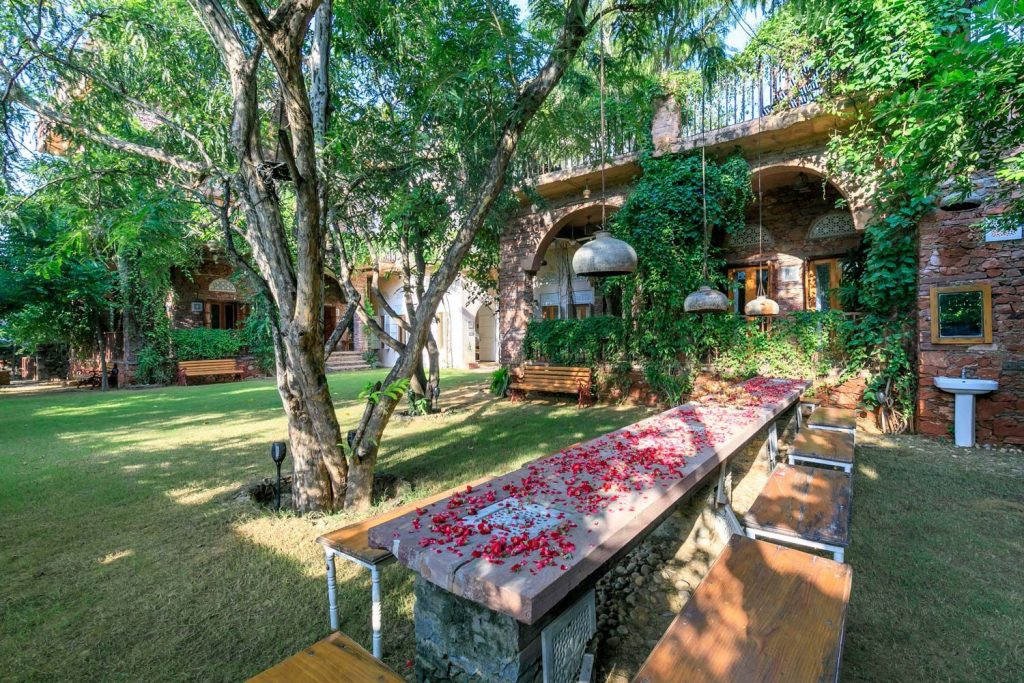 Mehta Mansion, Lonavala 
No. of bedrooms – 9 bedrooms and 10 baths
Ideal for – 29 guests
True to its name, Mehta Mansion is a mansion alright. Located in the heart of Lonavala, Maharashtra's favourite hillstation, the imposing structure certainly makes a statement. With 9 well-furnished bedrooms, each with a theme of its own, the home can accommodate ample guests, however, the outdoor spaces itself can host up to 200 people, making it perfect for an intimate or even a large wedding! The exteriors boast sprawling landscaped lawns, adorned with ample outdoor seating arrangements and collapsible umbrellas to provide shade. The covered outdoor swimming pool is also at your disposal at all times. Whilst the indoor spaces boast an entertainment room, with a bar and ample of indoor games to keep your guests occupied at all times!
What do we love about this home?
Unique, one-of-a-kind interiors with lavish amenities 
Designated entertainment room with snooker and a bar 
Spacious living rooms and balconies 
Eye-catching white facade 
Expansive green lawns featuring a pagoda 
Cosy treehouse with a play gym for kids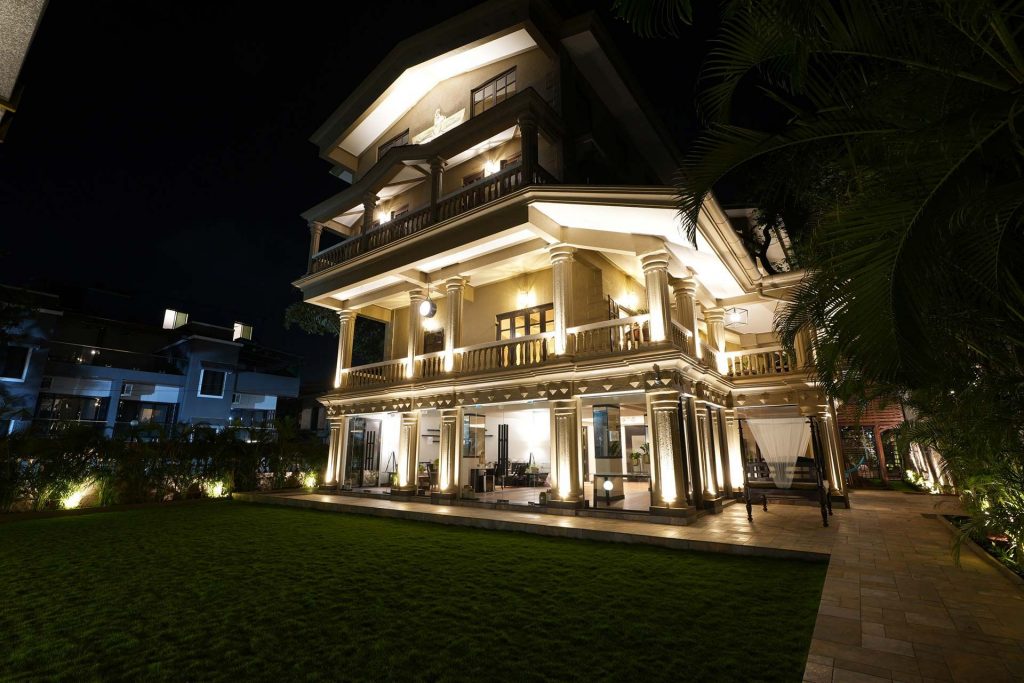 Umber Villa, Alibaug 
No. of Bedrooms – 5 bedrooms and 6 baths
Ideal for – 15 guests
A thoughtfully designed holiday home that makes for a perfect wedding destination – Umber Villa. The mishmash of modern and plush furnishings, coupled with the vibrant patterns and designs spread throughout the home, this luxury villa promises an experience in your own private oasis. Nestled in the coastal town of Alibaug, the Goa of Maharashtra, this holiday home boasts an abundance of outdoor spaces, sprinkled with typical, cosy outdoor seating spaces. The bedrooms are extremely spacious and the attention to detail here simply cannot be missed. The landscaped gardens are dotted with the magnificent Umber tree that lends to its name. The glorious landscapes that surround the home and the tranquillity promised together make it a perfect match for your wedding!
What do we love about this home?
The imposing Umber Tree that blossoms every 12 years 
The intricately landscaped and designed spaces 
Sprawling, private swimming pool 
Manicured gardens with a gazebo 
Ample of patios, verandahs and balconies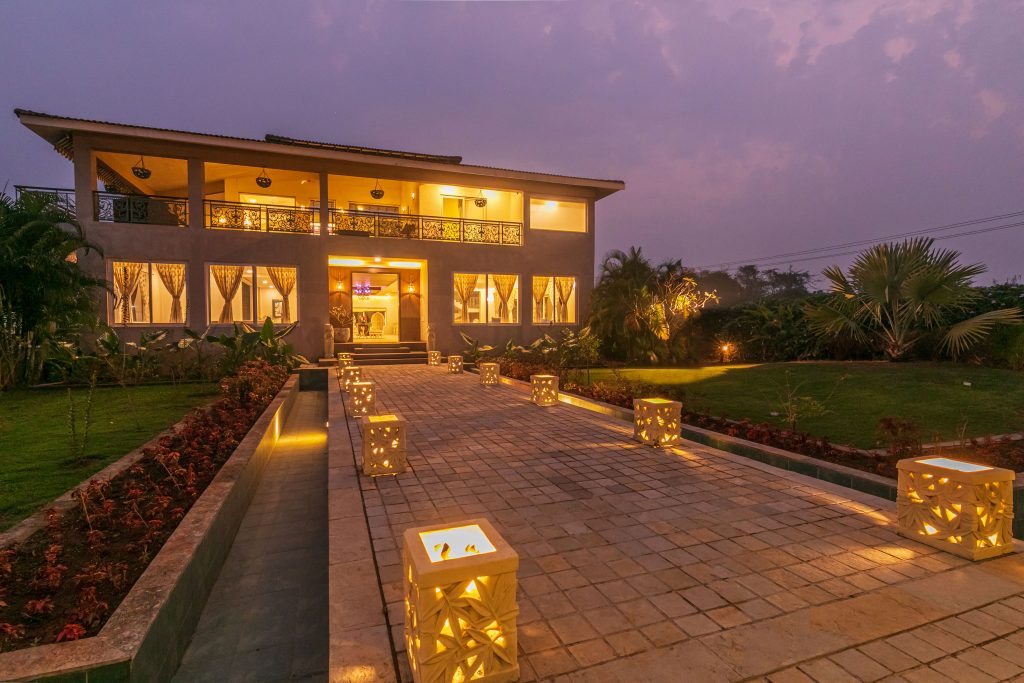 Daojidhaar Estate, Mashobra 
No. of Bedrooms – 5 bedrooms and 4 baths
Ideal for – 10 guests
Who doesn't want a wedding in the hills? Swathed in the rising peaks, lush greenery, vast expanses of dense forests – sounds like a dream, right? Well, you can make it a reality at Daojidhaar Estate! Located in the blissful town of Mashobra, this 15-acre private estate is located in the heart of the city. The prime location promises not only ample accessibility but also convenience. When we talk about the home itself, it features 5 spacious bedrooms that are designed and furnished down to the T. The outdoor spaces are surrounded by deodar and oak tree forests, whilst the gardens boast a swing overlooking the ethereal views.
What do we love about this home?
Carefully furnished indoor spaces 
Beautiful gardens overlooking the surrounding landscapes 
Alfresco dining spaces 
Convenient and accessible location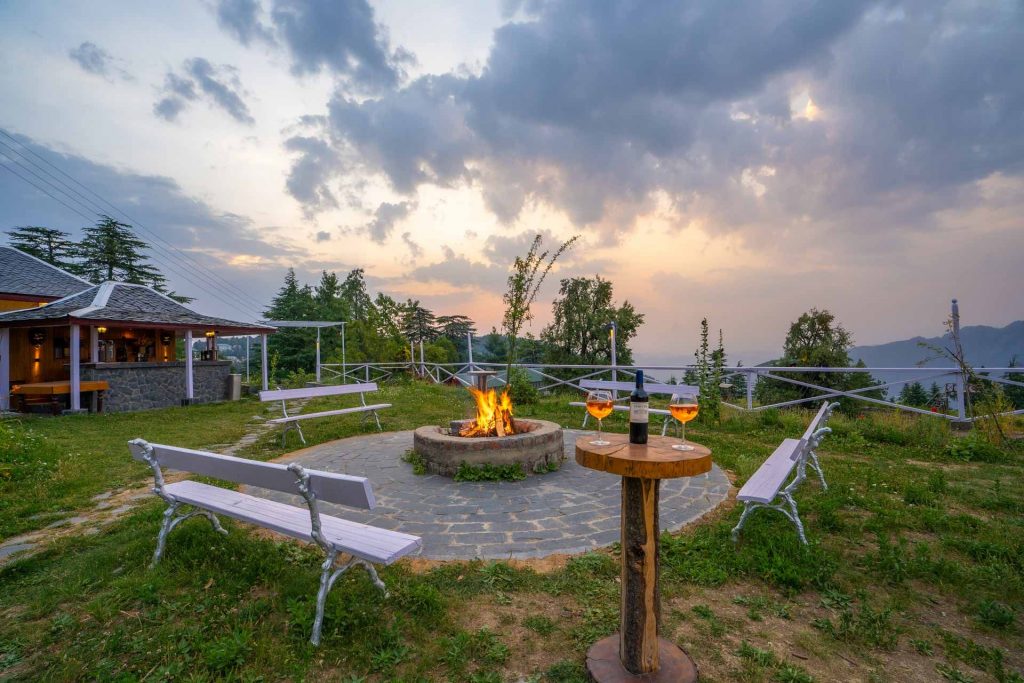 Emerald Acres, Lonavala
No. of Bedrooms – 7 bedrooms and 9 baths
Ideal for – 21 guests
Welcome acres of lush green land, expansive outdoor spaces and over-the-top amenities as you step into this holiday home. Its imposing structure will instantly catch your eye, as will the pool zone, the spacious, open terraces and the towering ceilings. The entirety of the villa is a seamless mash of subdued hues coupled with elaborate furnishings. The bedrooms boast tall ceilings and are adorned with plush amenities to ensure you and your guests' utmost comfort. The exteriors of this 4-acre estate feature seemingly unending lawns and gardens that are perfect to host large and small groups of people! The designated pool zone, along with the private home theatre, jacuzzi and amphitheatre ensure ample activities for your guests to enjoy.
What do we love about this home?
Nestled in a quaint nook of Lonavala, ensuring privacy
Beautiful melange of luxe furnishings and leisure amenities 
4-acre private estate with expansive private gardens 
Designated pool zoon, with a pool deck and loungers 
Private home theatre along with an outdoor amphitheatre 
Jacuzzi with a steam room 
Explore more of our curated holiday homes on our website and book your dream venue ASAP!