There is no dearth of private pool villas in the world, but some of them stand above the rest. These top-notch villas provide an unforgettable vacation experience, with exotic decor, opulent facilities, and a feeling of seclusion. Upon first seeing them, you are certain to fall in love with them. Imagine spending your getaway with your loved ones, in one of these private pool villas, that offer an unbelievable experience! Sure does give a vivid picture, huh? It's likely that you haven't yet located the greatest private pool villas if you haven't got a chance to swim and splash while on vacation.
Here's a guide featuring 8 villas with a private pool that will surely leave you mesmerized.
1. Sunset On The Lake, Nashik
Set on a bougainvillaea-scented hilltop overlooking a gorgeous lake view, this serene, whitewashed sanctuary is a refreshingly discreet alternative to the city's routine lifestyle. As soon as you walk through the massive wooden entrance, you will be welcomed into what one can only call a soft landing for the soul – an endless water view that goes beyond the temperature-controlled infinity pool into the undisturbed, glistening lake. The pool is 15×50 ft. in size and 5 ft. in depth, perfect to comfortably host large groups. The pool deck is furnished with ample comfortable seating arrangements, including cushioned chairs, coffee tables, and sun loungers. On the right side of the pool, snuggled in the corner, is a private, wooden jacuzzi that can be accessed at no additional cost. Guests can enjoy their favourite cocktails by the poolside bar.
2. Mawi Infinitty Villa Azure, Pawna
Wake up to the gently rippling waters of the Pawna Lake and wonder if you're still dreaming. Picturesque and romantic, the stunning views afforded from this luxury private pool villa are reminiscent of a fairytale that one can only read about. This luxurious abode is cosy without being crowded, making it ideal for big gatherings. There is a feeling of journeying beyond the ordinary the instant you enter the grounds. You'll want to stop and enjoy every second here, whether you're gazing out over the infinity pool or enjoying your morning coffee on the terraces. Imagine yourself sitting on a daybed by the pool, sipping a cocktail, and admiring the sunset as the sky turns from blue to pink and orange. Utter bliss. With an exceptional experience just a short drive away, this villa is perfect for that much-needed break away from the clamour and chaos. This property features an infinity pool with a jacuzzi that blends seamlessly with the cool blues of Pawna Lake. It also has a plunge pool with a scenic backdrop that definitely tops the experience for any pool villa in Phuket!
3. Le Farm, Kamshet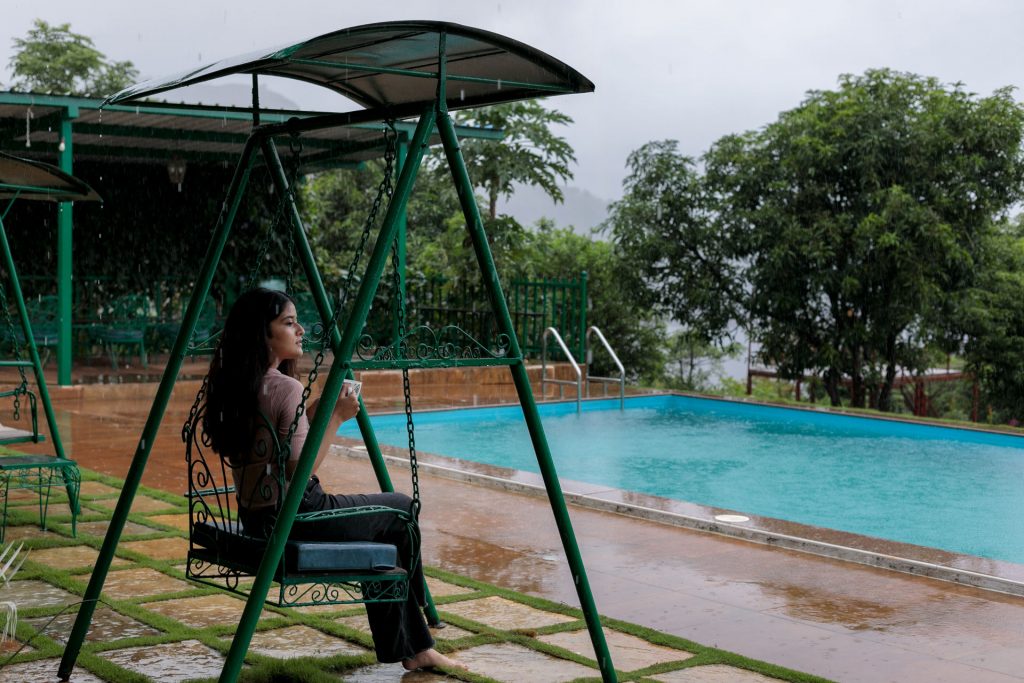 Unfolding an experience of an authentic farm stay, this private pool villa is spread across 15 acres of lush greenery. The exteriors boast a private swimming pool, ideal for a lazy soak, and the expansive gardens serve as the perfect spot for basking in the sun. Boasting soaring hills, gentle waters, and verdure meadows, this idyllic home promises the best of all worlds. The private swimming pool is 30×20 ft. in size and 5 ft. in depth. Guests can also splash around in the cosy lap pool.
4. Magnolia Villa, Alibaug
A drive through the meandering roads of Alibaug laden with fresh viridescent pastels on either side will lead you to this exquisite property nestled in the quaint hamlet of Chondhi. Surround yourself with nothing but a friendly and pleasant aura that emanates throughout the premises of this opulent mansion, a home that is undoubtedly still vintage at heart. This private pool villa has something for everyone, whether you want to play around in the pool beneath flowering trees, take long afternoon naps on the patio swing, chat with a special someone, or just take in the breathtaking views from the balcony. Just as indulgent as the stunning private wrap-around pool flanked by a spacious outdoor living area on one side and abundant greenery on the other. The pool is 100×50 ft. in size and 5 ft. in depth.
5. The White Gable, Jaipur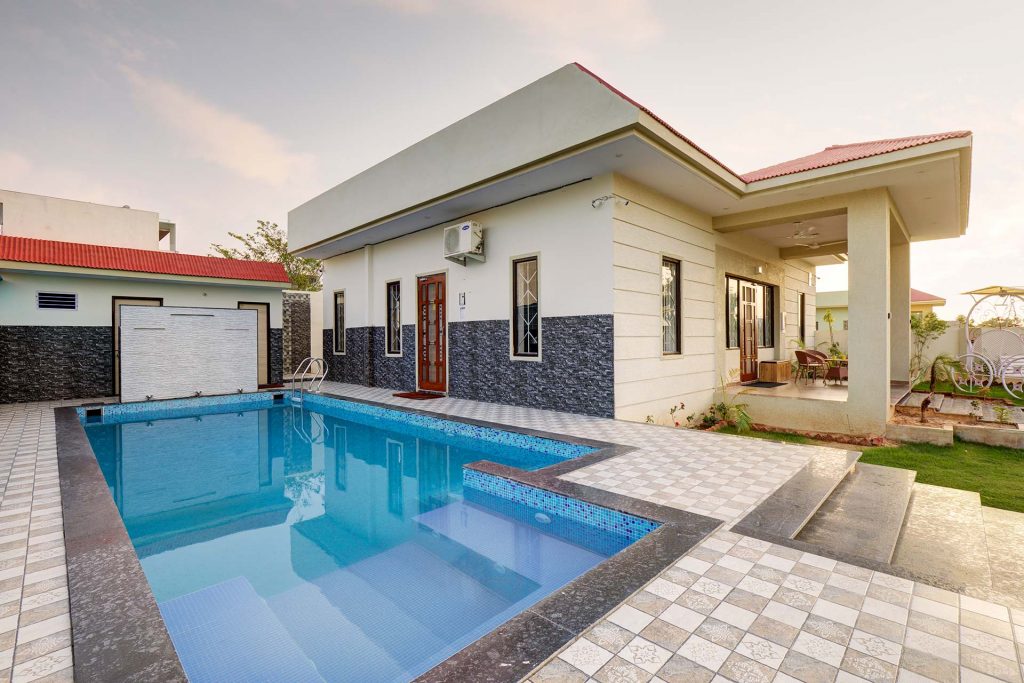 The eye-catching white-washed facade, coupled with the vibrant gable roofs of the home lends to its name. Posing as the ideal getaway, The White Gable is equipped with all the imaginable offerings for a relaxed holiday. Get to unwind, relax and enjoy a refreshing splash in the amazing pool. The pool is 12×26 ft. in size and 5 ft. in depth.
6. Waterlilly, Parra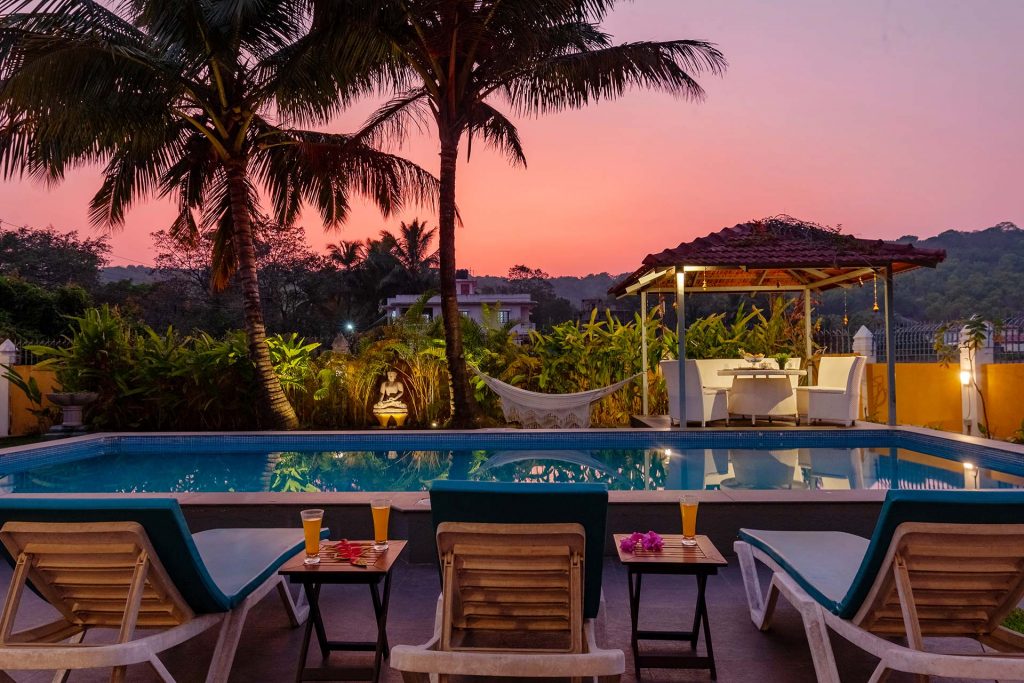 In the midst of these old streets of Goa, in the midst of lush green lawns lies this private pool villa, Waterlily. This villa reminisces the sun in its pretty painted walls of yellow and blue, while the quaint wooden and cane furniture seem to invite you to unwind to your heart's content. Although Goa is full of people who love the waters, this villa with a private pool ensures that you can enjoy a swim, even on a cool day.
7. Parijat, Udaipur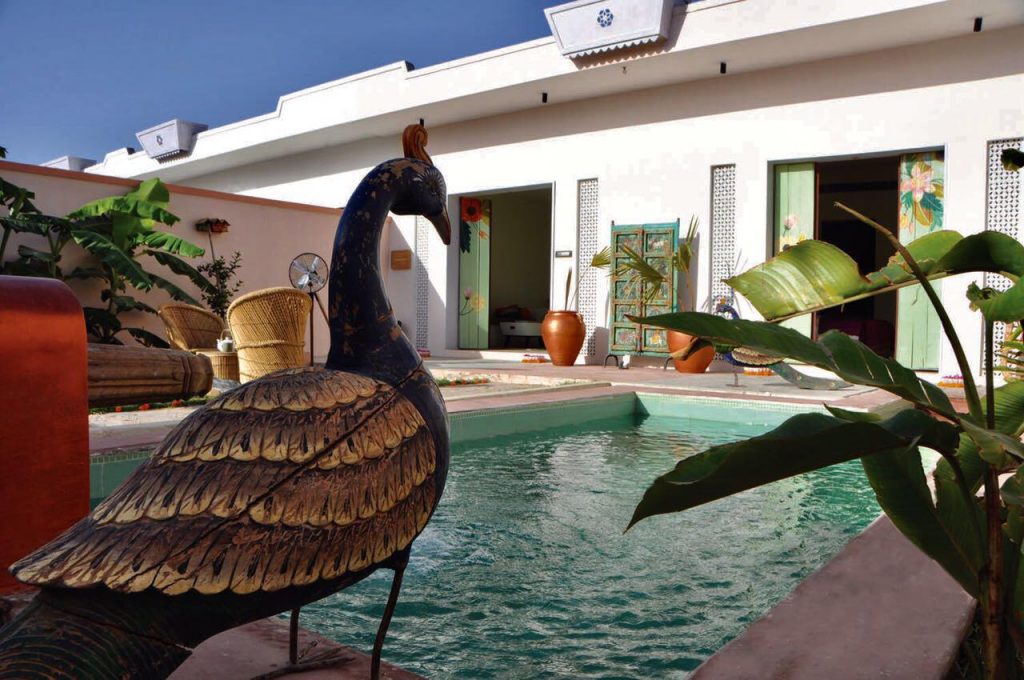 On the outskirts of the stunning City of Lakes, Udaipur, Parijat is located in a quiet area surrounded by greenery. The villa has colourful, vibrant interiors accessorized with expensive artifacts, paintings, and rustic yet chic furniture. It is ideal for small groups or couples. Spend your evenings under the open sky, next to your amazing pool as you look out to stunning views of the Aravalli hills that are definitely gram-worthy!
8. Cops Canopy, Chandigarh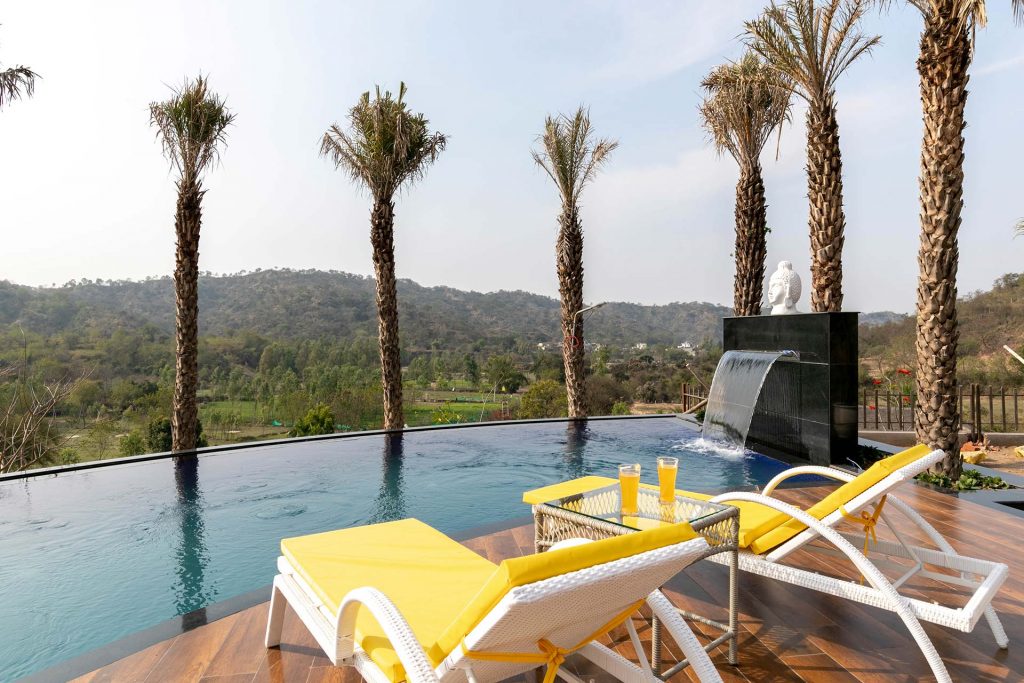 This Chandigarh home has a certain quality that is difficult to identify. Is it the particular layout? the internal masonry? the spacious washrooms? Or the big jacuzzi-equipped infinity pool? Of course the latter! Simply relax by the infinity pool, or choose the bar area adjacent to it for a pleasant catch-up session while enjoying their favourite drinks. With its distinctive architecture and beautiful surroundings, this private pool villa must unquestionably be highlighted on your Instagram feed!