The second half of the year is synonymous with the ushering in of beautiful festivities and loads of holidays. And one of the biggest festivals that falls around this time is Diwali. Celebrated widely with great enthusiasm and zeal, the cities are soaked in festive fervour and shimmering lights. The Diwali vacations and the festive season mean that family reunions, Diwali parties, and such are extremely common! Good for you, Diwali in 2022 falls on a Monday, making it perfect for a long Diwali getaway. And you are in luck as we have made a consolidated list of Diwali getaway destinations, for you to decide on your next holiday! 
Rosewood, Amritsar 
No. of bedrooms – 3 bedrooms with 4 baths
Ideal for – 8 guests
What we love about this home –
Quaint, cosy cottage nestled in the outskirts of Amritsar 
Indoor spaces that are eloquently furnished
Sprawling gardens that boast a beautiful gazebo perfect for a snuggle with a book 
Private terrace overlooking the serene night skies 
Offering the best of both worlds – vintage furnishings and modern conveniences 
A perfect home to disconnect from the outside world and reconnect with yourself
How to reach there? 
Distance from Sri Guru Ram Dass Jee International Airport – 20 km.
Distance from Amritsar Railway Station – 11 km.
Distance from Amritsar Bus Stand – 8 km.
Distance from Main Market – 2 km.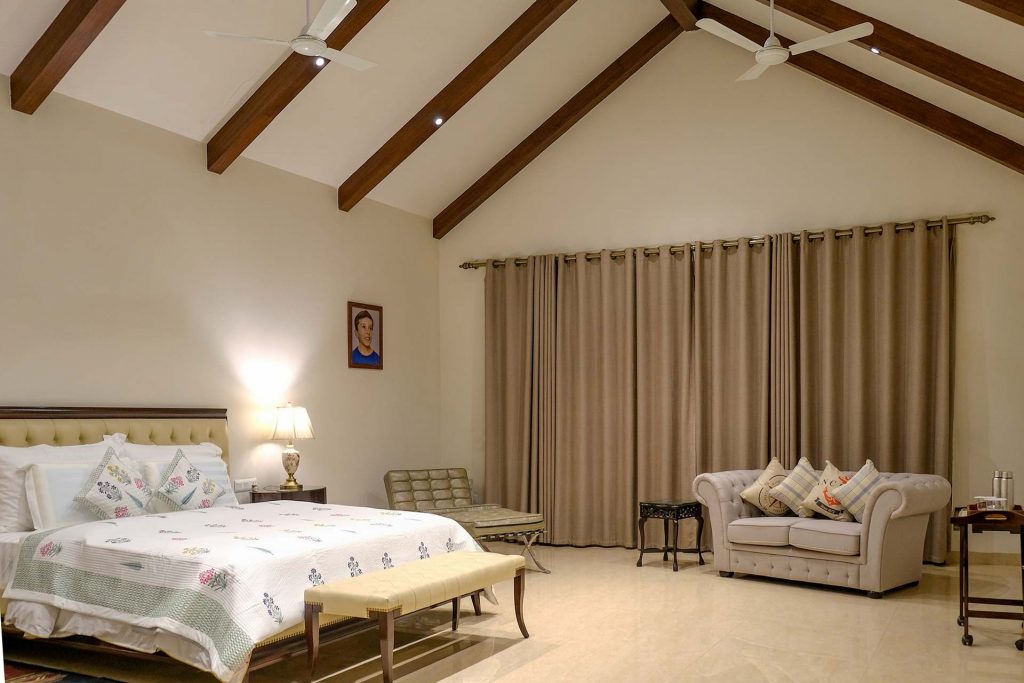 What A Diwali Getaway In Amritsar Promises
Diwali celebrations in Amritsar are certainly to watch out for! The festival of Diwali falls around the same time as Sikh celebrations of Bandi Chor Divas, which marks the return of Guru Hargobind Sahib, the sixth Guru, from imprisonment. Amritsar's many temples and Gurudwaras are lit up in twinkling lights that make for a sight to savour. The famed Golden Temple of Amritsar is bathed and decorated in lights, whilst you soak in the almost magical sights of the oil lamps and lanterns floating in the sky! 
Portugal Renaissance, Goa 
No. of bedrooms – 4 bedrooms with 4 baths
Ideal for – 10 guests
What we love about this home –
A historic home exuding a distinct Portuguese charisma, that echoes throughout the home
Abundance of indoor spaces, including airy verandahs, spacious patios and high ceilings
A seamless mix of modern, leisure amenities and colonial furnishings
Private, outdoor swimming pool, perfect for basking in the Goan sun
Proximity to Goa's most beautiful tourist attractions, perfect for witnessing the diwali fervour
Emerald gardens that are perfect for a lazy stroll on the lawn, amidst the refreshing breeze
How to reach there?
Distance from Goa Airport – 33 km.
Distance from Karmali Railway Station – 17.1 km.
Distance from Britona Market Bus Stand – 1.2 km.
Distance from Candolim Beach – 11.6 km.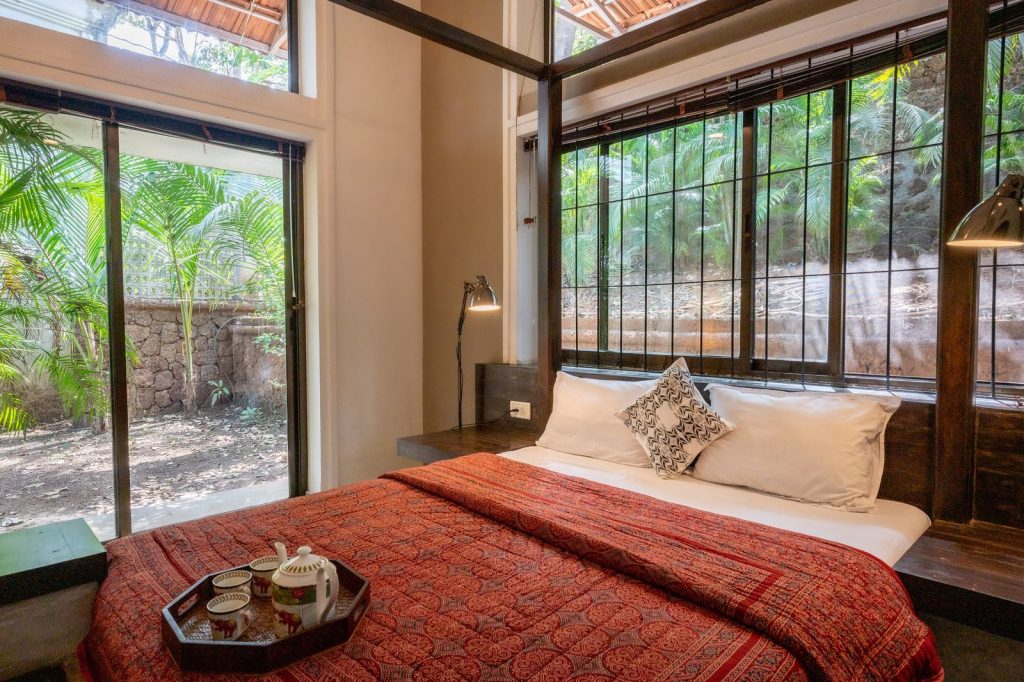 What A Diwali Getaway In Goa Promises
The coastal state of India – Goa – also makes for an ideal short getaway during Diwali. Goa shines bright during the festival of lights, its beach shacks, clubs and restaurants all ornamented with the quintessential Diwali decor, including the diyas and lanterns. The coastal skies of the state are witness to the vibrant colours of the fireworks as well. However, what sets this state apart during the festive season is its celebration of Naraka Chaturdashi, when people decorate their dows with beautiful lanterns. Nakasura's effigies are made and burnt a day before the actual day of the festival. 
The Secret Garden, Pushkar 
No. of bedrooms – 6 bedrooms with 7 baths
Ideal for – 20 guests
What we love about this home –
Your ideal home away from home for a Diwali reunion with your friends, family and loved ones
Spacious bedrooms featuring distinct interiors and sprawling indoor spaces
Airy, spacious terraces with charpais, ample seating arrangements and absolutely stunning views of the surroundings
Beautifully manicured gardens, perfect for a lazy evening stroll
Alfresco dining space to enjoy elaborate lip-smacking meals
How to reach there? 
Distance from Jaipur International Airport – 153 km.
Distance from Pushkar Terminus Railway Station – 1.3 km.
Distance from Kharwa Bus Stand – 3 km.
Distance from Pushkar Main Market – 3 km.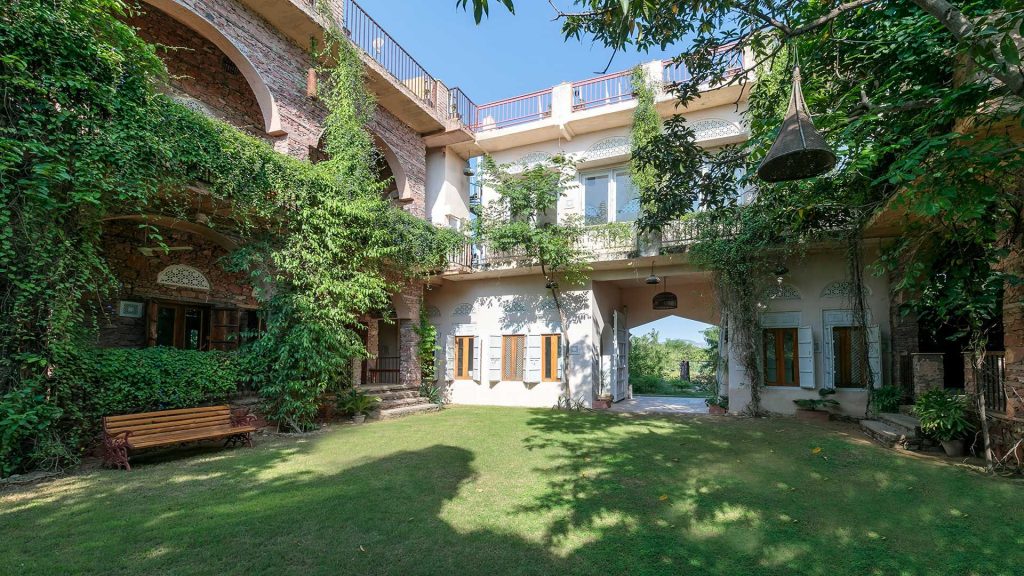 What A Diwali Getaway In Pushkar Promises
Making for a perfect Diwali getaway, Pushkar, one of the many famous places to visit in Rajasthan, shimmers during the festive season. One of the most visited Hindu pilgrimage sites, Pushkar is home to more than 50 ghats, wherein people make religious offerings. Needless to say, during the Diwali season, the city is a must-visit! The temples are adorned in the most striking embellishments, and the delectable food is just like a cherry on top. The famed Pushkar Mela is also held in November, which almost always coincides with Diwali. 
Girisadan Farmstay, Jaipur 
No. of bedrooms – 2 bedrooms with 2 baths
Ideal for – 6 guests
What we love about this home –
An authentic farm stay experience, right in the heart of Jaipur
Expansive green lawns with a shamiana, perfect for relaxing
Private indoor pool making for an ideal hangout spot
Each bedroom overlooks the surrounding verdure, greenery and hills
Distinct eco-friendly architecture, with charpais, hammocks
Breathtaking panoramic views of the hills from the terrace
How to reach there? 
Distance from Jaipur International Airport – 26 km.
Distance from Jaipur Junction Railway Station – 22 km.
Distance from Sindhi Camp Bus Station – 22 km.
Distance from Manipal Hospital – 5 km.
Distance from Vidyadhar Nagar – 5 km.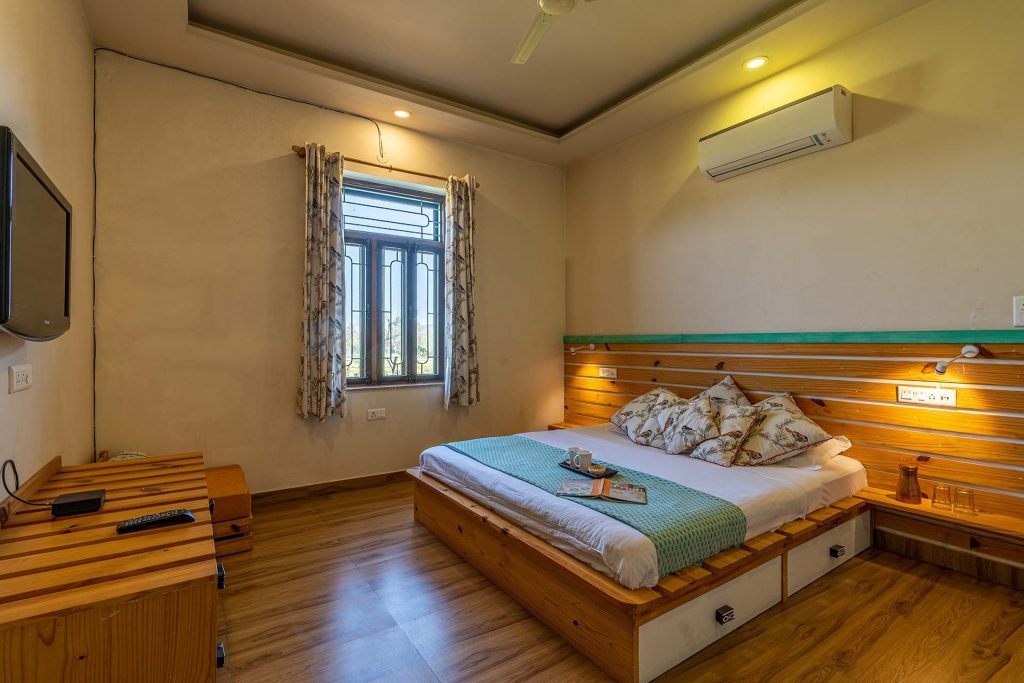 What A Diwali Getaway In Jaipur Promises
Rajasthan's cultural heritage and abundance are no secret and Jaipur is no exception. With a myriad of monuments that echo a rich history. Just like any other state in the country during Diwali, a Diwali getaway to Jaipur sounds almost idyllic. The monuments' beauty multiplies manifold, as they are cloaked in glittering lights on each curve. The views from the many forts of Jaipur make it a bewitching sight to behold, as the city is bathed in fireworks.
Aloe Villa, Nainital 
No. of bedrooms – 4 bedrooms with 4 baths
Ideal for – 10 guests
What we love about this home –
The eye-catching facade that boasts a vibrant red door
Beautiful wooden interiors that are eloquently embellished with vintage furnishings
Large, stocked bookshelves featuring a curated collection of reads
Proximity to the surrounding verdure that houses otters, flying squirrels and other wildlife
A serene designated solarium that overlooks the beautiful mountains and valleys
Gorgeous views of the highest peak, Naini Peak
How to reach there? 
Distance from Pantnagar Airport – 69 km.
Distance from Haldwani Railway Station – 31 km.
Distance from Nainital Bus Stand – 3 km.
Distance from Mall Road – 3 km.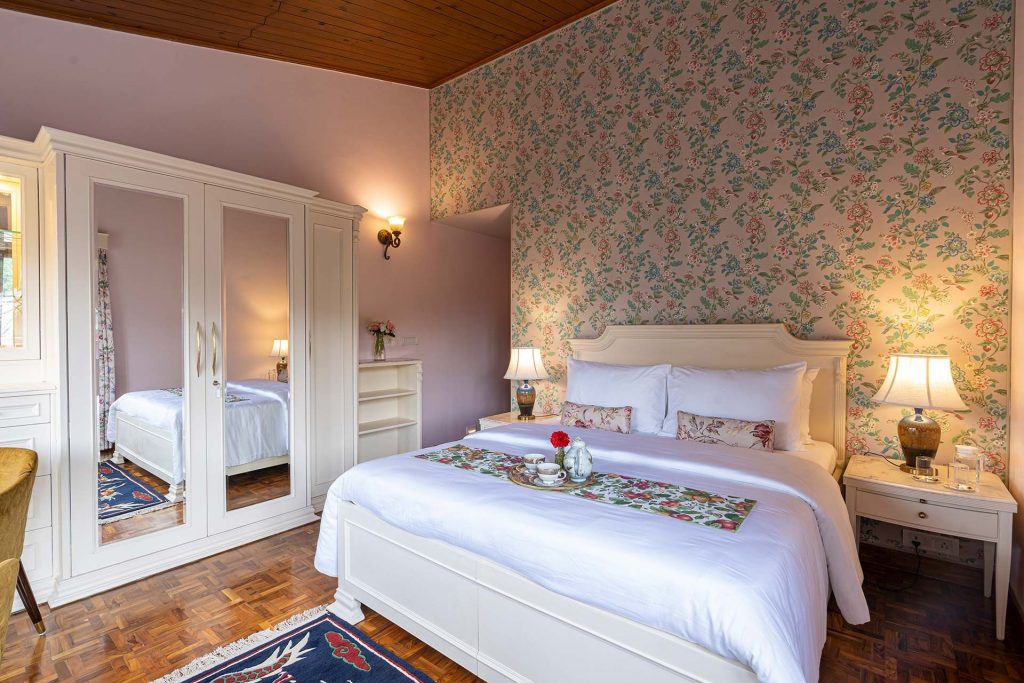 What A Diwali Getaway In Nainital Promises
Although North India is not the first choice, especially when it comes to a Diwali getaway, it is still a sought-after destination to bring in the festivities. Nainital, in Uttarakhand, is witness to grand Diwali celebrations that are celebrated with great enthusiasm and zeal. The mountains are ornamented with glittering lights. The weather is an amazing addition to the vacation, with beautiful lakes that make for serene panoramas. 
Urban Bloom, Lonavala  
No. of bedrooms – 5 bedrooms with 5 baths
Ideal for – 15 guests
What we love about this home –
Close proximity to the bustling cities of Mumbai and Pune
Beautiful mountain views that promise a glimmering skyline, especially during the festive season
A private swimming pool and a quaint gazebo making for a perfect hangout spot
Plush and beautiful interiors equipped with a range of modern amenities
A home theatre system all at your disposal to enjoy movie nights
How to reach there? 
Distance from Pune Airport – 70 km.
Distance from Lonavala Railway Station – 4 km.
Distance from Lonavala Bus Stand –  3.5 km. 
Distance from Lonavala Market – 3 km.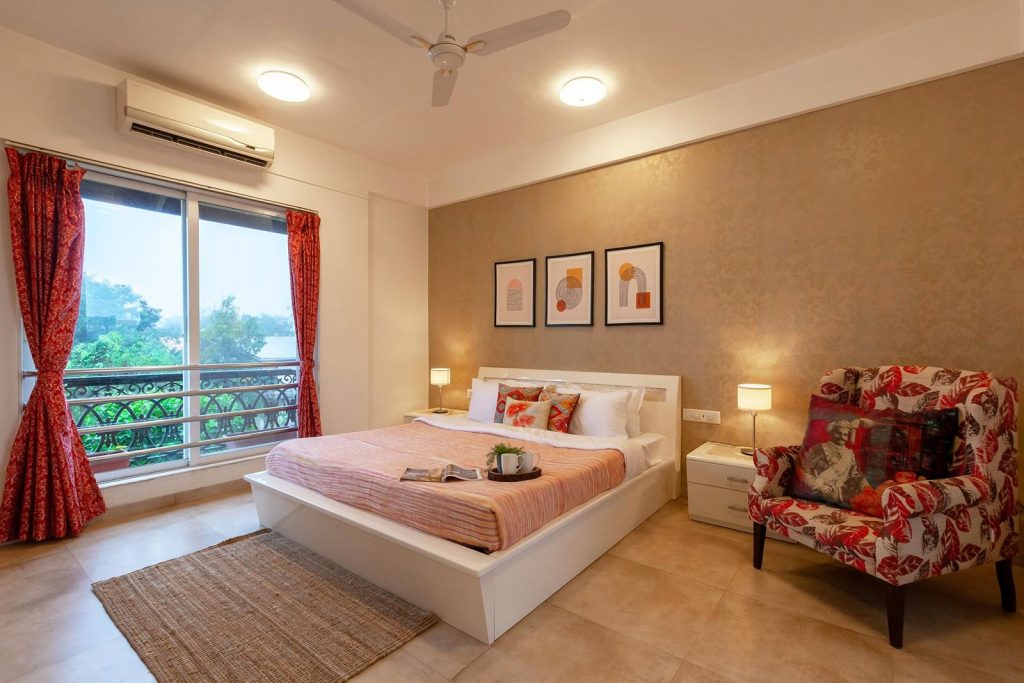 What A Diwali Getaway In Lonavala Promises
If you are looking for a quiet Diwali spent with your loved ones amidst the unending greenery and beautiful panoramas, then Lonavala it is. Given its proximity to Mumbai and Pune, it continues to be one of the most visited destination around Maharashtra, throughout the year. Lonavala boasts an alluring charm that is simply unmatchable. It is the perfect balance of the quintessential Diwali festivities along with promising serenity and bliss at the same time.
Diwali is the festival of lights and togetherness, and we hope we can be a part of your Diwali celebrations!