'Tis the season of Santa Claus! Christmas just around the corner and we couldn't be more excited! The enthusiasm is almost contagious. Christmas is often described as the most magical time of the year and we couldn't agree more. There's a festive cheer in the air, homes are welcoming new green members, the shops and roads are decked up in red and white decorations, whilst the bakeries are cloaked in the delicious aroma of candies, cupcakes, cookies and more and celebrations are aplenty. Places to stay in Christmas add their own trinkets to ensure a festive spirit remains in the air. Each Christmas destination – be it the hills covered in a pristine blanket of snow with blooming trees and blossoming flowers or the cities witnessing a chilly breeze and pleasant weather – this festival is truly a jolly time.
Each state, each city and each town exude a distinct Christmas spirit, unique on its own. The Christmas destinations promise a different experience. Given India's diversity, each of the Christmas destinations serves as a rather memorable getaway – boasting splendid stays, plentiful Christmas markets and most of all, loads of sweets and candies. And with Christmas vacations just around the corner, we recommend that you plan your winter getaway right away!
Peruse through this list of best vacations during Christmas and plan your holiday.
Christmas In Goa
December is the most happening time of the year – and Goa is no exception. December being the coldest month of the year, it promises to be a rather spectacular experience! And Goa in December is the loveliest of them all. December is Goa's peak season given the pleasant weather, the serene bliss and the soothing waves that crash against the golden sands.
Being a former Portuguese colony, Goa is brimming with Christmas festivities in every nook and corner. Its background promises that this entire coastal state is cradled in festive decor, with scenic beaches hosting large parties, cathedrals ornamented with flowers, trinkets and decorations, Christmas markets selling a range of products, delicious sweets and so much more – making it one of the best Christmas vacations!
Things to do in Goa during Christmas
Attend the famous Midnight Mass at Misse De Galo
Goa is one of the best cities for Christmas markets; you can visit Anjuna Flea Market, Makles Night Market and Margao Market
Head over to Anjuna Beach, Calangute Beach or Vagator Beach for a magical firework show
Hit the many clubs, pubs and bars – Goa's nightlife is certainly worth experiencing
Devour the traditional Christmas food such as plum cakes, roast turkey, stuffed chicken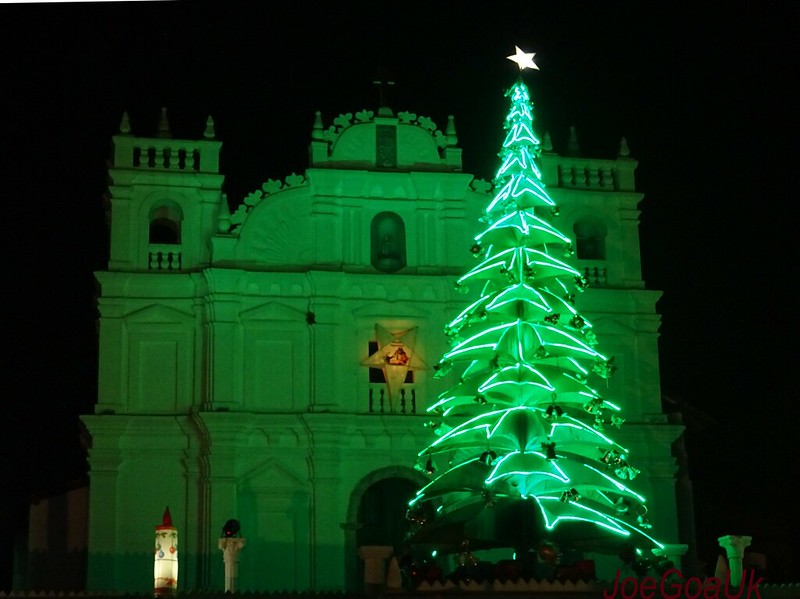 Christmas In Pondicherry
One of the many places to visit during Christmas, this blissful town exudes an aura of its own. Pondicherry's French lineage echoes throughout the union territory. As you cruise through its pastel bylanes, quaint streets and beautiful homes, you will find yourself spellbound. The revelry of Pondicherry during Christmas is certainly noteworthy – the massive cathedrals and churches are lit up with Christmas lights, the bakeries serve an abundance of festive sweets and the pristine beaches serve as the perfect backdrop for bringing this fete.
Little France as it is often called is one of the best places to visit in Christmas in India. During the month of December, Pondicherry shines under the Christmassy lights and twinkling decor that only adds charm to the already magical destination.
Things to do in Pondicherry during Christmas
Get in the festive spirit and attend the midnight mass at Eglise de Notre Dame des Anges and The Cathedral of Our Lady of the Immaculate Conception
Shop till you drop at the many Christmas Markets at Mission Street
Make the most of the weather and soak in the winter sun at the Rock Beach
Bring in the festivities but in the calm of Auroville
Indulge in gastronomical delights and Pondicherry's famed delights
Christmas In Kerala
Imagine celebrating this joyous festival while relaxing and unwinding by the gorgeous backwaters of Kerala, in the company of your loved ones, your family and your friends – it's truly an image that must be experienced.
Christmas is celebrated with great zest and fervour in God's own country. Given its huge celebrations, each home and each street in Kerala is beautifully decorated with vibrant decorations, shining bobbles and twinkling lights. Serving as a visual treat for the eyes, the churches, coupled with the gorgeous stunning vistas of the colourful streets, Christmas in Kerala is the one to lookout for.
Things to do in Kerala during Christmas
Plum cakes and other Christmas delicacies are simply delightful here
Witness the retelling of the story of the birth of Jesus with the help of miniature dolls
Head over to Kovalam for absolutely stunning Christmas beach carnivals
Chalai Market and Palayam market are Christmas markets that you should definitely visit
The Cochin Carnival is sight to behold and must be experienced atleast once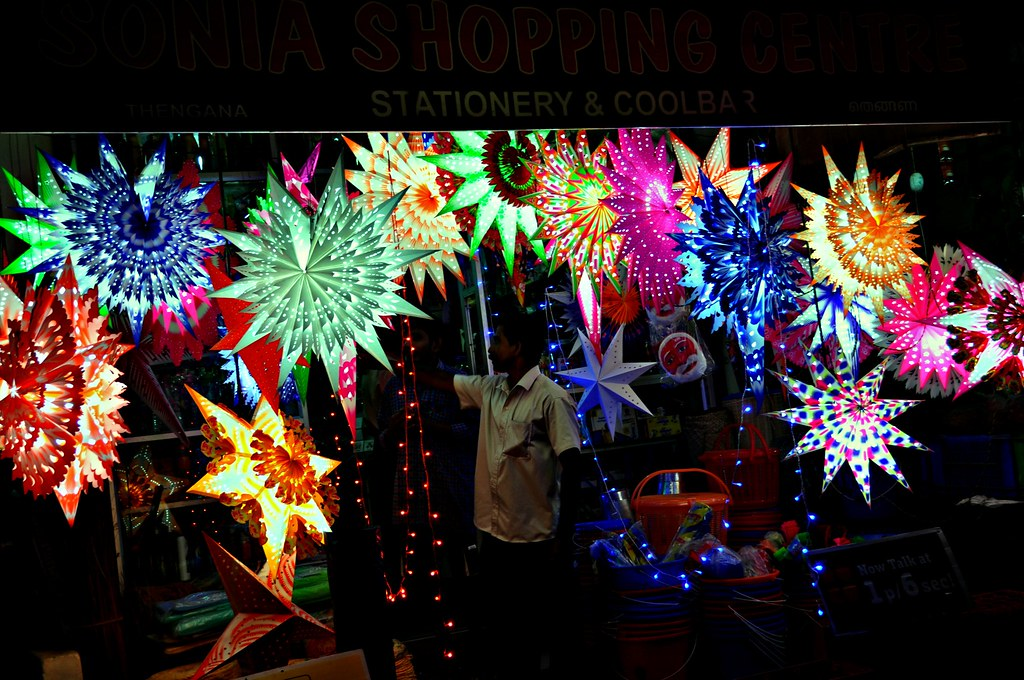 Christmas In Bangalore
The season's festivities bring out a rather alluring charisma of Bangalore. The city boasts a poignant history and a notable cultural legacy. The architecture of the city mirrors the same, be it its olden buildings or its churches built by the Europeons. The roads are decked up with hanging lights, gorgeous stars and a vibe that is simply unmatchable. Bangalore boasts the finest collection of Chrstmas feasts, inclduing the classic plum cake. What is amazing is the fact that while Bangalore follows the traditional festivities, it also poses unique traditions of its own – making it one of the best places to visit in India during Christmas.
Things to do in Bangalore during Christmas
Head over to Melt It Down for a scrumptious Sticky Date Pudding and Fruit Cake and relish Happy Belly Bakes' plum cake
Savour a delicious Christmas meal at That Only Place
The Midnight Mass At St. Patrick's Church must be on your itinerary
One of the most popular Christmas Markets – Commercial Street awaits your arrival
Phoenix Marketcity hosts some beautiful Christmas exhibits waiting to be captured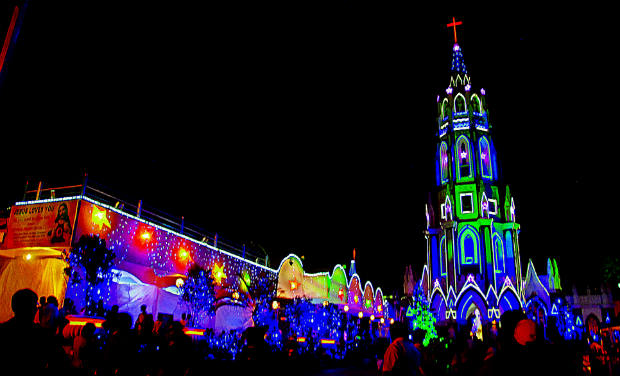 Christmas In Manali
What a better way to celebrate Christmas than to visit the most snowy place in town? Manali during Christmas is a bewitching sight to savour! As the evening comes, the jingle bells ring and the Christmas carols are sung and as you get into the festive spirit, make sure you experience Manali's magical experiences. This hill station will quite literally embrace you into its festivities – it literally resembles picture straight out of a fairytale. Celebrate a rather traditional Christmas, while being bundled up in bomber jackets, gloves and beanies, and go skiing, snowboarding and more!
Things to do in Manali during Christmas
Head over to the Manali Mall road for a shopping spree
Celebrate Christmas slightly differently, glide through the stunning panoramas of Solan Valley
Witness the city being literally cloaked in gorgeous lights