Apart from being a bunch of hopeless romantics, if we, as a generation, have picked up anything from Karan Johar movies, obviously, the weddings! From watching Shahrukh Khan stealing our teenage hearts bejewelled in his sparkly maroon sherwani in Kal Ho Naa Ho to Kalki Koechlin's magnificent wedding that we loved every bit of in Yeh Jawaani Hai Deewani; Bollywood weddings are a whole production.
Imagine your guests dancing to the tunes of Maahi Ve wearing the most beautiful wedding dresses set by the most exotic-looking backsplash a Royal Haveli. We present a list of outstanding villas that are sure to leave an impression, and you can have the most memorable royal haveli style wedding you want!
1. Kanak Vilas, Jaipur
A surreal boutique villa in the quaintest part of the Pink City is the perfect abode for any couple wanting to keep it intimate. Reincarnated from an old Rajasthani haveli that pre-dates back to the 1940s, Kanak Vilas exudes a rich cultural heritage, warmth, and a natural colour palette throughout its expanse, this luxe abode is a must-visit while on your getaway to the 'Land of Kings'.
Each nook and corner has a story to tell. The ethnic wooden interiors enliven the living areas. Offer aesthetic backdrops for your guests, no matter what part of the home they are in.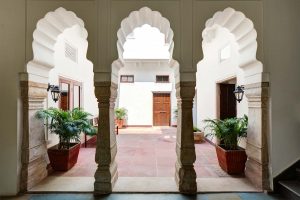 Going beyond the idea of a big fat Indian wedding. This Rajasthani abode offers many lavish and immersive experiences, beautiful courtyards, and lets you experience the tranquillity of nature.
This regal estate in Jaipur sure does guarantee a revelrous time with your friends and family!
2. Castle Oodeypore, Udaipur
Castle Oodeypore is the true definition of luxury wrapped around heritage. As you enter through the gates of this resplendent haveli, you will instantly feel like royalty. A sight so magnificent, it's like a Bollywood period drama come to life.
Imagine your guests being welcomed to the euphonious tunes of the Langa music. Enter the art-filled corridors decked with some of the country's most exquisite pieces.
The massive lawn, courtyards that are just magical and an in-house art gallery that's no less than a dream. A symbol of the confluence of cultures and historical richness that ties to the lineage of Marwar and Mewar, this immaculate castle which is not an everyday run-of-the-mill, rises tall emitting majesty and splendour like never before!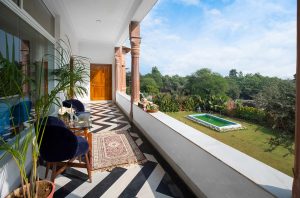 Tie the knot at Castle Oodeypore, a regal property that falls nothing short of carefully designed experiences and spaces for your friends, loved ones, and your big fat Indian family.
3. Khohar Haveli, Gurgaon
Looking for a royal wedding venue near Delhi? Nestled at the base of the picturesque Aravalli Hills, Khohar Haveli is a distinct amalgamation of old-world charm and modern comforts.
A treasured gem, the haveli has gone through a thorough process of restoration, retaining its 18th-century architecture, beautiful artefacts and fresco paintings. The spectacular octagonal water fountain is all that the guests are going to be talking about apart from that glistening lehenga you would be rocking.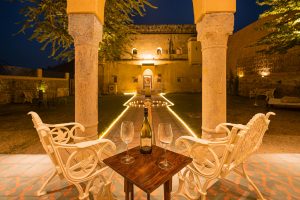 The piece de resistance is a large frieze of 80 tiles made by a Padma Shri Recipient from Molela, Rajasthan. Walk down the aisle encircled by the rustling of bamboo leaves, the melodic bird calls, and a gorgeous 360-degree view of the Aravalli Hills.
4. Nand Haveli, Sirsa
On your D-day, get a taste of royalty at Nand Haveli – a beautiful and opulent abode set in the heart of Sirsa. Built with 100 years of Shekhawati Architecture, this royal abode brings to you a fusion of heritage craftsmanship and contemporary amenities.
Beautiful, giving an almost Moroccan feel, every crevice is brimming with the personality and soul of ageless India, from opulent interiors to eccentric grandeur. Romantic doesn't begin to cover it.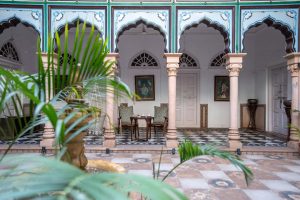 With the surroundings being so pretty and spectacular: the vivid frescoes that adorn its walls, and the backdrop of the town of Sirsa with its vivid blue houses, reserve this home right now if you're a couple looking for an intimate wedding amidst royal glory and charm.
5. Normandy House, Dehradun
With a feature in Condé Nast Traveller, Normandy House is nested upon 25 acres of land. Proudly boasting of the vividness of nature and heritage, this abode was designed to be a getaway by a French connoisseur in 1840.
With a blend of French and British decor, being here is almost like living in a different era. While it'll be hard to leave indoors, the outdoors are equally mesmerising.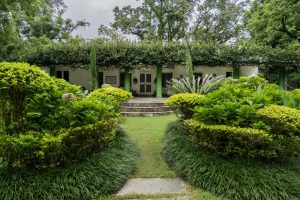 A fairytale wedding, you'll cherish every moment of it. It'll feel like a dream, one you don't want to wake up from.
6. The Mansion, Kasauli
The greatest stories are scripted in the hills, they say. How about you script yours there too?
The Mansion is a classic British colonial Mansion with flowers, valley views and greenery all around it. Looks like something straight out of a storybook! If that's what want the backdrop of your wedding to be, we might have the perfect fit for you!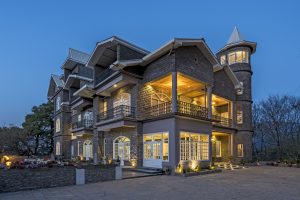 A sprawling property spread across 5 acres, The Mansion is a magnificent villa exuding grandeur and elegance. Surrounded by forests, and hills and overlooking breathtaking sunsets, its interiors and exteriors ooze an alluring charm.
7. The Figueiredo House, Loutolim, Goa
Sure, Goa is all about beach weddings by the magical sunset. But how about walking down the aisle in a property where every nook exudes heritage, luxury, and regal bliss?
The Figueiredo House is not just redolent of Goa Portuguesa. it lives and breathes it. First occupied in 1590, the house predates the Taj Mahal by decades, making it a one-of-a-kind heritage treasure. The original architects of this regal house, and later the Jesuit priests who designed the noem ghor, assisted by the keen creative eye of the present owner, have crafted this intricate wonder.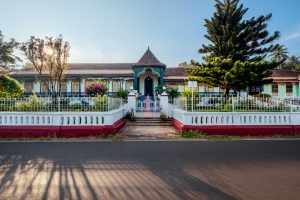 Set amidst gaze fields and unending whiffs of clean, magical breeze. Make sure our wedding is the talk of the town!
Parties and events are permitted only with prior permission from the owner. Click here to know more and connect with us!