It is November and winter has officially started. While winters in India, in some states, are tolerable, in others, the temperature drops down to single digits. More often than not, the latter enjoys more audience. Add snow to the mix, et voila, you have the perfect white winter destinations! After all, is it really winter if you don't layer up, wear gloves, and constantly warm yourself with a piping hot cup of masaledar chai?
Winters that boast more than just a gentle breeze are a rather unique experience altogether. There's just something so magical about snowfall. The white drops cascading down, the skies resembling a pretty ivory haven; snow always manages to bring out the inner child in everyone. From making a snowman to getting into snow fights with your family and friends alike, snowy winters are definitely something to look forward to. The white blanket of snow adorns the mountains, the roads and the houses, making for a picture-perfect view. If you haven't experienced snow yet, take this as a sign to embark on your snowy holiday!
North is the epicentre of snowfall in India. Fortunately for you, winters have already begun. There couldn't be a better time to welcome the most beautiful time of the year. To get you started, here are a few, under-rated, untouched places for you to visit in India in winter. Explore the breathtakingly beautiful wintery destinations, for all you adventure-seekers, indulge in winter sports and most of all come home to stunning views, warm bonfires, and a piping hot bowl of Maggi. Here's a guide to experiencing snowfall in India.
Best Snowfall Places To Visit India
Chail – Best of Both Worlds
One of the best snowfall places in India, this quaint hill station spread across 3 hills is captivatingly beautiful. Featuring throngs of forests, an unmatched bewitching charm, Chail tops the rare list of untouched destinations. A mere 2-hour drive away from Shimla, Chail is close enough to the city for you to enjoy, yet far away from the thronging crowds of tourists for you to unwind. During the winters, Chail is surrounded by white snow-clad mountains, trees and roads. The occasional snowfall is a guarantee here with the temperature dropping to single digits.
Chail may seem like a tiny town, but it is actually home to some of the cosiest, beautiful homestays. Brimming with villa rentals for your utmost comfort and equipped with various amenities, Vue By The Valley is definitely a beautiful property to stay at when in Chail. Right in the midst of pure nature, surrounded by beautiful green pine and deodar trees, Vue By The Valley features breathtaking views and equally stunning interiors.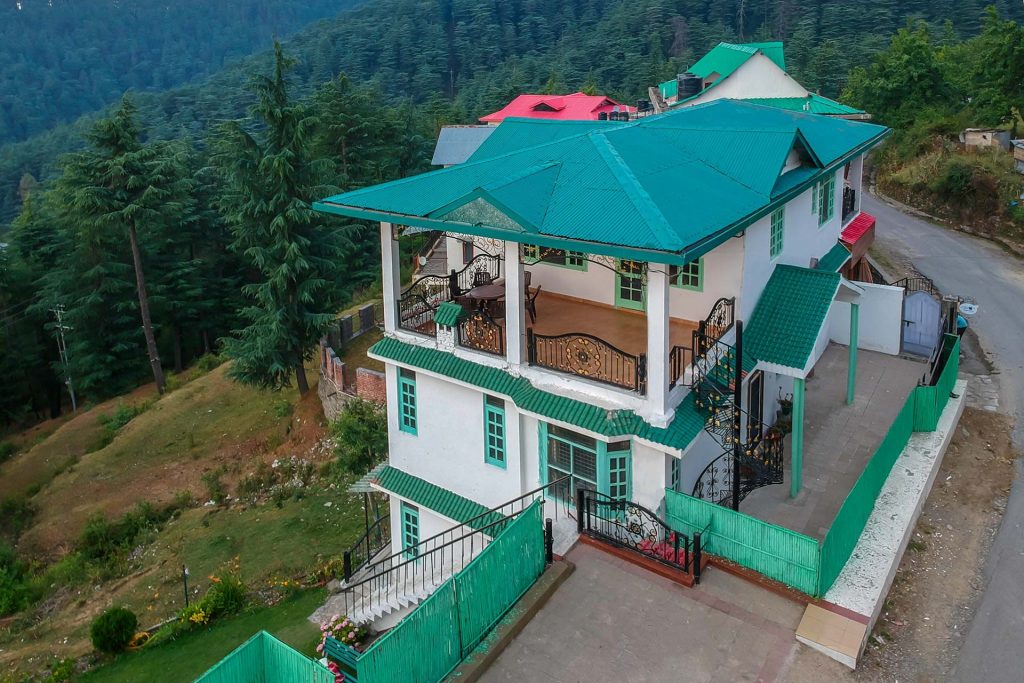 What we recommend – Things to do in Chail
While the raw beauty of Chail should be enough to lure you in, it is also home to some amazing tourist destinations for you to explore.
Chail Wildlife Sanctuary is one of the most popular. Attracting wildlife photographers and animal lovers alike, this sanctuary is home to wild boars and Himalayan black deer to name a few.
This tiny hill station also features several places of worship as well including Kali Ka Tibba and Stoned Kumbh Shiv Temple
Pay a visit to the Chail Palace and learn about the history
Enjoy a quiet evening at Sadhupul Lake
Dharamshala – An Idyllic Town
Want to experience snowfall in India? Head over to Dharamshala! The definition of an unperturbed town, Dharamshala is an apt hill station for anyone looking for a calm and serene environment. Divided into two districts, the lower district is the more bustling part of the town, and the upper district, popularly known as Mcleodganj, is quieter, more peaceful and is home to Dalai Lama. During the winter months, the pristine bylanes of Dharamshala are covered in a blanket of snow. What better way to end the year than to visit Dharamshala, an incredible hill station and home to the Dalai Lama?
Do not underestimate this quaint town, as it is home to some of the most spectacular villa rentals. One of the many being Meraki Homestay. A cosy holiday homestay in Dharamshala, it includes 2 beautiful bedrooms and features vibrant interiors. In the evenings you will be occupied in admiring the splendid sunset, while the mornings might include visiting the nearby cafes.
What we recommend – Things to do in Dharamshala
Apart from the entrancing surroundings, Dharamshala hosts many other attractions.
For all the trek-lovers, December is the ideal time to visit the snow-covered Triund Trek.
The Bhagsunag Falls are a must-visit, especially during the winter. The surrounding mist, the cosy cafes, and accompanied by the Bhagsunag Temple, it is an indescribable experience.
Embark on the Kareri Lake trek, which is quite a difficult and winding trek and requires experience, however, is worth it none the same
Explore one of the oldest and largest forts in the Himalayas – the Kangra Fort
Dalhousie – A Surreal Beauty
If stay-in nights repulse you, if holidays and relax do not go together, and if adventure is what you are seeking, Dalhousie during December might be what you are looking for. Though a quaint town otherwise, Dalhousie, situated in Himachal Pradesh, is known for its harsh winters making it the best place to experience snowfall in India and that's what makes it worth a visit! With the temperature dropping to single digits, making for a picturesque snowy landscape, Dalhousie is a must-visit during the winter season. Welcome white winters at Dalhousie!
It is obvious that a surreal hill station like Dalhousie is home to equally stunning colonial holiday homestays, one of them being Shventajali. With colonial-style exteriors and interiors, accompanied by magnificent views, this villa rental is definitely worth a stay. Unwind and relax by the bonfire, indulge in the local delicacies and make the most of the chilly winters!
What we recommend – Things to do in Dalhousie
While Dalhousie is straight out of a dream during the winters, it is also the ideal time to experience various attractions in the vicinity.
While here, it is recommended, nay, mandatory to visit the Satdhara Falls
Embark on a trek to Daidund Peak. You might freeze a little, the ethereal beauty will make everything worth it
Enjoy the mesmerising views of Panch Pulla Waterfalls
Enjoy a boat ride at the glistening Chamera Lake, amidst the rising the hills and lush greenery
For all the beginner trekking enthusiasts, Daikund Peak awaits to be explored
Bhimtal – Entrancing Charm
If you are looking for a quiet holiday, this undisturbed town should be your next destination. Bhimtal, a town located a mere 22 kms away from Nainital is situated at an altitude of 1370 meters above sea level. The much less chaotic of the two, Bhimtal is often chosen to stay away from the city, but within the proximity of it. Although, snowfall in Bhimtal is not promised, it is still one of the best places to visit in December.
While you are here, you can either choose to stay in Nainital or in Bhimtal itself. One of the many stunning villas, The Verandah is definitely a contender if you are heading to the town with a large group. With modern eclectic interiors, this sprawling property overlooks the snow-clad mountains and is a treat, especially during the winters. A smaller group can opt for Shambhal, a snuggly homestay offering a view of the beautiful Bhimtal Lake.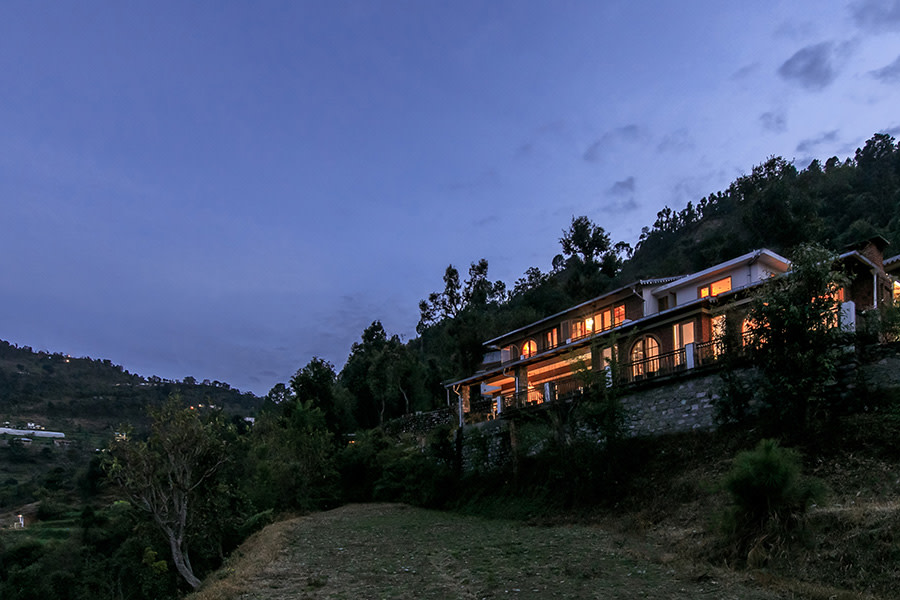 What we recommend – Things to do in Bhimtal 
Bhimtal is more than just a town on the hills. Bhimtal tourism is known for the winters, however, apart from the occasional snowfall during winter, Bhimtal is also home to several attractions.
Visit the Hindu temples, including the 17th century Bhimeshar Temple, featuring intricate and delicate architecture. 
Tourists here are most attracted to the Bhimtal Lake, in the middle of which there is an aquarium. 
Pay a visit to the Butterfly Research Centre and Fundraiser Cafe 
Enjoy the gurgling soundscape of rippling waters at Victoria Dam 
While some prefer to stay home during winters, inside their cosy blanket and maybe even a cup of hot chocolate by the side, others like to make the most of the beautiful weather and venture out. Regardless of which category you belong to, it is time to pack your bags and plan a trip, because the mountains are calling for you, the question is, are you going?