Would you rather wake up to a lovely sunrise over lofty hills or the therapeutic sound of writing waters. Both these experiences are so surreal that it is difficult to choose between the two. What if we could soak in the beauty of both worlds? Imagine yourself lying down on a blissful hammock by the beach, as the salty breeze flirts with your hair; with mighty and lush mountains as your backdrop. If the thought of experiencing the best of both worlds entices you, here are some beautiful villas you must visit.
Here is a list of 7 properties that relish the best of both worlds –
1. Cottage On The Lake – Bhimtal
Capture the true essence of the Bhimtal lake, while also wrapped around by the mollifying mountains – as you sip a hot cup of tea in the spacious viewing deck at Cottage On The Lake. This holiday home is all about its location. Set amidst serenity and still easily accessible to places like Nainital, Mutkeshwar and Kathgodam, you have loads of options for one-day trips around your stay.
Cottage On The Lake is special because of its:
Feature in Outlook Traveller
Convenient location, near to a myriad of tourist spots
Serene vistas overlooking valleys & the Bhimtal Lake
Cosy cottage-style decor
Two lush lawns at different elevations
Scrumptious barbeque & bonfire
Myriad of activities around the property
2. Chateau La Colline – Panchgani
You will truly feel on top of the world when you step into the sun deck at the majestic Chateau La Colline, which overlooks the pristine Krishna River, Dhom Dam and Balkawadi Dam from a whopping height of 2000 ft. and the blissful, unending crest of the Sahyadri ranges soothing your eyes. Perched on a cliff, this private sanctuary makes for an ideal break from the city.
Chateau La Colline is special because of its:
Feature in Times Of India
Serene location amidst lush greenery
Modern interiors with lavish amenities
Mini golf course
Badminton and volleyball court
Private jacuzzi
Spread across a sprawling 2.5 acres
Beautifully landscaped gardens and a garden house
Overlooks the scenic Krishna River Valley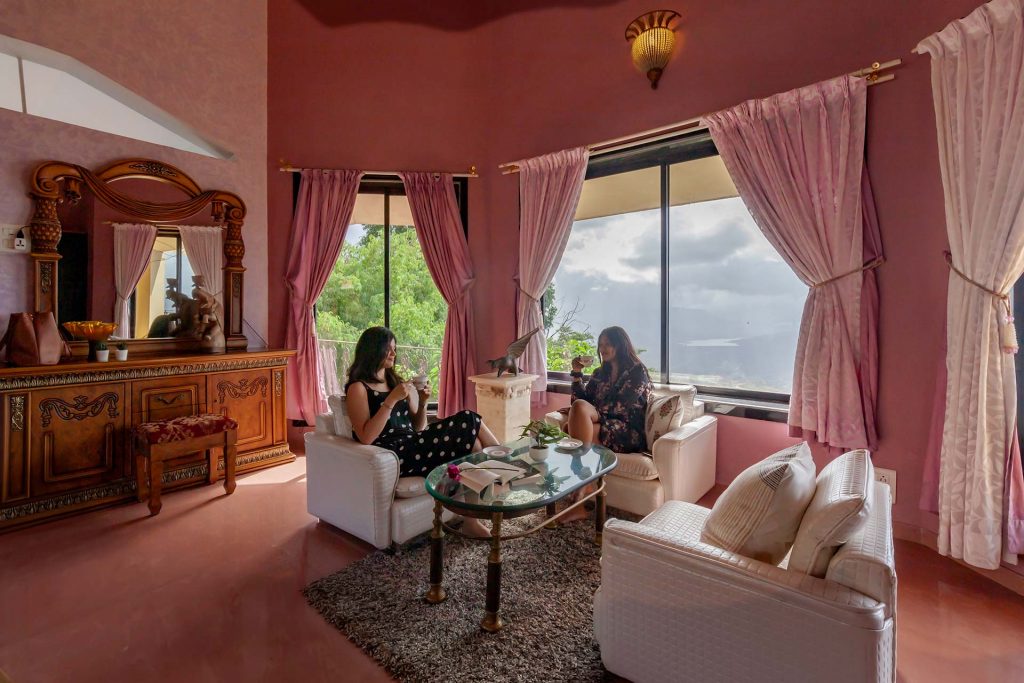 3. Sunset On The Lake – Igatpuri
Set on a bougainvillaea-scented hilltop overlooking a gorgeous lake view, this serene, whitewashed sanctuary is a refreshingly discreet alternative to the city's routined lifestyle. Spread across 2.5 acres of meticulously landscaped farmland, the luxe holiday home sits atop a hill and offers panoramic views of the pristine lake and offers a spectrum of experiences that promise rejuvenating getaway away from the cacophony of the city.
Take a virtual tour of the property, Click here
Sunset on the Lake is special because of its:
Feature in Outlook Traveller
Idyllic and serene location, overlooking the lake and valleys
Location, 2000 ft. above sea level
Temperature-controlled L-shaped infinity pool with a pool deck
Contemporary interiors with lavish amenities
Outdoor wooden jacuzzi overlooking breathtaking landscapes
Scattered, spacious nooks and open swings facing the lake view
Spectacular views of the sunrise and sunset
Proximity to nearby treks and trails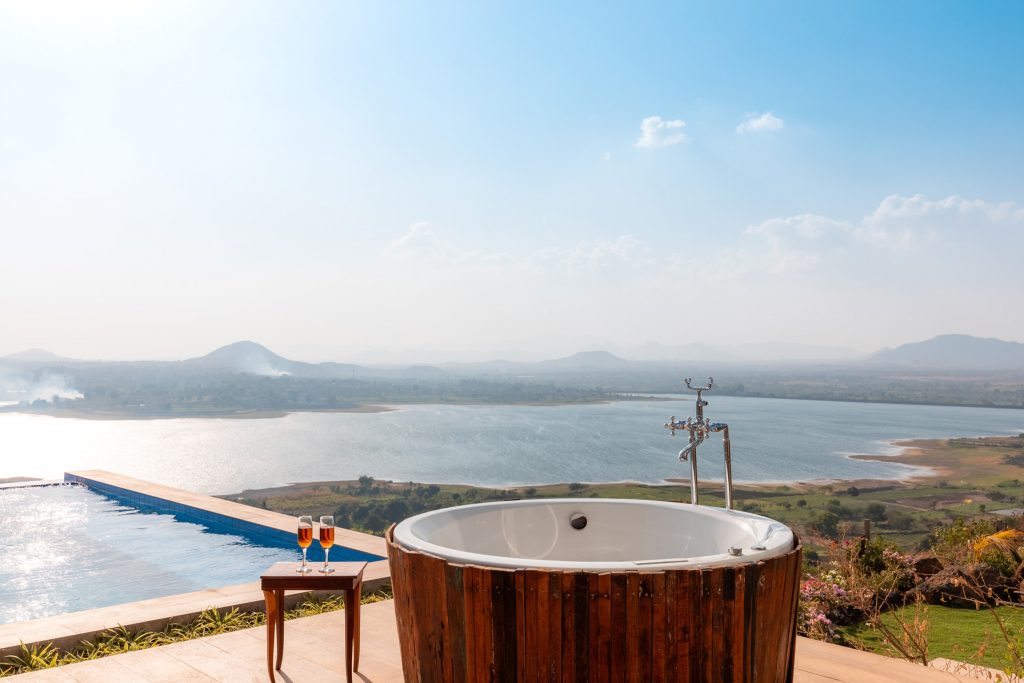 4. Volendam Acres – Igatpuri
Enjoy your farm stay in the lap of nature as you soak in the views of the lake. Animal lovers are sure to enjoy the presence of the livestock around. The home is close to Mukane reservoir, in case you feel like enjoying a swim, playing box foosball, enjoying the view, or unwinding on the lawn.
Volendam Acres is special because of its:
Location amidst nature
Proximity to Mukane reservoir
Presence of livestock
Views of the lake
Swimming pool
Turf and box cricket
Amphitheatre
Indoor games
Panoramic views from the terrace with ample seating
5. Bellissimo Panorama – Nashik
Standing true to its name, Bellissimo Panorama is swathed in incredible views of the waters and nestled in the lap of the mountains in Nashik. Wake up to the scenic sunrises, take a leisurely stroll on the lawn, and reserve the evenings for a relaxing dip in the private infinity pool. End the day with the bewitching sunsets that are guaranteed to accompany you here every night.
Bellissimo Panorama is special because of its:
Scenic location overlooking the surrounding views of the Waldevi lake
Modern interiors with an array of amenities
Private infinity pool
Furnished balcony offering soothing views
Lush green lawn with seating arrangements
Surrounded by the lake on all 3 sides.
Open-to-sky bathtub
Offers breathtaking views of the sunrise and sunsets
Abundance of outdoor games such as cricket, badminton and football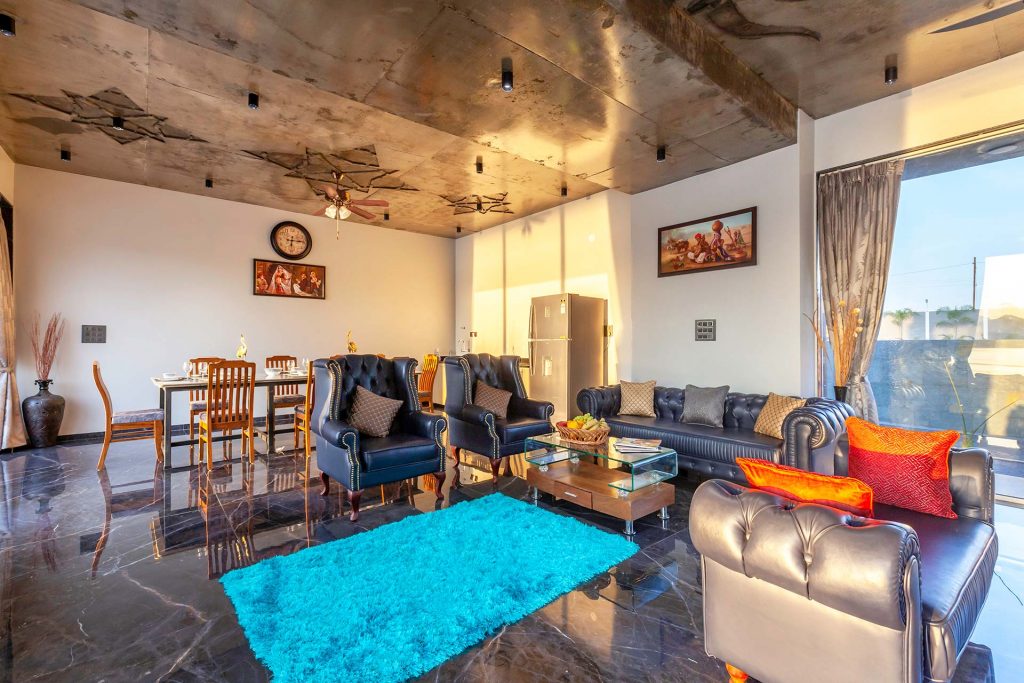 6. Kokum Tree Villa – Goa
Imagine living at a charming Mediterranean holiday home in a peaceful corner of Goa that looks over the Zuari River, offers splendid views of the mountains at a distance, with the beaches just a stone's throw away – what a life! Kokum Tree Villa is the perfect Goan getaway if you're anyone looking to experience water by the hills.
Kokum Tree Villa is special because of its:
Built with an enchanting Kokum tree as the focal point
Private swimming pool
Splendid Mediterranean interiors
Overlooks the scenic bay
Contemporary and cosy indoor spaces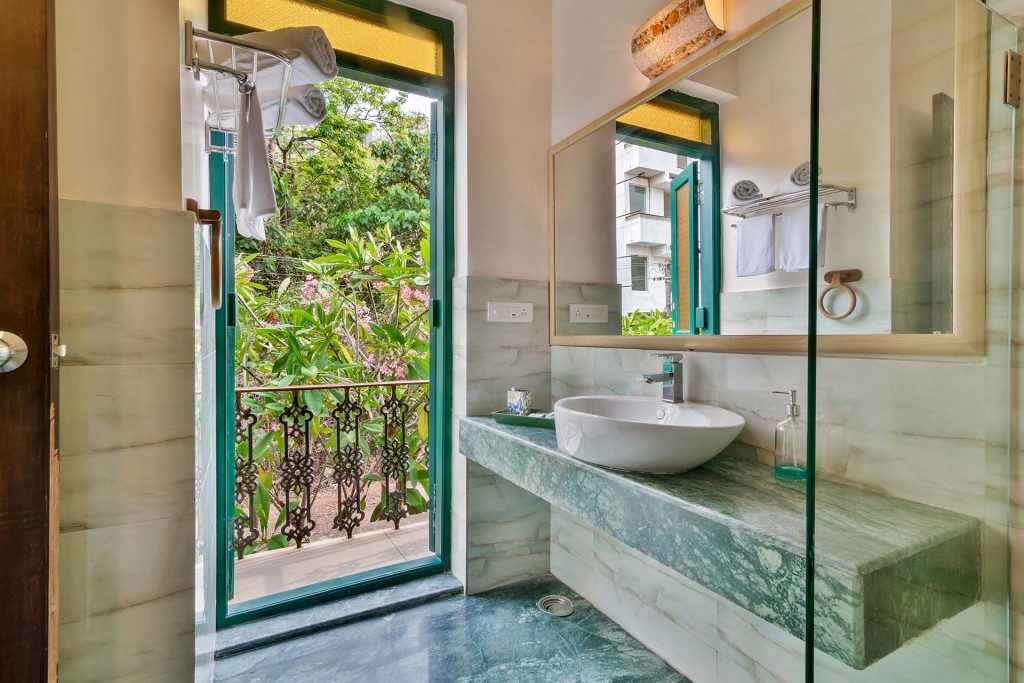 7. Magnolia, Alibaug
This home has something for everyone. The mighty lush mountains and Alibaug's most-renowned beaches on the other. Experience the best of both worlds: explore beaches and trek through the mountainous terrain.
The Magnolia also provides a restorative experience amid lush greenery, with nothing but the companionship of twittering birds and the sounds of the rustling trees for company. With an abundance of experiences that the villa offers, this abode is perfect for those looking for a relaxing yet adventurous travel experience.
Magnolia Villa is special because of its:
Feature in Outlook Traveller
Idyllic location in the midst of lush verdure
Quaint manicured garden with an abundance of palm and mango trees
Unique structure with an outdoor living room and al fresco dining area
Plush modern interiors with an abundance of vintage decor and paintings
Private wrap-around outdoor pool
Curated collection of indoor games
Ample cosy sit-out spaces and balconies overlooking the viridescent pastels
5000 sq.ft landscaped lush lawn
Proximity to Alibaug's famous beaches and tourist attractions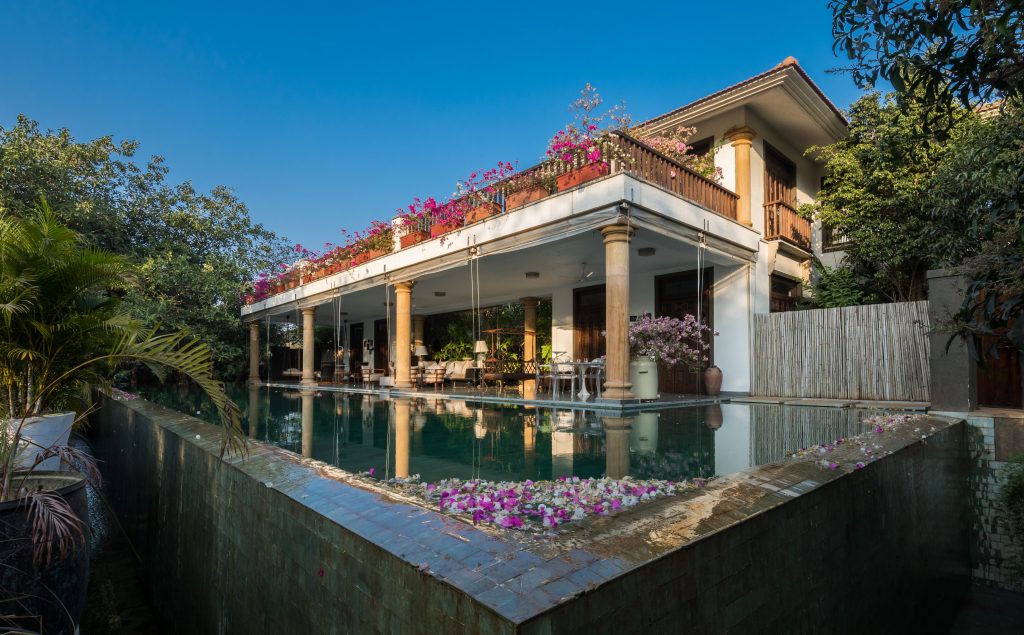 StayVista has a curated collection of villas to choose from so that you can experience the stay you want in the most luxurious way possible. Get a taste of the finest, most ethereal holiday homes with stay experiences that are holistic & elevated so you can focus on creating memories that will last a lifetime.