Imagine being encircled by an endless array of white pastels, an eternal horizon, and natural wilderness. Let this dream turn into a reality at the famous Rann of Kutch; a destination that's sure to transport you to cloud 9. Rann of Kutch, Gujarat which consists of the Great Rann and the Little Rann, is a tranquil salt marsh area. It is the largest salt crust desert in the world, captivatingly situated at the Indo-Pakistan Border. The vast expanse of packed white salt exists because water evaporates at a slower pace than precipitation does. The Rann of Kutch, which covers an area of 10,000 square meters, is transformed into a breathtaking sight during the monsoon when a stretch of white salt develops underwater. During the clear seasons, this area becomes wilder as one can see the shift in the environment, giving it a genuinely spectacular experience.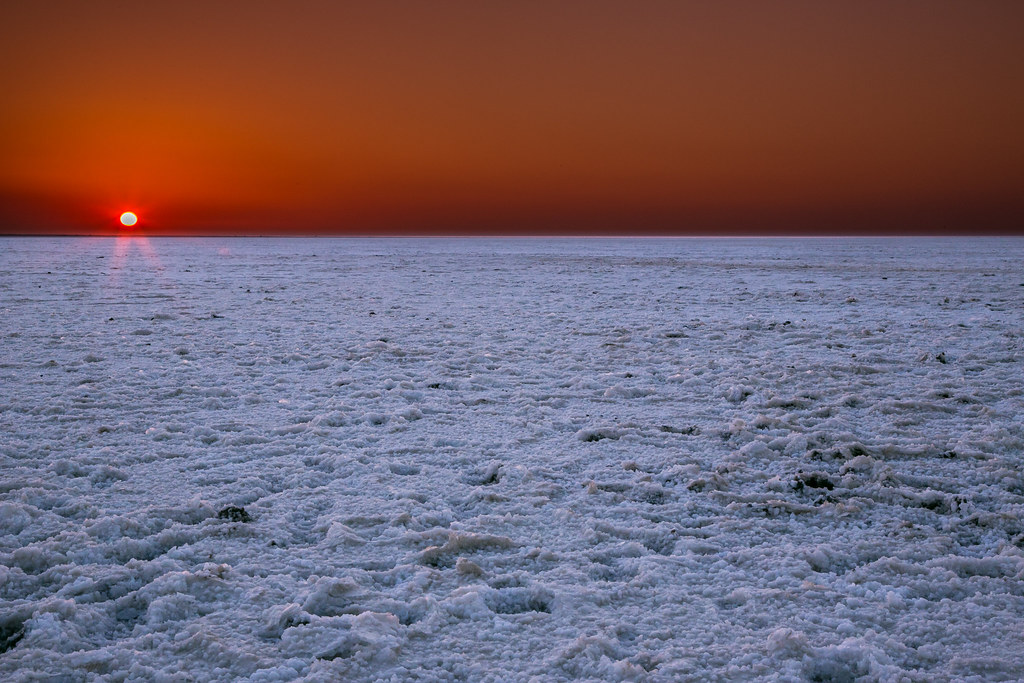 But as the year draws to a close, we give you another reason to visit this tourist place in Gujarat. Yes, Rann Utsav has returned! Rann Utsav, also known as the Rann of Kutch Festival, is a four-month-long fiesta honouring the beauty, lifestyle, and tradition of Gujarat's Kutch region. About 80 kilometers from Bhuj city, Tent City, Dhordo, is where this festival takes place.
If you want to learn more about touring the Rann of Kutch and taking part in the festivities that surround the Rann Utsav, check out our comprehensive guide below.
1. What is the Rann Utsav?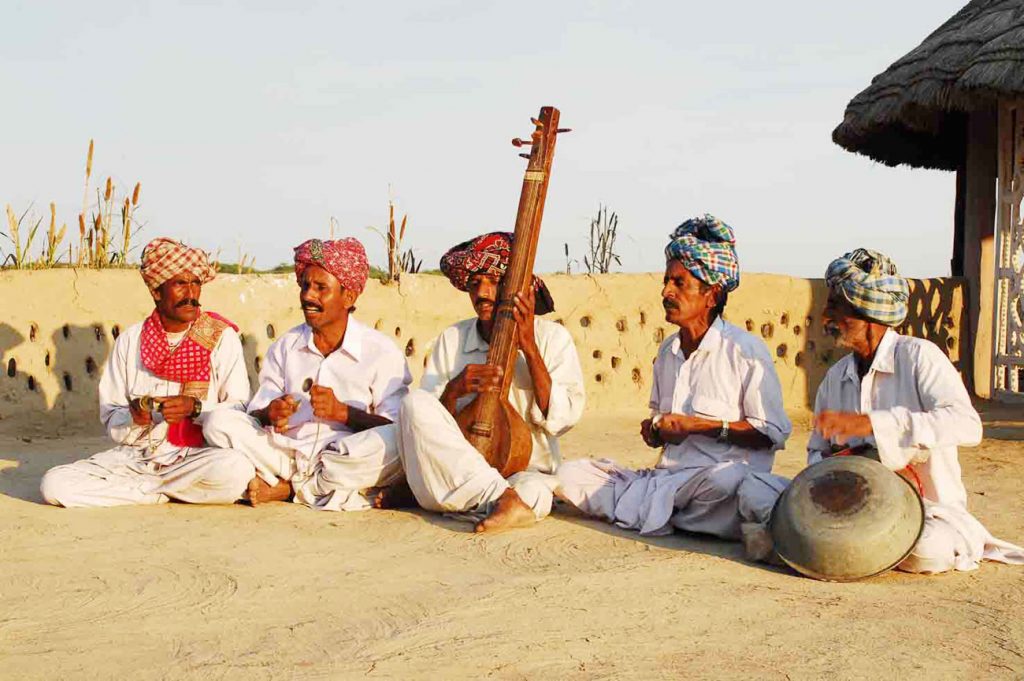 After the disastrous quake that struck the Bhuj region in 2001, the entire Kutch province had to undergo development. The state and local governments realized that tourism was the only sector that could restore the local economy by providing employment for the residents and assisting in the preservation of the region's culture. As a result, the first Rann Utsav celebration took place in 2004. The festival's initial 3-day schedule was extended to several months as it gained prominence. One can experience the ethnic culture by participating in the Rann Mahotsav celebrations or the Rann of Kutch tour during this festival.
2. What is the best time to visit Rann of Kutch?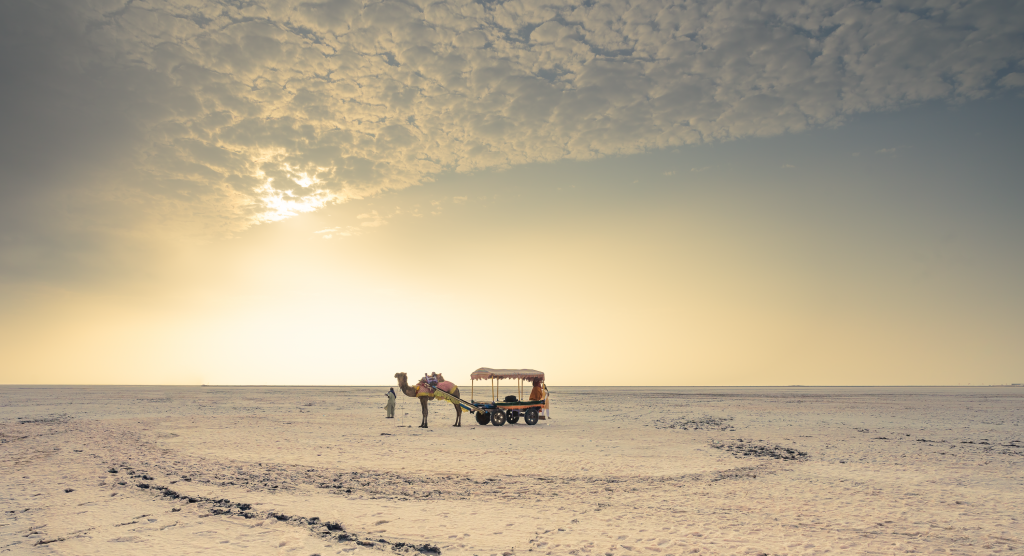 The vast Rann of Kutch in India's Gujarat state, one of the largest salt deserts in the world, is well-known for both its stunning natural surroundings and for what the locals have created there: The Rann Utsav. The greatest time to visit Rann of Kutch would undoubtedly be between the months of November and March when one may explore this white desert in its full grandeur, especially with the Rann Utsav resuming this year. During the Rann Mahotsav, this destination sees an influx of tourists as well as a flurry of local marketplaces where artisans sell their creations at steep discounts. Another crucial consideration is to schedule your Rann of Kutch visit for the full moon. This white desert unfolds into a sheet of shimmering silver during the full moon, making the experience there otherworldly.
3. How to reach Kutch?
The trip to Kutch from Bhuj, which is 74 kilometers away in Gujarat, takes about 1.5 hours. Therefore, arrange your travel so that you first arrive in Bhuj before moving on to Kutch. Taking a direct flight to the Bhuj airport, which is located 4-5 km outside of the city, is one of the easiest and quickest methods to get here. There will be flights from major cities like Ahmedabad, Delhi, Hyderabad, Bengaluru, etc., but they won't be as regular as flights from other locations. Additionally, flights to Bhuj will be pricey as they are operated less frequently, which will significantly increase your transport costs.
Taking the train is another easy method to get to Bhuj. However, there might not be numerous direct trains available from your location, so you would need to commute to Ahmedabad first. If you take a direct train from wherever you are, it will probably take more time to get to Bhuj. The most efficient route would be to travel to Ahmedabad first, visit the city, and then board a train toward Bhuj.
4. Are there any Rann Utsav packages that can be booked?
Yes, there are several Kutch travel packages available, with prices ranging from 1000 to 1500 INR per person which also include tours to Kalo Dungar and the Rann of Kutch. This is a good alternative if you're travelling alone and don't know how to ride a bike or moped. You won't miss anything essential and will be able to soak in almost everything. They typically take a party of 4-5 people, giving you the opportunity to meet other tourists along the way.
If you own a vehicle, you can also embark on a road trip to the Rann of Kutch. Getting your own vehicle can make the journey much more convenient for you. Along with it, you will make significant financial savings. The route to Rann of Kutch is very smooth and devoid of difficulties. Naturally, you would enjoy driving on this road. 
5. How to get the permit for Rann Mahotsav?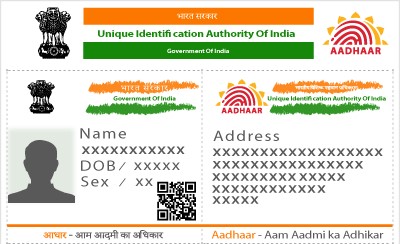 The local authorities have made it necessary to provide government ID proof and an e-permit in order to get into the great Rann of Kutch. You don't need a permit if you are camping at Tent City, the White Rann Resort, or you booked a stay package for Kutch. There is a checkpoint in Bhirandiyara about 20 kilometers before Dhordo where you can obtain a permit to visit the Great Rann of Kutch. You need to stop here to pick up your permit. You can also submit an online application by going to Rann Utsav's official website. You can fill out the form at the checkpoint and indicate how many days you need permission.
6. What about accommodations while touring Rann of Kutch?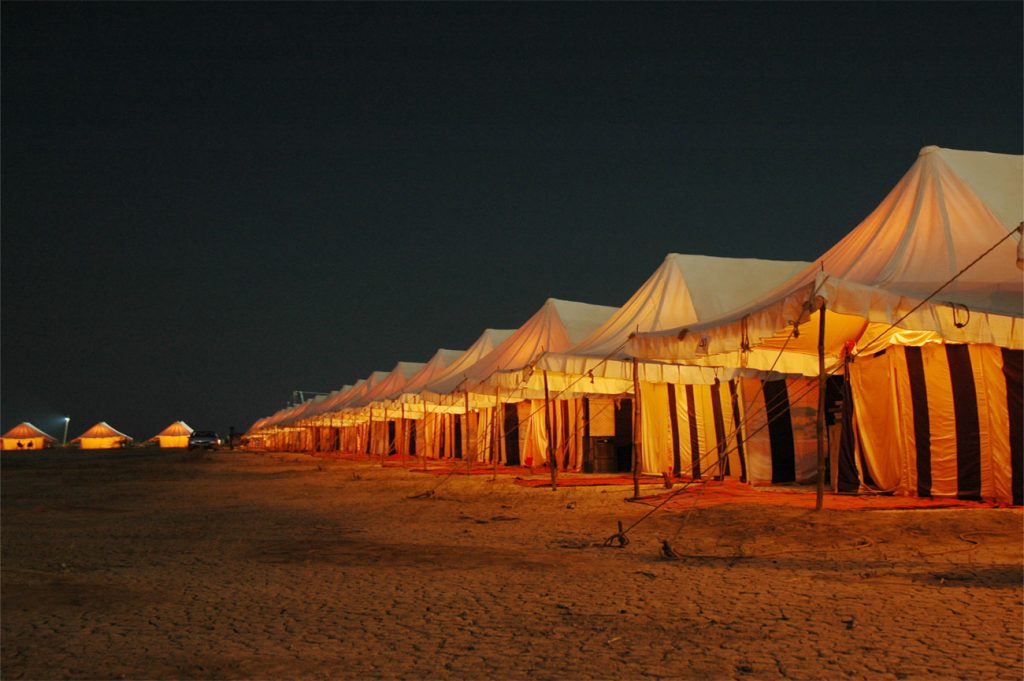 The Rann of Kutch is rebuilt with tent cities during the peak tourist season, which runs from November through March. There are hundreds of accommodations available there. Finding a place to stay at this time of year doesn't require much effort on your part. However, one can only enjoy the stay option in Bhuj during the off-seasons of April to September. Additionally, Dhordo and the adjacent Hodka both provide a few alternatives. Some of the resorts listed are the Shaam-e-Sarhad resort in Hodka, the Gateway to Rann Resort, and the Toran Rann Resort in Dhordo. Desert Palms by StayVista is another excellent choice if you're looking for a private vacation rental villa in Kutch to book your stay at.
7. Things to do at the Rann Utsav in Kutch
The Rann of Kutch is simply a visual treat with its arid area consisting of nothing but a sheet of unending salt. Although there are no sand dunes, dust storms, or cacti on site, the amount of beauty it contains is simply astounding. In addition, it is undeniably beautiful to observe how wonderfully nature has etched the entire landscape as the days and seasons have elapsed.
Here's a list of things to do in the Rann Utsav that you must definitely not miss:
– Witness the Sunset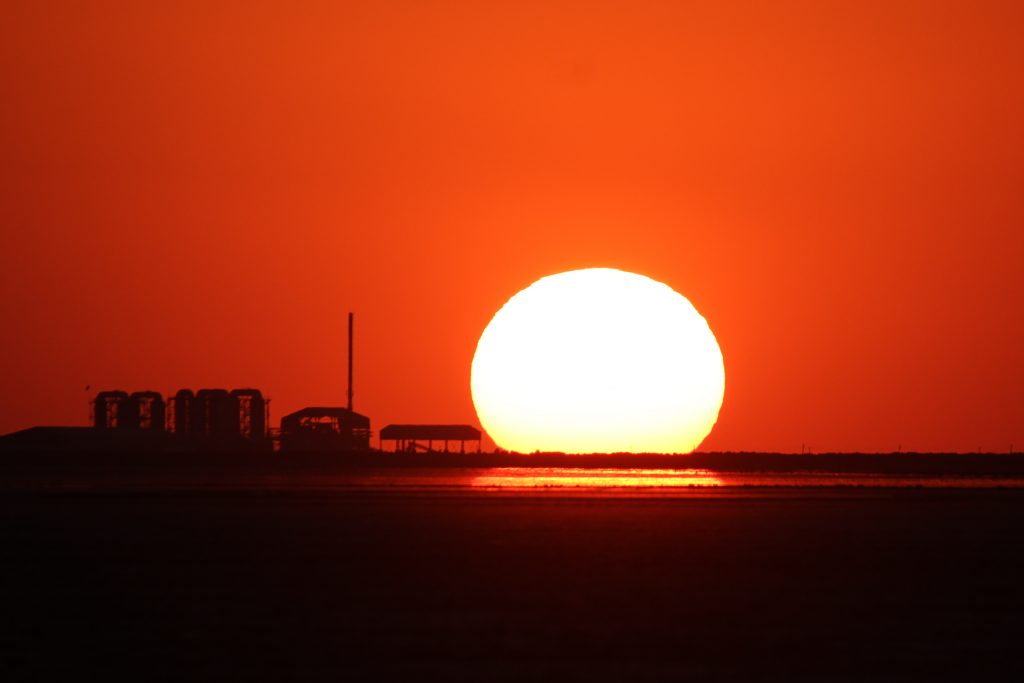 Simply put, the admirers' hearts will be swept with curiosity by the magnificent sight of the setting sun. Your heart will continue to race in astonishment as the huge ball of light sets the horizon ablaze in brilliant orange. To enjoy a better perspective of the setting sun in this pristine white desert, one can also engage in paragliding.
– Explore the local markets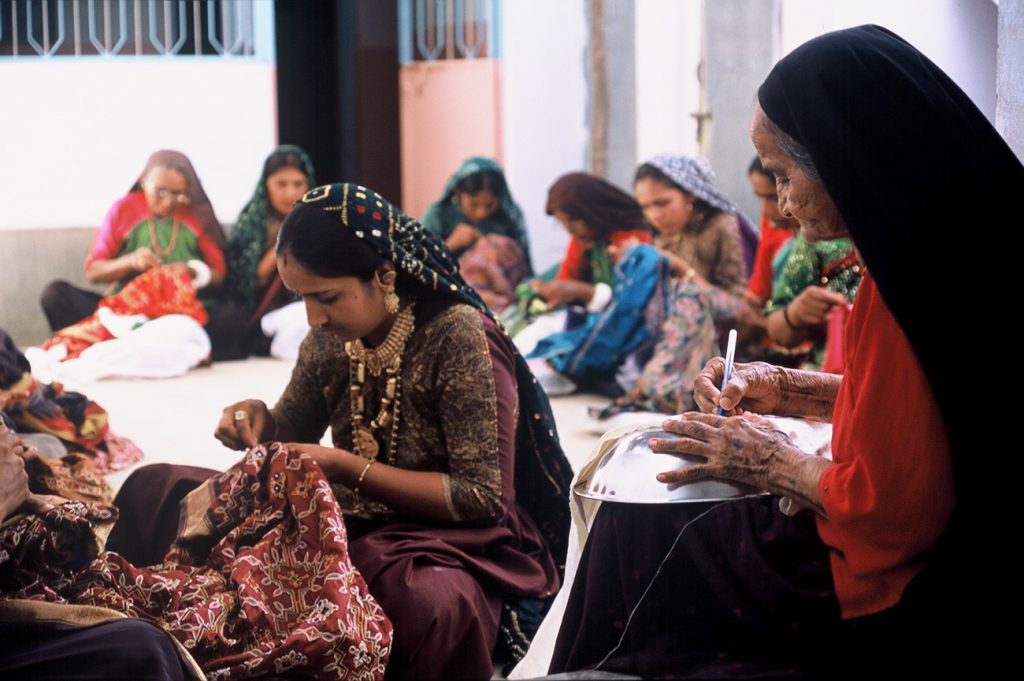 The best local market, Gandhi Nu Gam, is where you can get beautiful handcrafted items fashioned in exquisite woodwork and embroidery. You can witness a vibrant display of Kutchi handicrafts and handlooms, ranging from woodwork to needlework items like stoles, sarees, and quilts to hand-block paintings and jewelry. One can purchase home-bound trinkets from this location. In addition to Gandhi Nu Gam, Kheta Ben also resides nearby. The India Postal Department released stamps in 1997 featuring four rural Indian women dressed in their native garb from each of the four corners of the nation. One of the four women was Kheta Ben, a native of Gandhi Nu Gam, Gujarat. She has a handicraft store within her residence, which you are welcome to visit.
– Visit the Rabari Families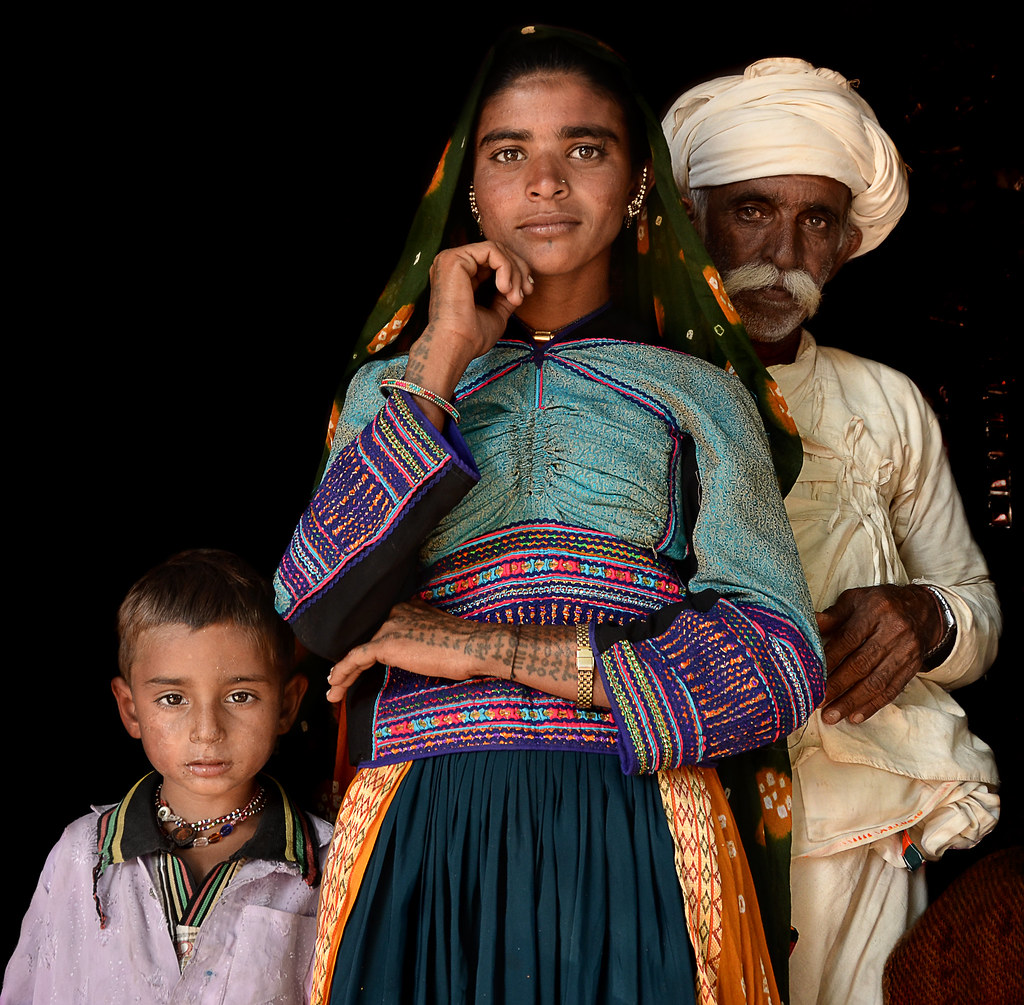 The semi-desert region of Kutch is home to the Rabari people, as is Sindh province in Pakistan, the desert regions of Rajasthan, and even Punjab. The Rabaris used to herd both sheep and camels in the past. The herders lead an almost entirely nomadic lifestyle, travelling the desert with their herds while camped out or sleeping beneath the stars. The extravagant jewelry worn by the Rabari people is well renowned; some women wear very gigantic and heavy nose rings that need to be propped up by a chain that extends back to their heads. Many people travel to Kutch to purchase this elaborate and exquisite handiwork produced by the Rabari folk.
– Visit Kalo Dungar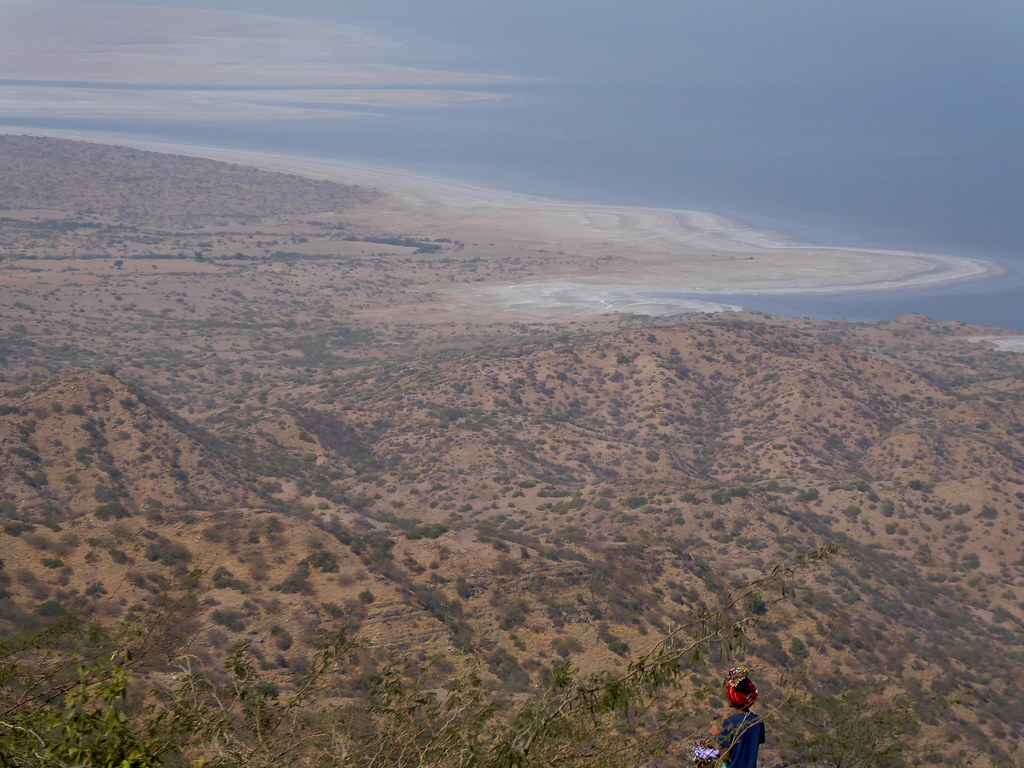 One of the destinations you can visit from Dhordo is Kalo Dungar or the Black Hills. The highest peak in Kutch is Kalo Dungar, from where you can see the entire white desert from above. Additionally, if you have binoculars, you can even see parts of Pakistan from the mountaintop. Furthermore, there is a location called Magnetic Hill on the route to Kalo Dungar.
– Enjoy the Camel Safari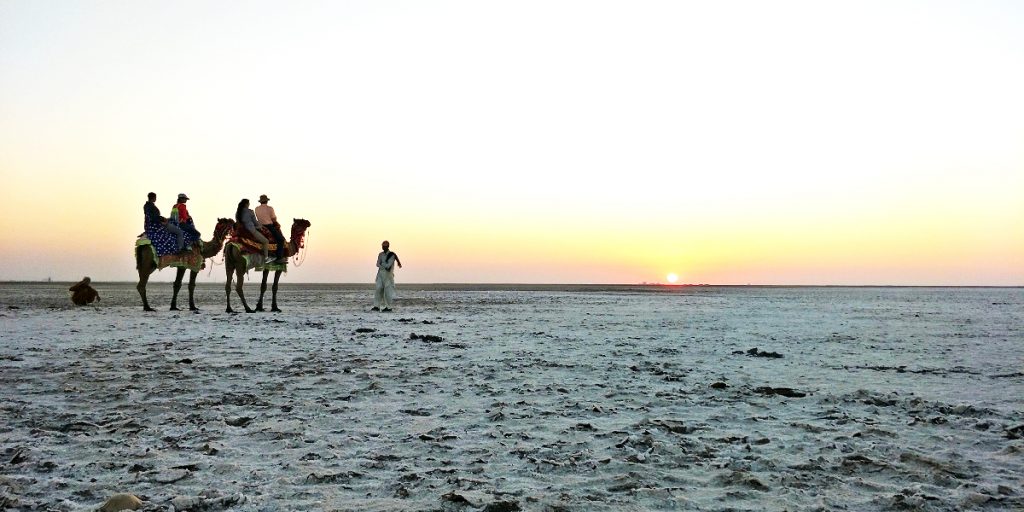 You're in store for a unique encounter! Try taking a camel safari to explore Kutch's dunes and white vastness. A camel safari at night, just beneath the full moon, provides a spectacular glimpse of the shimmering landscape.
– Visit Nakhatrana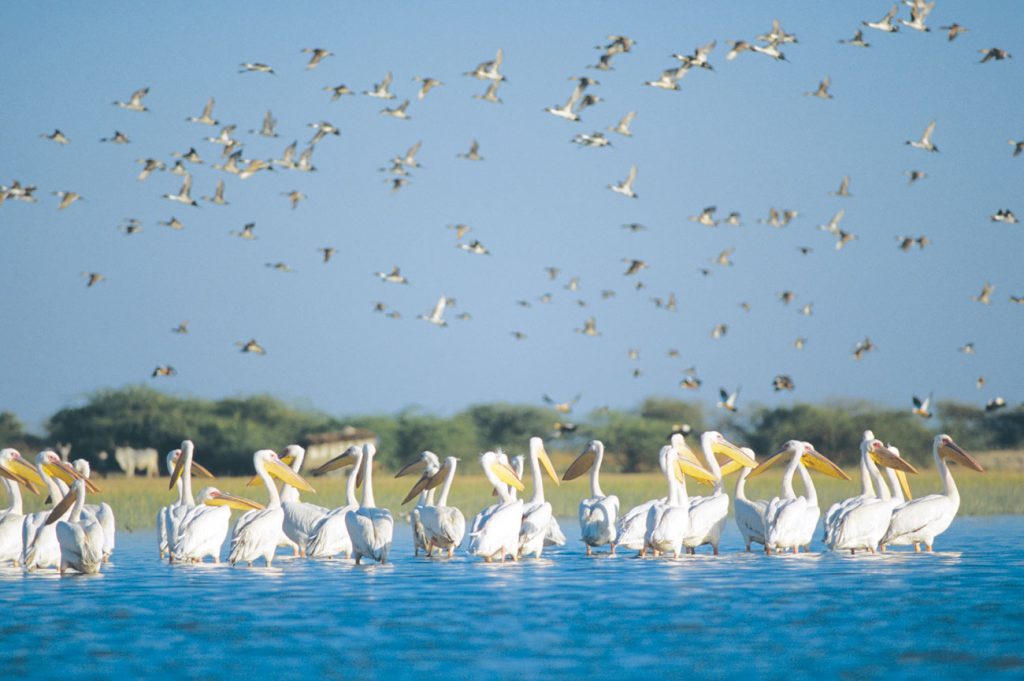 This town lies 60 km. away from Bhuj and is a well-known pilgrimage destination. Get to experience nature at its best as this quaint town is home to a variety of wildlife, and birds and is also the base point to visit the renowned Banni Grassland, Chhari Dhand Wetland Reserve, and Naliya Bustard Sanctuary. 
"Kutch nahi dekha to kuch nahi dekha"