Bangalore, also known as the Silicon Valley Of India is at an arms' distance from a myriad of destinations you can head to for a quick ethereal getaway. Even though Bangalore weather is known to be one of the most blissful things to witness in the country, who doesn't need a little break from the Silicon Valley stress. Home to some of the cleanest beaches, glistening backwaters, luxurious stays and culinary delights that can only be described as magical; here is a list of quick getaways near Bangalore.
Pondicherry
If you wish to live the beach life but hate to push through crowds to take a jet ski ride, Pondicherry is the nearest beach destination from Bangalore! This tropical wonder offers a wide range of adventure sports and activities you can enjoy by the pristine seashore. But best of all? How could we not speak of the wondrous French cafes & bakeries in Pondicherry!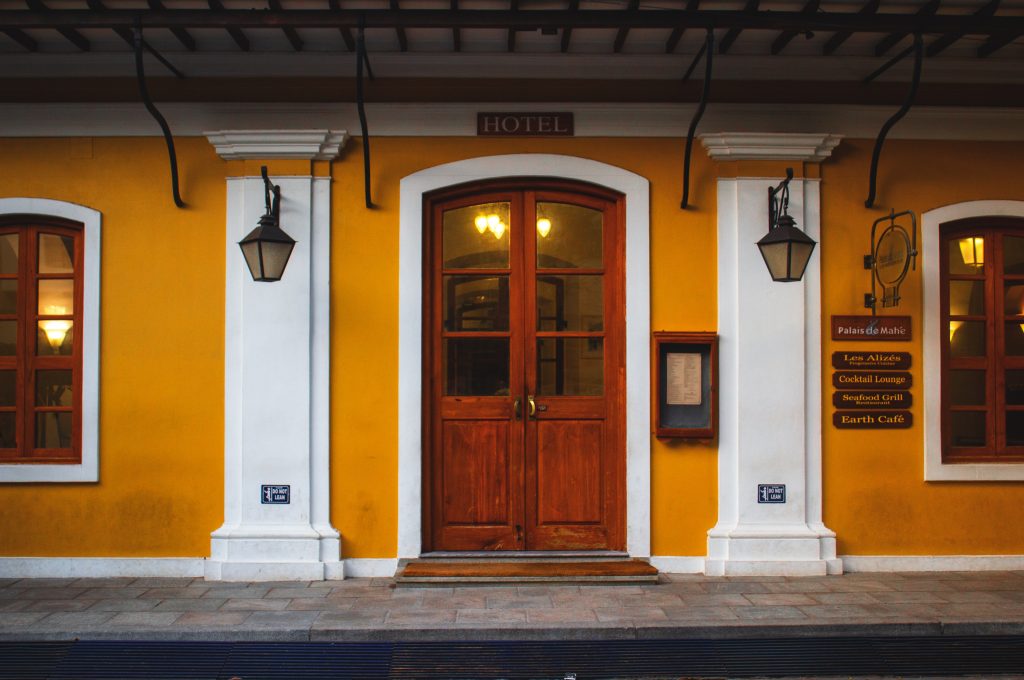 Here's a list of the best French cafes in Pondicherry –
La Maison Rose (Most Instagrammable French cafes in Pondicherry)
Des Art French
Cafe Veloute
New Banana Cafe & Restaurant
Crepe In Touch
Bay Of Buddha (Rooftop with a sea-view!)
1 RUE SUFFREN
Distance from Bangalore to Pondicherry – 6 hr 56 min (306.8 km)
Looking for stays in Pondicherry? StayVista's got you covered. Click here to explore!
Coonoor
One of the most-visited short trip destination from Bangalore, Coonoor is also the second largest hill station in the Nilgiri Hills. Truly nature's paradise, this holiday destination is an indegenious blend of bustling energy and buzzing marketplaces with quaint ambience, cool temperatures and unmatched mountain views. Apart from a nature retreat, Coonoor is also great if you're looking for trekking near Bangalore. There's no better way to cool yourself off all that "Silicon Valley Stress" than taking a peaceful walk by the blissful Wellington Lake.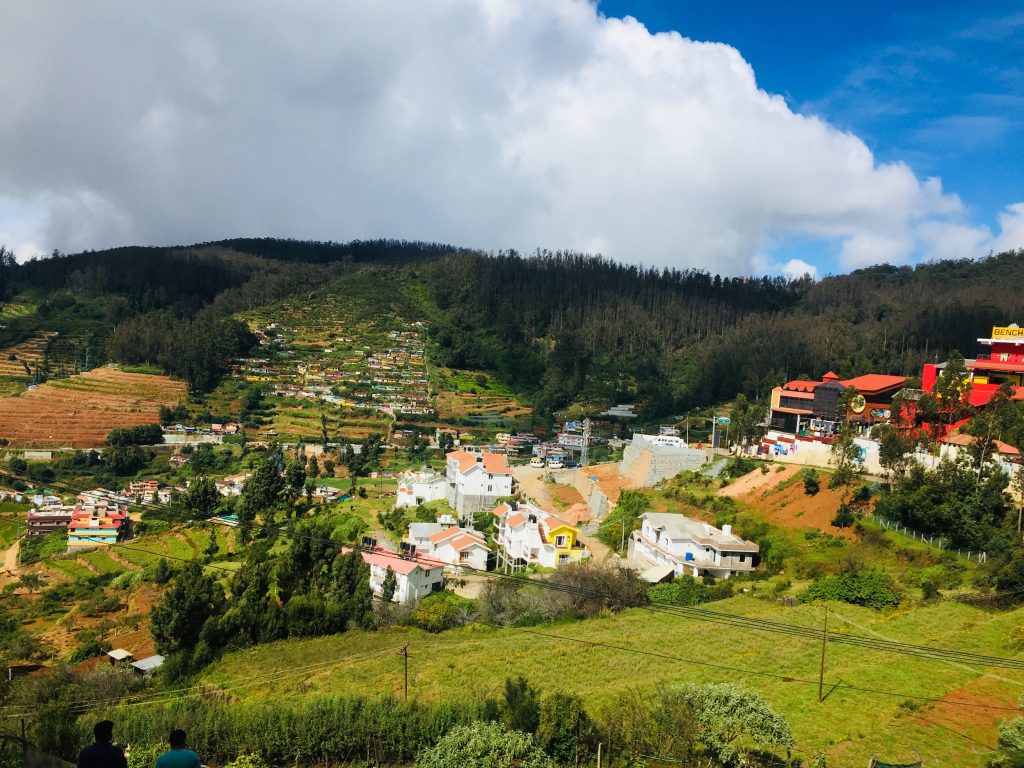 Distance between Coonoor to Bangalore – 8 hours (299 kms.)
Chikmagalur
Just about 240 kms. up north the hustle and bustle of Bangalore is a small hill station – Chikmagalur, a great one-day trip near Bangalore. This tourist attraction on the foothills of the Mullayanagiri peak of the Western Ghats serves tourists from around the state for its pleasant and favourable hill station climate, tropical rainforest, and the Coffee Yatra Museum! For the adventure enthusiasts, the rafting experience at the Bhadra river is a must try.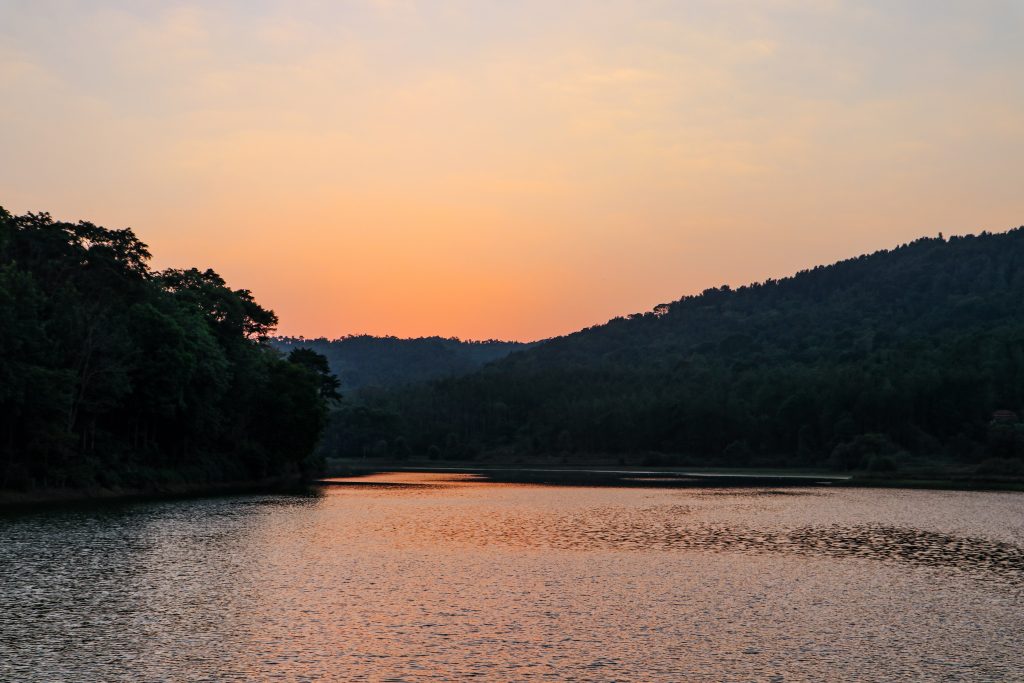 Distance between Chikmagalur to Bangalore – 4 hours 30 minutes.
Live the hill-station life in the most luxurious way at the StayVista villas in Chikmagalur. Click here!
Goa
There's nothing a Bangalore to Goa roadtrip can't fix. Another beach holiday destination near Bangalore, the coastal state of Goa might be best known for its beaches, but Goa is much more than just beaches. There are a myriad of things one can do here. Dine watching the most beautiful sunset by the sea as you enjoy a Turkish Pizza at The Olive, Goa, enjoy a peaceful walk by the Sinquerim beach without the blanket of innumerable tourists and end your day sipping an exotic Sangria by the balcony at Bayview by StayVista.
Here you will find yourself overlooking the scenic vistas of the beach after unwinding in the quaint outdoor private pool. The terrace with an associated bar area offers a scenic backdrop of the aquamarine seas and pristine beaches at any time of day or night. It also features a wooden swing where guests can enjoy a steaming cup of their preferred drink. How about a brief round of indoor games with your tribe while spending some quality time together? And to top it off, guests can savour the delectable barbeque feast while sipping their favourite beverages.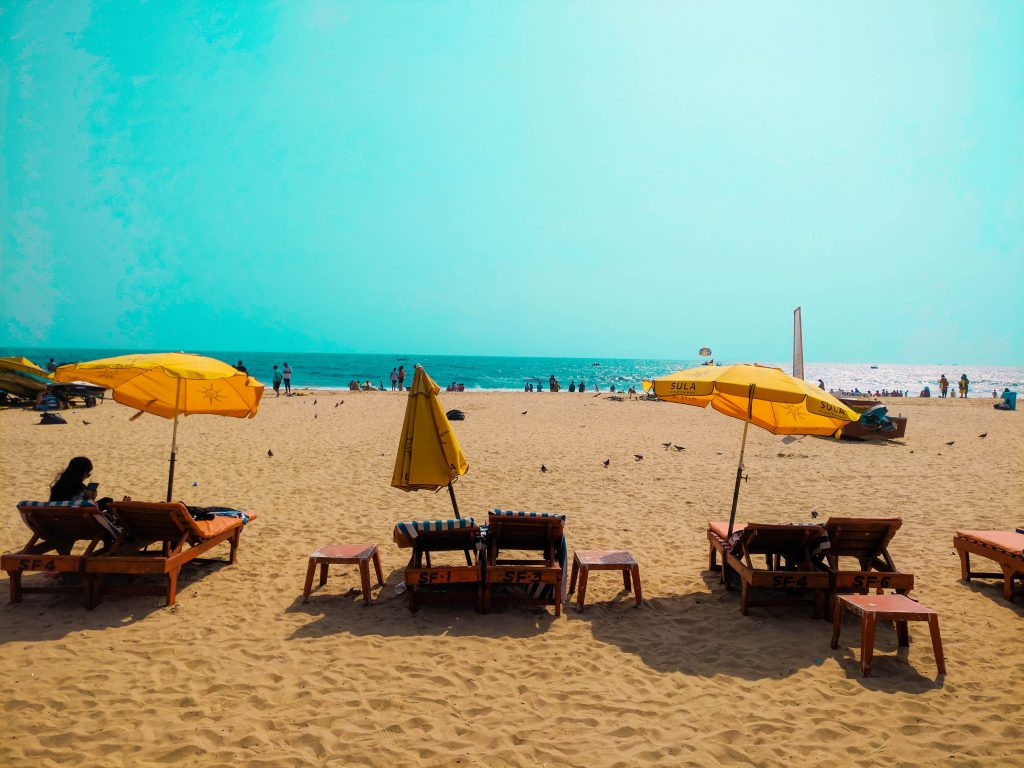 Bangalore to Goa distance – The distance between Bangalore and Goa is around 570 KM & takes about 11 hours.
Looking for more such exhilarating villa stays in Goa? Click here!
Kodaikanal
Be it monsoons, winter or even summers, the climate here at Kodaikanal is always revitalising for the soul. An exquisite haven filled with enchanting forests, pristine lakes, and waterfalls add to the exuberance and offer you the much-needed solitude and relaxation you've been waiting for!
An 8 hour drive from Bangalore, Kodaikanal is great for those who need an unfiltered nature-filled escape near Bangalore.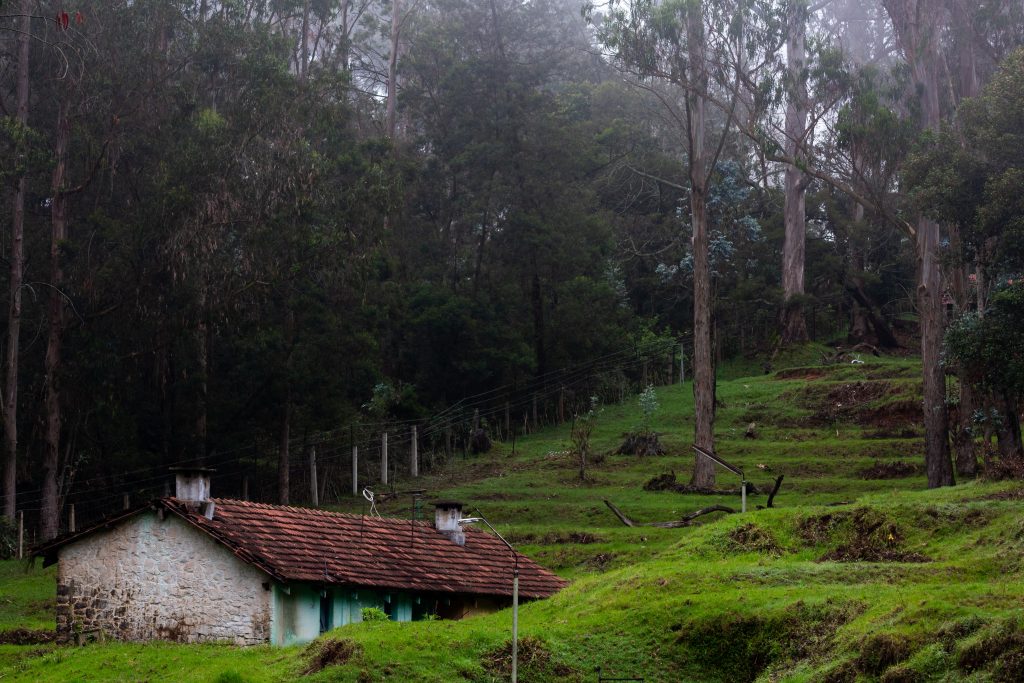 Some Must-Do's When In Kodaikanal –
Pay a visit to the star-shaped water body at Kodaikanal Lake. Don't be surprised to find out that it is a man-made beauty.
Familiarise yourself with the variety of plants and trees at Bryant Park.
Chomp off on local fruits while enjoying the beautiful view at Silver Cascade
Live luxuriously at one of the StayVista villas in Kodaikanal to gauge the true essence of this princess of the hills!
Coorg
Popularly known as the "Scotland of the South, Coorg is simple ethereal. Don't be fooled by the size of this little hamlet as you'll be surprised with how much you can do here. A definite must-visit place for coffee lovers, Coorg is one of the largest producers of coffee in India. If you wan't to devour some of the best coffee in India, Coorg should be on our list this holiday season.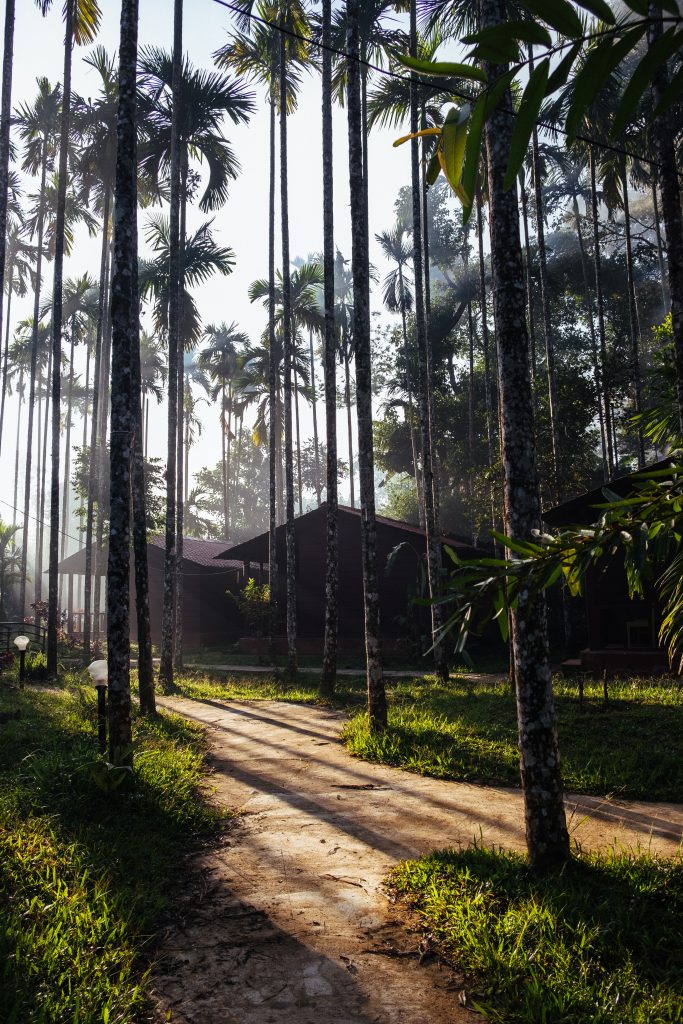 What to do when in Coorg –
Go to Raja's Seat and Golden Temple (Namdroling Monastery)
Visit Abbey Falls and Iruppu Falls
Check out Nagarhole National Park and Dubare Elephant Camp
P.S. Most of the town doesn't require air conditioners. Now you can only imagine how good the weather is, all year round!
Bangalore to Coorg Drive Distance – Usually a 6-hour drive, Bangalore is around 264.7 kms from Coorg.
For villas & homestays in Coorg, click here!
Kochi
Rich in culture and decked with scenic backwaters and lagoons, Kochi is definitely one of must-visit locations if you are looking for a short trip near Bangalore. Grab a quaint filter coffee from an authentic breakfast point in the city and head to the museums as you will lose yourself in the exquisiteness in each corner of Kochi.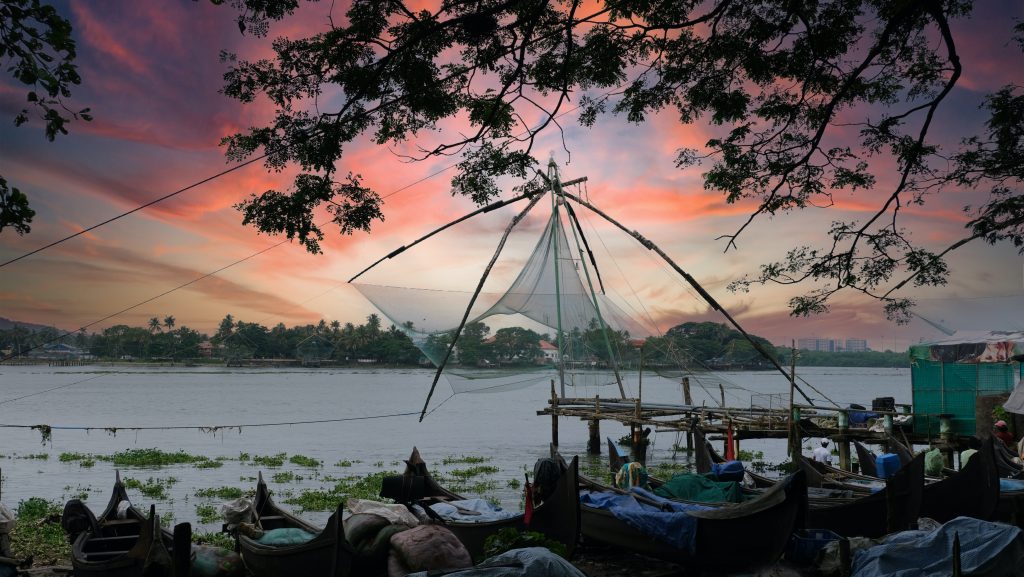 Make sure to buy yourself a beautiful piece of Kanjivaram when here! Seemati is possibly one of the best stores with the widest variety of silk garments in Kochi. If you're travelling to Kochi, this store is definitely a MUST visit – especially if you've got a wedding round the corner.
Click here to view our accommodation options in Kochi!
Ooty
Known for the best waterfalls near Bangalore, few of the best tea plantations in South India, some of the most beautiful lakes, the list goes on, Ooty is one of the best getaway destinations near Bangalore. It is also one of the very few travel destinations in India that has good climate all year.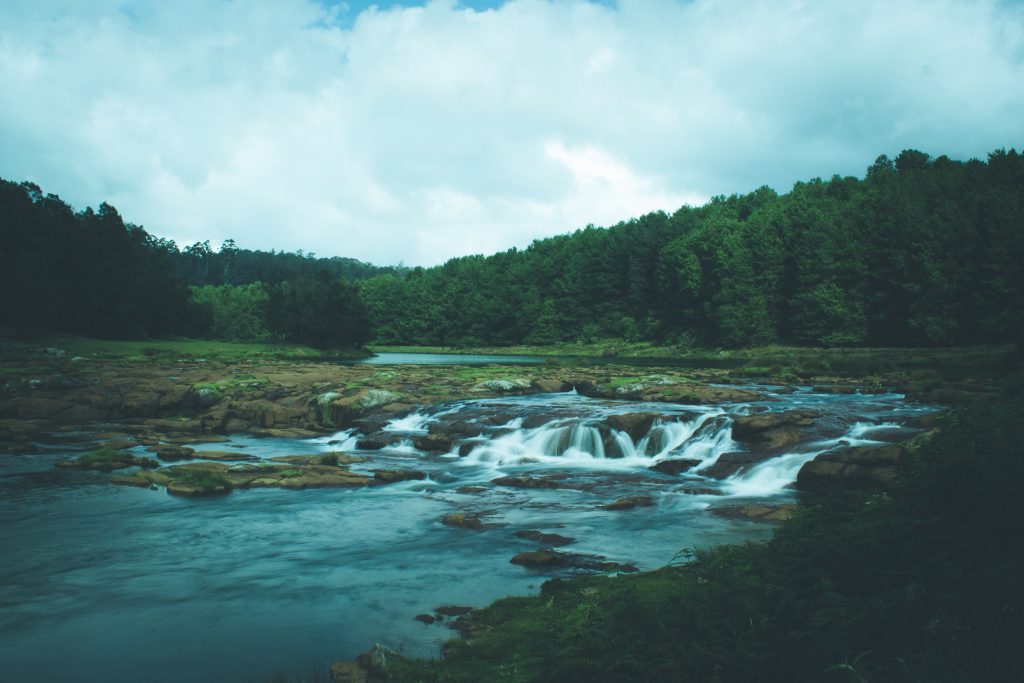 Must-Visit Waterfalls in Ooty –
Kalhatti Falls
Halasana Falls
Katary Falls
Pykara Falls
Elk Falls
Bangalore to Ooty Distance – Usually a 6-7 hour drive, you will be passing through Mysore which is a great one-day picnic spot near Bangalore you can stop by.
Finally, on reaching Ooty you can relax, rejuvenate and lose yourself in the luxurious at StayVista, Ooty. Click here for some of the most relaxing villas in Ooty.
Alleppey
If there is a place that has surreal weather, scrumptious and delightful food and backwater experiences you will never forget, you're at the right spot as Alleppey is THE place to soak in the best of South India. Known as the Venice of India, it is home to few of the cleanest beaches, surreal backwaters, luxurious stays and culinary traditions that can only be described as magical.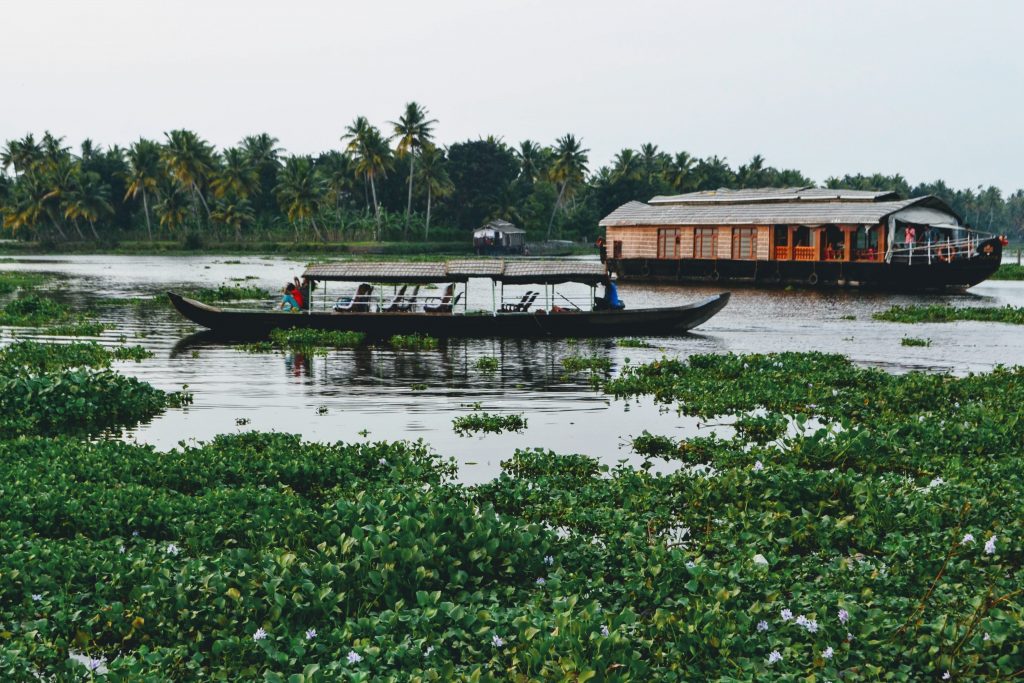 November to February would be the best time to visit Alleppey. The climate is pleasant, and fluctuates between 17-32°C. It is the perfect time to enjoy the backwater houseboat experience to the fullest.
Looking to explore more of Alleppey, here's a guide to help you out!
But no matter what time of the year you visit this heavenly town, StayVista has various offers to make your stay in Alleppey affordable, luxurious and memorable here! Click here to view our accommodation options in Alleppey!